Grilling Salmon 101
Victoria Beckham says she eats salmon every day. That seems a bit excessive to us, but we do wish we could get her best recipes! Posh Spice is definitely onto something, though. Salmon is rich in Omega-3 fatty acids that can transform skin by helping the skin barrier to retain moisture. It also helps strengthen hair, aids in stress reduction, helps keep bones healthy, aids the heart by reducing the risk of heart disease, and is a great source of protein.
Plus, it's downright delicious, especially on the grill. With just a few easy tips and tricks, grilled salmon might become your favorite summer meal, even if you don't eat it every day!
Grilling Tips
Grill on medium-high heat. A hotter grill will ensure that your salmon won't stick.
Leave the skin on while you are cooking it to hold in moisture.
Start it on the grill skin side down. This will help it stay moist. You can turn it near the end, or just close the grill to ensure even cooking.
Try using a grill mat! These are beneficial for an even cook and creates a barrier between the flame and the fish.
Baste the fillets as you cook. This works great on marinades like teriyaki.
Best Marinades for Salmon
Teriyaki– 2 Tbsp soy sauce, 1 1/2 Tbsp C & H Brown Sugar (#2261), 1 tsp Kirkland Minced Garlic (#1289), 1 tsp minced ginger, 1/2 tsp Onion Powder (#1027), Regal Fine Sea Salt (#1147) and AP Black Peppercorns (#1030), to taste
Lemon Garlic– see recipe below!
Cajun– 1 tsp each of Cajun seasoning, Garlic Powder (#1021), Onion Powder (#1027), Smoked or Mild Paprika (#1697), and 1/4 lemon, juiced and zested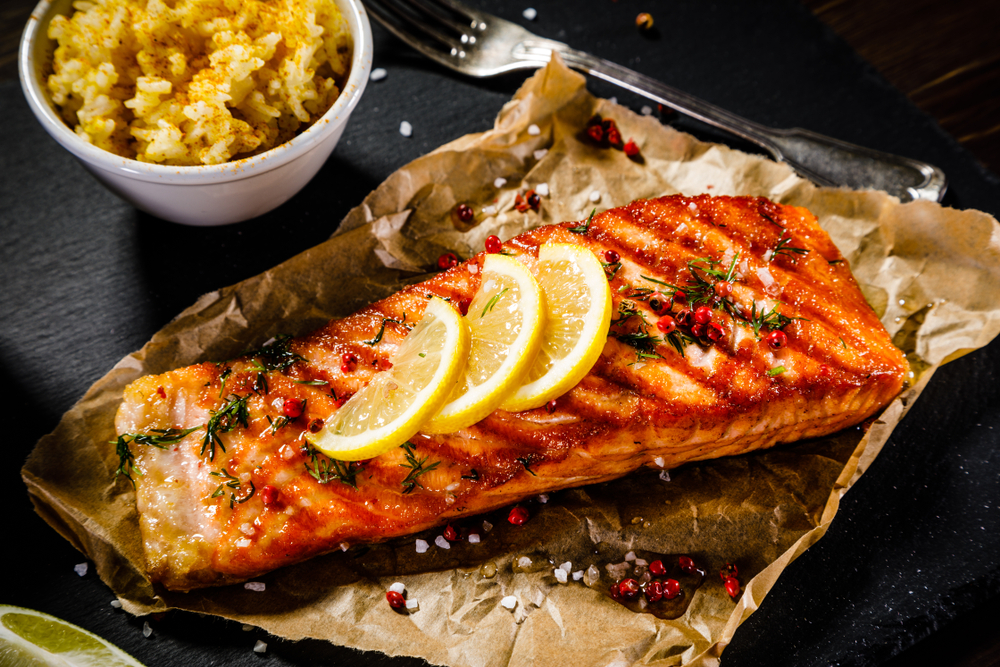 Lemon Herb Grilled Salmon
Ingredients:
Instructions:
First, place the salmon in a gallon Ziploc bag (#1979). Add in lemon juice, avocado oil, minced garlic, fresh rosemary, lemon zest, mustard, honey, salt and pepper and marinate for at least 30 minutes, turning halfway through.
Meanwhile, preheat the grill.
Place the salmon portions onto the grill, topped with lemon slices, and cook for about 3-4 minutes per side.
If you like salmon, try these recipes!
Comments
2 Marinades to Try This Summer - Alisons Pantry Delicious Living Blog - […] Barbecue Rubs for Father's Day Smoky Maple Chicken Marinade Grilling Salmon 101 SharePin1Tweet1 Shares 0Shares Share on Facebook Share …