From ground turkey to salmon, these mouthwatering burger recipes are anything but boring. They're a great way to change things up this summer.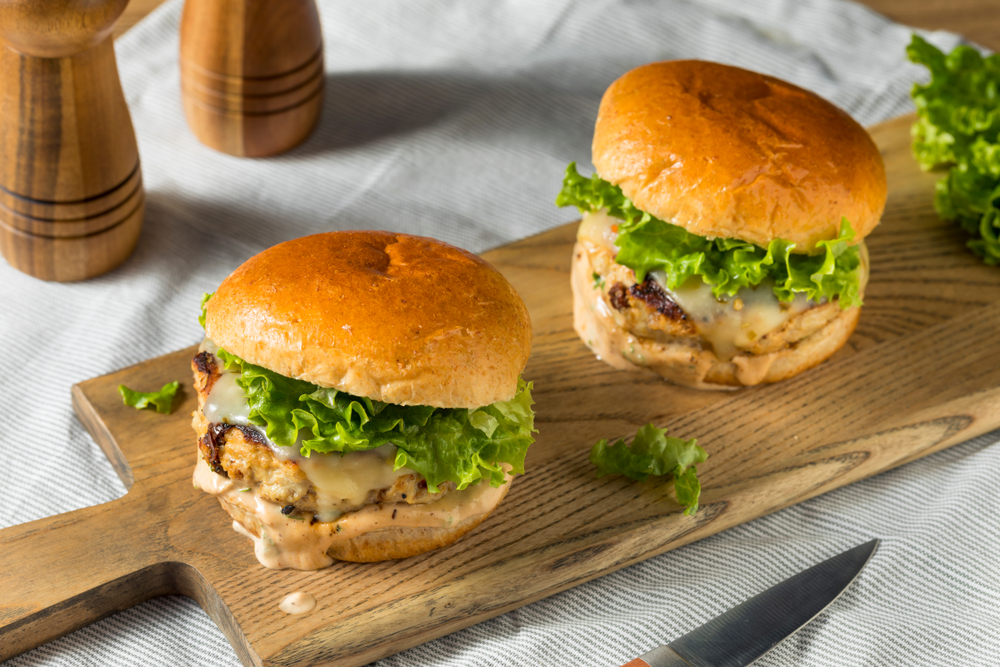 Turkey burgers often get a bad rap, but we're here to change your mind! These Chipotle Turkey Burgers are juicy, flavorful and have just enough heat to satisfy your craving for Southwestern fare.
Chipotle Turkey Burger
Ingredients:
Instructions:
First, make the chipotle ranch by whisking 1 Tbsp of mix with 8 oz of mayonnaise. Chill for 30 minutes while you prepare the burgers.
For the patties, gently combine the ground turkey, butter, chipotle powder, green onion, salt and pepper. Then, form into 4 patties, pressing an indent into the middle.
Grill over medium high for about 5 minutes per side, or until the internal temperature reaches 165F. If desired, add a slice of cheese once flipped. Remove from grill and let rest.
If desired, butter and grill the buns until golden brown.
To assemble, place the cooked burger on the patty, topped with the sauce, lettuce, and any additional toppings you like. Enjoy!
If you're looking for a good vegetarian burger, this Black Bean & Mushroom Burger is a great option! Try making and freezing ahead of time and cooking on the grill!
Black Bean & Mushroom Burger
Ingredients:
3 1/2 cups Portobello mushrooms, sauteed and diced
2 cups cooked black beans, rinsed and divided
1 cup minced broccoli, fresh only
1/2 cup red onion, minced
3Â eggs, beaten
1/2 cup + 2 tablespoon bread crumbs
1 Tbsp Rick's 1 Spice (#3045)
1 Tbsp Worcestershire*
Additional toppings: Hummus, romaine lettuce leaves, Pepper Jack or Monterey Jack Cheese slices, sliced onions, sliced tomatoes, Calavo Fiesta Guacamole (#1060)
Instructions:
First, sautee the diced mushrooms, broccoli, red onion, and garlic in oil with the Rick's 1 Spice. Season with salt and pepper if needed.
Meanwhile, use a potato masher to mash half of the black beans. Some chunks are okay. Then, add in the remaining black beans, sauteed mixture, and Worcestershire sauce.
Once combined, gently mix in the eggs, cheese and bread crumbs until thoroughly mixed.
Before assembling the patties, heat oil in a skillet. Once the oil is heated, form a patty with about 1/2 cup of the mixture. Gently press the mixture together to form a patty.
Next, place in the skillet and cook for 3-5 minutes per side, or until golden brown.
Assemble with desired toppings, and enjoy!
*If you need it full vegetarian or vegan, use one that does not contain anchovies
Adapted from: https://www.thekitchenwhisperer.net/2014/04/12/chunky-portabella-veggie-burgers/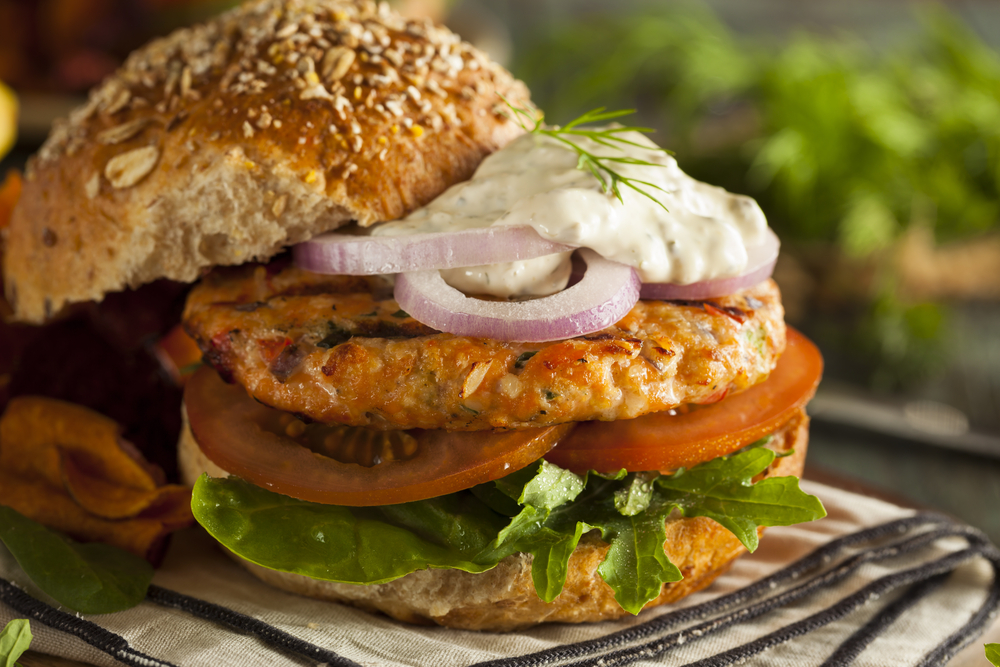 Trident Seafoods' Alaska Salmon Burger satisfies your hunger with a lean, moist, meaty and flavorful salmon patty. Topped off with dilly dill dip, it'll be your new favorite way to enjoy seafood this summer.
Dilly Dill Salmon Burger
Ingredients:
4 slices cheddar cheese, optional
8 oz. sour cream
1/4 cup mayonnaise
Additional toppings: romaine lettuce leaves, sliced onions, sliced tomatoes
Instructions:
First, preheat to medium heat. Once heated, cook the salmon burgers for 4 to 5 minutes on each side. Just before taking off the grill, add the cheese slices and allow to melt.
If desired, butter and grill the buns until golden brown.
To assemble, layer the lettuce, tomatoes, and burger on top of the bottom bun. Spread a layer of the dilly dill dip on top, followed by onions and the top bun. Enjoy!
Looking for more burger ideas?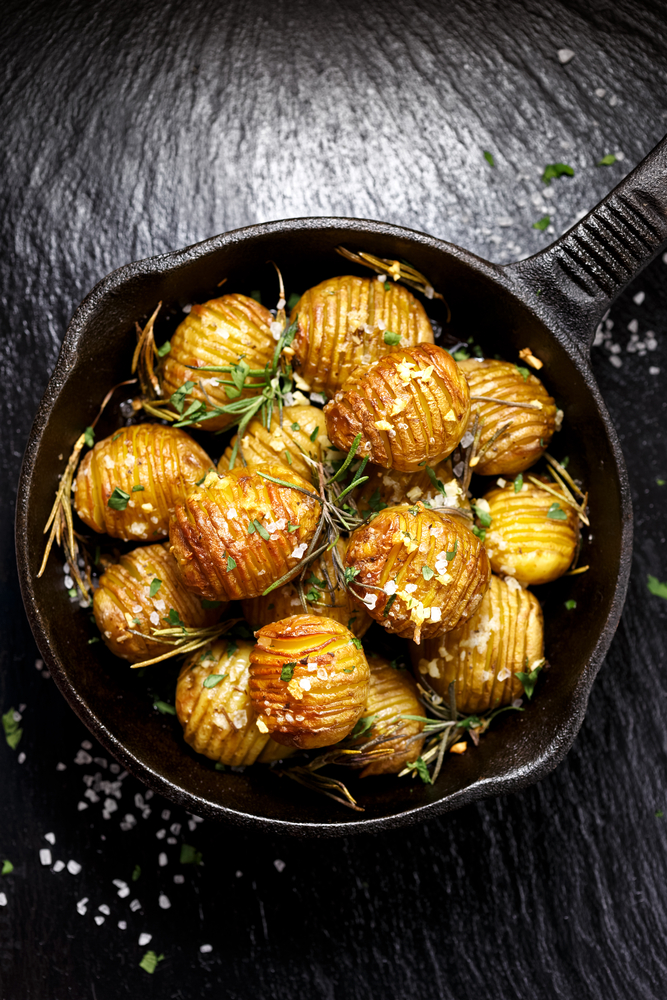 These Mini Hasselback Potatoes are perfect for any side dish or appetizers, and will always leave your guests begging for more!
Side or Appetizer?
We love Mini Hasselback Potatoes as a side AND an appetizer! Some other spice variations we love for a side dish are Garlic Parmesan or Crispy Loaded Hasselback Potato Bites. In addition to that, any of our spice blends would be delicious! Some of our favorites include Garlic Supreme, Rosie's Ranch Dressing, and Italian Seasoning. As far as an appetizer, we love dipping them in our favorite dips! Whether it be Popeye's Dip or Onion Dip, these Mini Hasselback Potatoes are delicious.
More Appetizers We Love
Mini Hasselback Potatoes
Ingredients:
For the potatoes:
For the dip:
Instructions:
Preheat oven to 425 degrees F.
Set two chopsticks (or any thin piece of wood) on both sides of the potato. Cut slits into the potatoes that are approximately 1/8 of an inch apart, but make sure you do not cut all the way through. The chopsticks will help with this.
Place sliced potatoes in a bowl. Mix with olive oil and a generous amount of salt and pepper.
Place cut side up onto a parchment (#1153) covered cookie sheet (#4020).
Roast for approximately 60 minutes, or until potatoes are tender and golden brown on the outside.
Meanwhile, make the dip by mixing the Dilly dip seasoning, sour cream, and mayo together.
Serve the potatoes warm with the dip on the side or on top.
If you want a crispier, more decadent potato: halfway through baking, you can brush them with more olive oil or even some melted butter, so it seeps into the crevices a bit more
Adapted from: https://www.bowlofdelicious.com/mini-hasselback-potatoes/