Instant Pot French Onion Soup
French Onion Soup is a hearty and easy dish to prepare your guests when you use the Instant Pot. Not that it isn't hearty when you don't use your Instant Pot, it just tastes better when it isn't such a long process, ya know?
Can this be frozen?
Yes, it can be frozen. You will want to freeze after step 8, keeping the soup separate from the baguette and cheese. It can be reheated later by thawing fully in the refrigerator or placing the frozen soup into a pot with 2-3 cups of beef stock (#1041 base) and bringing it to a boil. Once heated, you can add the bread and cheese.
More soups we love: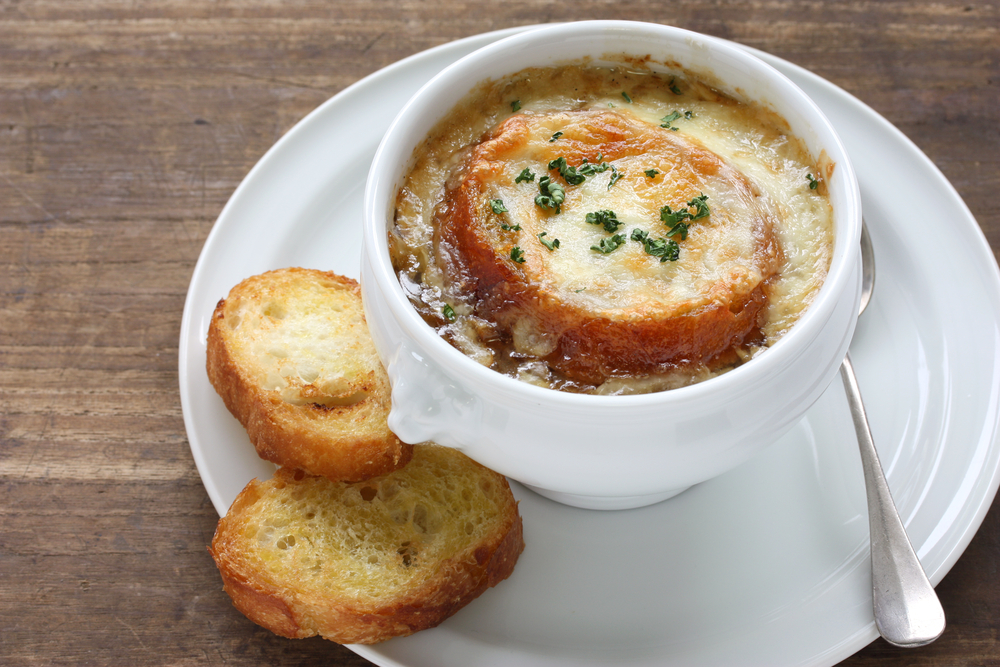 The combo of a flavorful broth, caramelized onions, thyme, and crispy baguette slices topped with melted cheese make this french onion soup a real crowd-pleaser.
Instant Pot French Onion Soup
Ingredients:
Instructions:
First, slice the onions in even slices, making sure they aren't too thick or too thin.
Turn the Instant Pot to saute and add butter and olive oil to IP. Then add onions and sautee, stirring frequently.
Once onions are cooked and have turned brown, add vegetable stock to IP.
Scrape the fond from the bottom of the IP.
Add bay leaves, thyme, salt and pepper.
Attach IP lid, set valve to pressurize.
Use the manual setting and set timer for 10 minutes.
Allow IP to do a NPR (natural pressure release), with the IP remaining on the keep warm cycle.
Turn oven broiler on.
Toast the French bread slices.
Spray oven-proof soup bowl with non-stick spray, add a slice of French bread toast to bottom.
Ladle soup, with plenty of onions on top of bread.
Add Gruyere cheese.
Broil until cheese is browned and melted.
Serve immediately. Enjoy!
Adapted from: https://successfulhomemakers.com/instant-pot-french-onion-soup/
Comments