Enjoy a juicy ribeye steak cooked in fresh herbs and butter, topped with a creamy mushroom sauce featuring our Vanee Mushroom Sauce served with a side of veggies and potatoes for a quick dinner.
What sides should I serve?
A side of potatoes and veggies would be perfect with this Creamy MushroomS Steak for an incredibly easy dinner. Choose from Simplot RoastWorks Vegetables & Pasta (#1297), Flav-R-Pac Flame Roasted Redskins W/Rosemary (#2068), Simplot RoastWorks Baby Baker Halves W/Parmesan and Herbs (#1985), Flav-R-Pac Garlic Butter Vegetables (#7791), or Flav-R-Pac Normandy Blend (#1266). Shop all of our frozen vegetables here.
More steak dinner ideas: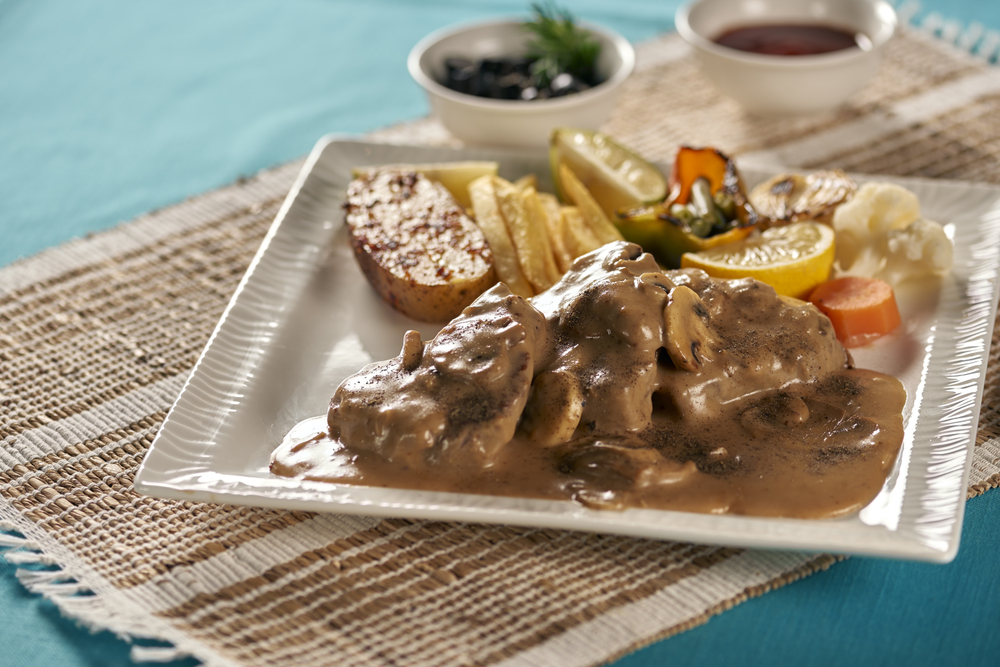 Enjoy a juicy ribeye steak cooked in fresh herbs and butter, topped with a creamy mushroom sauce.
Creamy Mushroom Steak
Ingredients:
Instructions:
First, add room temperature steak to a cast iron pan with oil, salt, and pepper. Cook each side for 2 minutes, or until desired doneness is reached.
Now, add the butter, thyme, rosemary & garlic and cook for about 2 minutes. Set aside and let the steak rest.
Then, add the mushroom sauce and cream to a saucepan. Allow to heat through, then add salt and pepper if needed.
Place each steak on a plate and drizzle the sauce overtop. Enjoy!
You can suggest stirring in some cream or sour cream with the Vanee Mushroom sauce for more of a stroganoff flavor and creamy texture.
Our Bridford Sweet Yeast Steak House Rolls (#7968) are sweet, airy rolls just like the ones served at your favorite restaurant. They are amazing served with whipped cinnamon honey-butter for a steakhouse treat; but, our Representative Farrah Murray from Gillette, WY shared this delicious way to use leftover Steakhouse Rolls for a yummy breakfast.
If you love rolls, try these recipes:
Our Representative Farrah Murray from Gillette, WY shared this delicious way to use leftover Steakhouse Rolls for a yummy breakfast. She said, "I'm loving the Sweet Yeast Steakhouse Rolls (#7968)! They are so versatile!!! They are great on their own, but I used the leftovers to make ham, egg, and cheese breakfast sandwiches. I serve these with fresh fruit! If your family is adventurous, spread some Dijon mustard on toasted rolls and drizzle with quick hollandaise sauce!"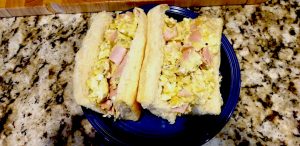 Farrah's Breakfast Sandwiches
Ingredients:
Instructions:
Thaw and bake rolls as directed.

I like to make extra when I bake these so I have them on hand in the morning.

Slice rolls in half, toast if desired.

Cube ham and set aside.

Whisk eggs vigorously and season with salt and pepper.

Spray nonstick pan with buttery delight pan spray.

Cook eggs over med low heat. Add ham and cheese and cover until cheese is melted.

Add to rolls and enjoy!!
Quick blender hollandaise:
3 lg. egg yolks

2 tsp fresh squeezed lemon juice

Pinch of ground red pepper

½ tsp salt (#1146)

1 stick butter – don't sub margarine for this
Combine first 4 ingredients in a blender. Heat the butter until bubbling. Start blender and slowly add butter while blending. This should take about 30 sec. If the sauce is too thick add a couple drops of warm water. Enjoy!!
Recipe from: Farrah Murray
We love seeing all your fun holiday recipes, so it seemed fitting to share some of our favorites from over the years! We hope you like them as much as we do.
Christmas Party Prep
So, with Christmas just around the corner, we're all starting to think about what we want to serve for our big meal. For example, planning the menu in advance helps us stay on track because once the family starts coming to town, it becomes hard to focus on the meals when you just want to visit! Unless you don't like your family…then we suggest diving right into planning the food!
Need More Entertaining Ideas?

With all the craziness around the Holidays, make-ahead dishes are our best friend. For example, it helps us not feel as stressed trying to get everything done on the day of the big meal! At the same time, Mashed Potatoes are the best fresh, so this one is all about personal preference.
Make-Ahead Holiday Mashed Potatoes with Bacon
Ingredients:
Instructions:
To begin, place potatoes in a pot and cover with water. Bring to a boil. Reduce heat; cover and cook for 10-15 minutes or until tender. Drain; mash potatoes with cream cheese, sour cream and butter.
Next, stir in milk and seasonings. Transfer potato mixture to a greased 13-in. x 9-in. baking dish; sprinkle with cheese, onions, and bacon.
Cover and refrigerate until ready to bake. Remove from the refrigerator 30 minutes before baking. Bake, uncovered, at 350° for 40-50 minutes or until heated through.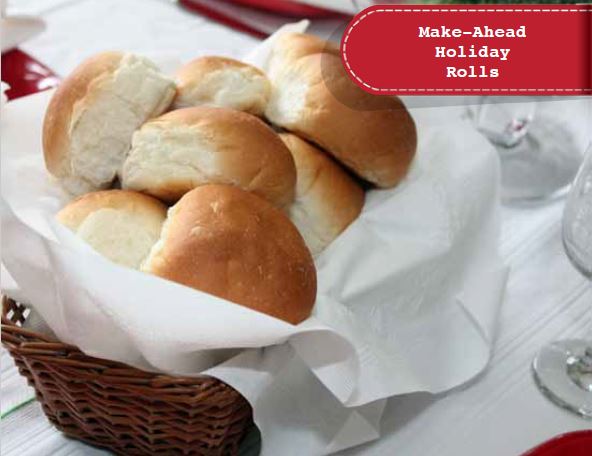 Not only does this dough make divine rolls, but our make-ahead dough can also be used for many things including rolls, cinnamon rolls, hamburger buns, scones or bread.
Make-Ahead Holiday Rolls
Ingredients:
Instructions:
First, mix water and honey. Sprinkle yeast on top. Let set until yeast rises and foams at the top.
Stir in evaporated milk, butter, and salt. Stir in 5 cups flour. Stir until smooth. Add 4 cups flour. Keep adding flour until dough is soft and not sticky. Knead until satin smooth. No need to let rise.
Form your dough, then allow to rise for just 15 minutes and then bake at 350 degrees for 15-20 minutes.
For make ahead rolls:
First, roll dough on a floured board, into a large ½ " thick circle. Cut into pie shapes and roll for crescent rolls. Place on greased cookie sheet and flash-freeze. Now, once the rolls are firm, remove them from the pans and store in zippered freezer bags, in the freezer. When ready to bake, place frozen rolls on greased baking sheet, cover, and allow to thaw and double in size in a warm place. Last, bake at 350 degrees for 15-20 minutes, until light brown.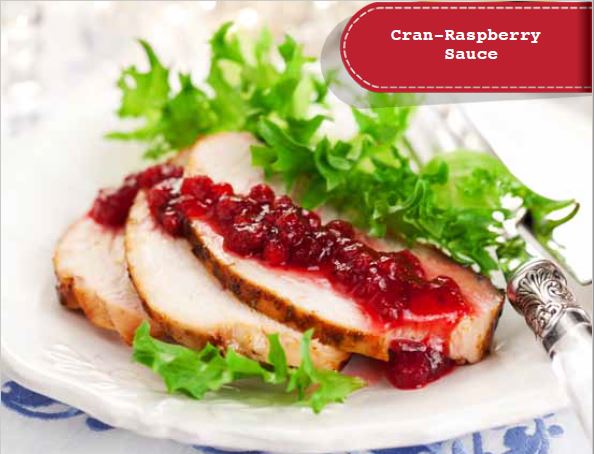 Not only do we think this is a major upgrade from canned cranberry sauce, but we're sure you will love it as well! This recipe will leave your house smelling delicious. In addition to being a great way to top our turkey, Cran-Raspberry Sauce is also an excellent dessert topping.
Cran-Raspberry Sauce
Ingredients:
Instructions:
Heat water and sugar. Add frozen fruit.
Cook and stir till thoroughly heated.
Serve with poultry, ham, pork.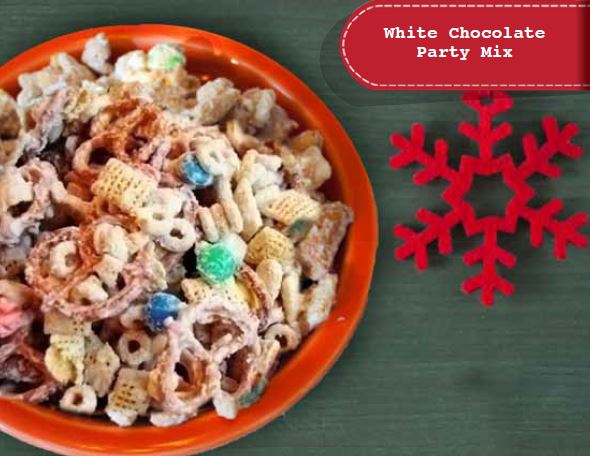 Our friend Anne Metzler from Riverton, WY shared this recipe with us. She said, "this is what I'm making all my coworkers for Christmas." In reality, we would have a hard time sharing this Christmas treat! This Party Mix is one of our favorites.
White Chocolate Party Mix
Ingredients:
6 cups pretzel sticks (#2319)
5 cups Cheerios
5 cups Crispix
2 cups salted, dry roasted peanuts
16-oz. pkg. plain M & M's
3 tbsp vegetable oil
Instructions:
In a large bowl, combine first 5 ingredients.
Heat the vanilla chips and oil.
Pour over cereal mix. Stir well.
Pour on AP parchment paper (#1153). Break up after it dries.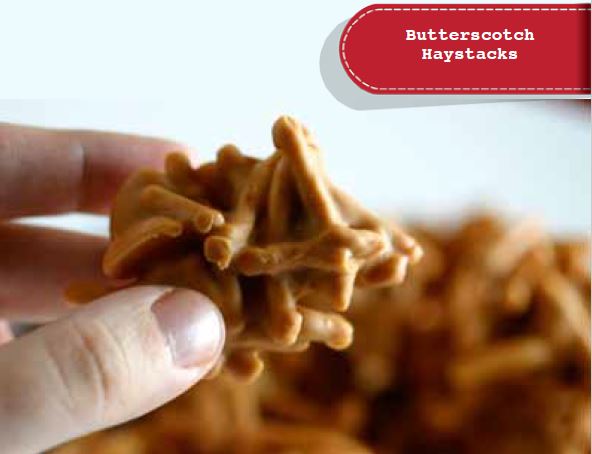 Last but not least, Butterscotch Haystacks are another of our favorite Classic Christmas treats. They only take 4 ingredients, and are so yummy! Also, for a fun spring twist, try adding little candies to make the treat a birds nest.
Butterscotch Haystacks
1 ¼ Cups La Choy chow mein noodles
3 ½ Cups miniature marshmallows
Instructions:
First, Line baking sheets with AP parchment paper (#1153).
Microwave chips in a large, microwave-safe bowl on medium-high (70 percent) power for 1 minute; stir. Microwave at additional 10- to 20-second intervals, stirring until smooth.
Stir in peanut butter until well-blended.
Add chow mein noodles and marshmallows; toss until coated.
Drop by rounded tablespoon onto prepared baking sheets. Refrigerate until ready to serve.