3 Methods for Cooking Ahi Tuna
Ahi Tuna is typically served in sushi or Asian inspired dishes, but don't worry- there are plenty of ways to enjoy this fish. Typically, you want to under cook just a little bit as the flavor and texture are more desirable that way. In addition, ahi tuna is full of protein, omega-3 fatty acids and minerals like magnesium. Like most fish, it is good in moderation since it can contain trace amounts of toxins.
How do I know if my tuna is done?
Thanks to seriouseats.com, we found that at 115°F, tuna is still quite moist and translucent. Cooking five degrees higher, at 120°F, it'll be as firm and dry as a well-done steak. At even higher temperatures (130°F and above), as connective tissue breaks down further, you end up with a texture similar to that of canned tuna—chalky and crumbly—and tuna cooked that hot should be treated as such (i.e., make sure to add plenty of fat, in the form of olive oil or mayonnaise (#1537), when serving it)
What method should I use for my Ahi Tuna?
There are a few ways you can cook your Ahi Tuna that will all turn out wonderful! This all depends on personal preference or what it will be used for, but tuna is easily overcooked so be aware of that. Find a recipe for each method below!
Baked: To bake, simply put on a parchment (#1153) lined cookie sheet (#4020) and bake for 4-6 minutes at 450. You will know it is done once the fish begins to flake but is still a little pink in the middle.
Grilled: You can grill your tuna 2 ways- first, on high heat for about 4 to 5 minutes until cooked through; second, grill on very high heat for 1 to 2 minutes per side for a more raw finish.
Pan Seared: We are happy campers if we get dinner on the table in less than 30 minutes, so this six-minute method is a game.changer.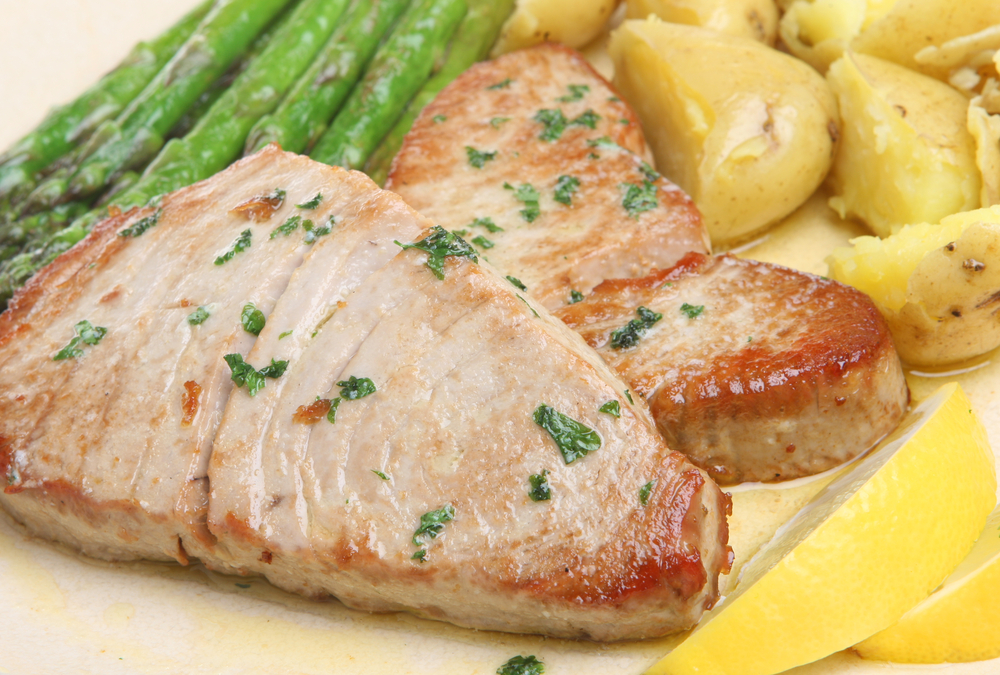 This sheet pan dinner is ready in 30 minutes and is full of flavor.
Sheet Pan Lemon Herb Tuna Steaks and Potatoes
Ingredients:
Instructions:
First, preheat oven to 450 degrees. Combine 4 tablespoons avocado oil, lemon juice, 1/2 teaspoon salt, 1/4 teaspoon pepper, 1/4 teaspoon oregano, 1/4 teaspoon thyme, 1/4 teaspoon basil, and 1/2 teaspoon garlic powder in a large resealable bag along with the tuna fillets. Seal the bag, and make sure the fillets are fully covered with the mixture. Chill for 15 minutes, and move on to the next step.
Then, in a large bowl combine potatoes and remaining 2 tablespoons olive oil and toss to coat. Stir together remaining salt, pepper, oregano, thyme, basil, and garlic powder, sprinkle over potatoes and stir to combine. Arrange potatoes on half of a greased sheet pan (#4020).  Bake for 15 minutes.
Once the potatoes bake for 15 minutes, place tuna fillets on the empty half of the sheet pan (add lemon slices if desired), sprinkle parmesan cheese over the potatoes and cook for 6 minutes. Flip the tuna fillets, and cook for an additional 6 minutes. Serve while hot, and enjoy!
Adapted from: https://www.lecremedelacrumb.com/sheet-pan-lemon-herb-tuna-steaks-and-potatoes/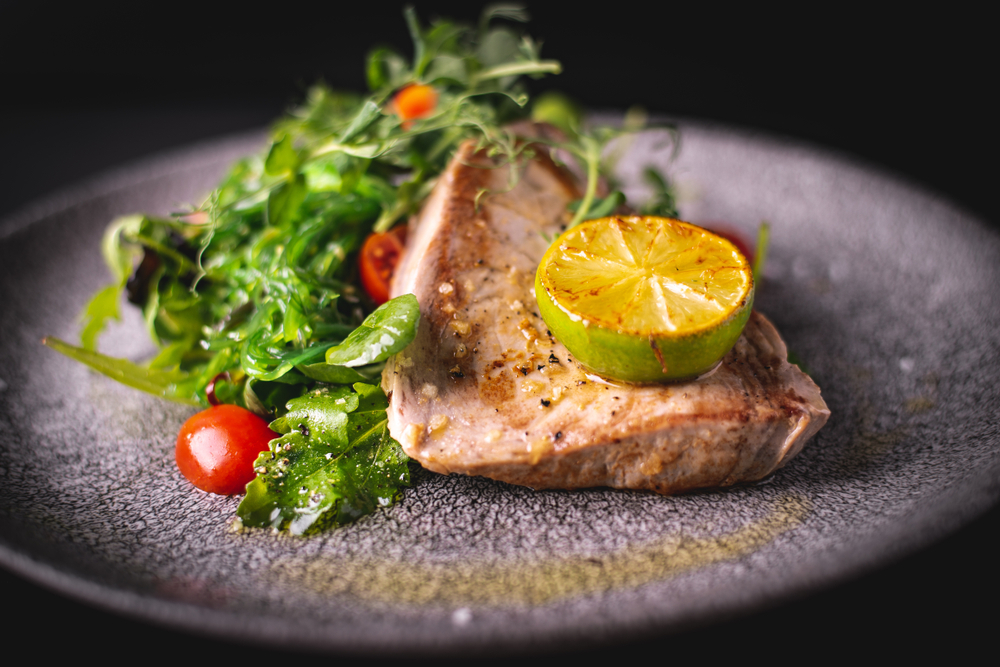 Our Grilled Ahi Tuna is full of flavor and is great served with a side of salad or quinoa (#8940).
Grilled Mediterranean Ahi Tuna
Ingredients:
Instructions:
To begin, preheat Outside Grill on Medium High setting when you start your prep. Or start your charcoal grill about 30 minutes before you plan to grill tuna.
Pat tuna steaks with paper towels to remove excess moisture then place in a shallow dish.
Then, mix all spices with oil and lemon juice in a small bowl with a fork or whisk. Allow to rest for at least 5 minutes to blend together.
Next, brush mixture on both sides of Tuna steaks and allow steaks to rest for another 5 minutes.
Last, grill steaks on hot grill 2-5 minutes on each side to attain desired doneness. For well done there should still be some pinkness to the center. Most prefer barely warm red centers.
Adapted from: https://recipes.sparkpeople.com/recipe-detail.asp?recipe=353278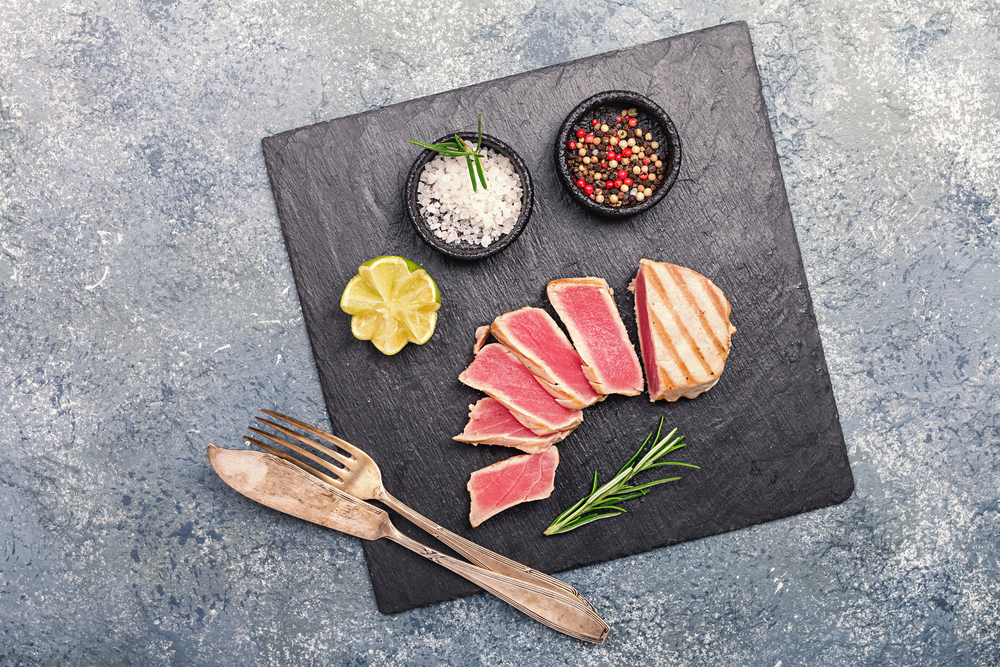 These Ahi Tuna Steaks only take 6 minute to make, and have a nice crispy outside perfect for a nice dinner. It is healthy, tasty, and easy!
Six Minute Seared Ahi Tuna Steaks
Ingredients:
Instructions:
To prepare, cover tuna steaks with soy sauce, oil, salt, pepper, and cayenne. Marinate in a container or bag for ten minutes (or overnight), if you have time.
Then, heat a medium skillet on medium high until hot.
Next, sear tuna for 2.5 minutes on each side for medium rare (2 on each side for rare; 3 on each side for medium).
Slice into 1/2 inch slices and serve garnished with green onions and, if you wish, over a bed of salad greens with your favorite Asian-style dressing.
Adapted from:
https://www.bowlofdelicious.com/six-minute-seared-ahi-tuna-steaks/
Comments
Can You Cook Ahi Tuna All The Way Through? - The Whole Portion - […] http://blog.alisonspantry.com/3-methods-for-cooking-ahi-tuna/ […]
Can you cook the ahi tuna all the way through? - chef clue - […] 3 Methods for Cooking Ahi Tuna […]