Chinese Favorites
If you like these recipes, you might also like these products:
First, a simple way to serve up a helping of veggies, our Minh Vegetable Egg Rolls (#4078) are full of shredded cabbage, bok choy, water chestnuts, carrots, and celery mingled with a special blend of spices.
Next, Orange Chicken is a favorite when getting takeout. So, when we found this delicious Foster Farms Orange Chicken (#9213) we knew it would be a hit in our homes!
Last, if you're looking for another side for your "stay in" take out, look no further than our Chicken and Vegetable Potstickers (#4767). They are full of tender chicken, with fresh vegetables and seasonings in flavorful little dumplings. It even comes with a packet of savory dipping sauce.
Other Sauces And Toppings
First, for the fried rice, there aren't really "sauces" that traditionally go with it. We love the addition of chicken broth and Worcestershire sauce, but try adding some soy sauce in addition to these two! Another thing to add would be 1-2 tbsp of fish sauce, if you're a fan of the fishy flavor.
Second, for the Kung Pao Chicken, it is already full of flavor! The toppings we would suggest adding would be more veggies. You can add zucchini, pineapple, any variety of peppers, cabbage, etc.
If you're anything like us, your love for fried rice has been around for a loooong time. It's a pretty simple dish, but with a few tricks it can go from good to amazing in seconds!
Ham Fried Rice
Ingredients:
Instructions:
Fry Bacon in an electric skillet, drain fat and scrambled eggs into the bacon.
Add cooked rice, butter, Worcestershire Sauce, Soy Sauce and Broth (dissolved in ½ cup of water) to pan.
Lastly, add peas.
Let set on low temp until flavors blend.
Do not cover.
Serves approx. 6-8.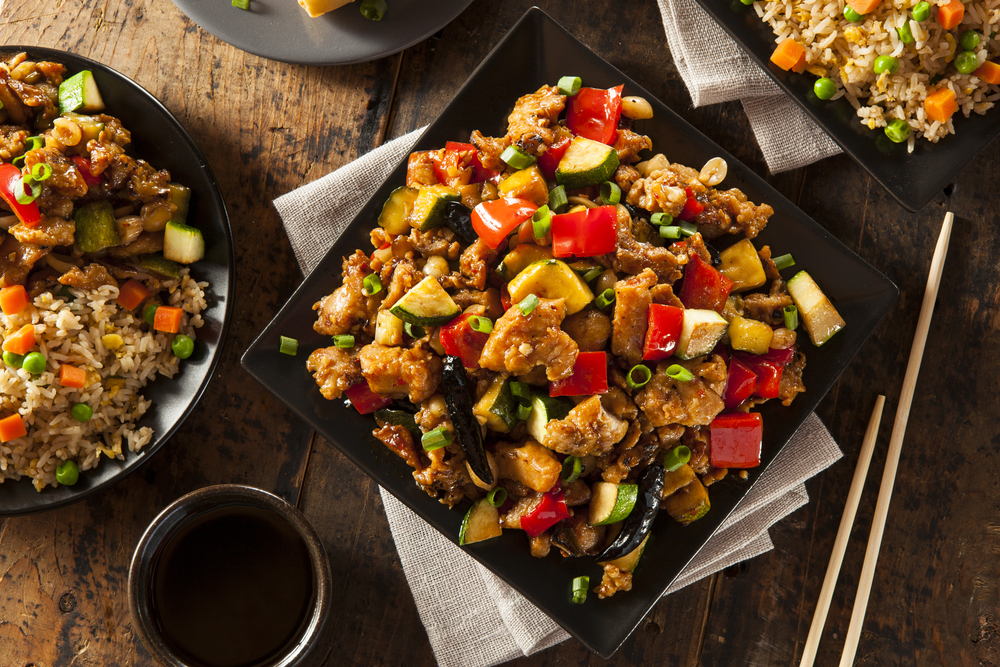 Like most Chinese dishes, this Kung Pao Chicken/Shrimp is exploding with flavor. And, you can make it better than take out in the comfort of your own home! This recipe is hard to pass up.
Kung Pao Chicken/Shrimp:
Ingredients:
Instructions:
Begin with Large Skillet or Stir fry pan.
Place a couple TBS of canola oil in your pan along with 1 TBS butter and brown the chicken. (Butter will help give the chicken a golden crisp)
Now add your liquids (dissolve beef broth in ¼ cup of water and include), along with 1 TBS of corn starch.
Next add your veggies! I recommend that you thaw them first or they water down your recipe and create soup!
Wait to add shrimp or hot pepper until just before serving.
This dish is quick to prepare and if it sits too long your veggies will be come mushy.
Serves 8-10
Recipes from: Karen Voller
Comments