Infused Avocado Oil
If you tried the delicious Redstone Infused Oils we have carried in the past, chances are you've fallen in love with infused oils, too. They're full of flavor and a great way to easily spice up a recipe with little effort. We'll take any shortcut we can!
Infused Avocado Oil
If you plan to make your own infused oil, oil dispenser bottles will be your best friend. They can be used in every part of the process – infusing and using. And, they look nice out on the counter. We think they would also make a great gift!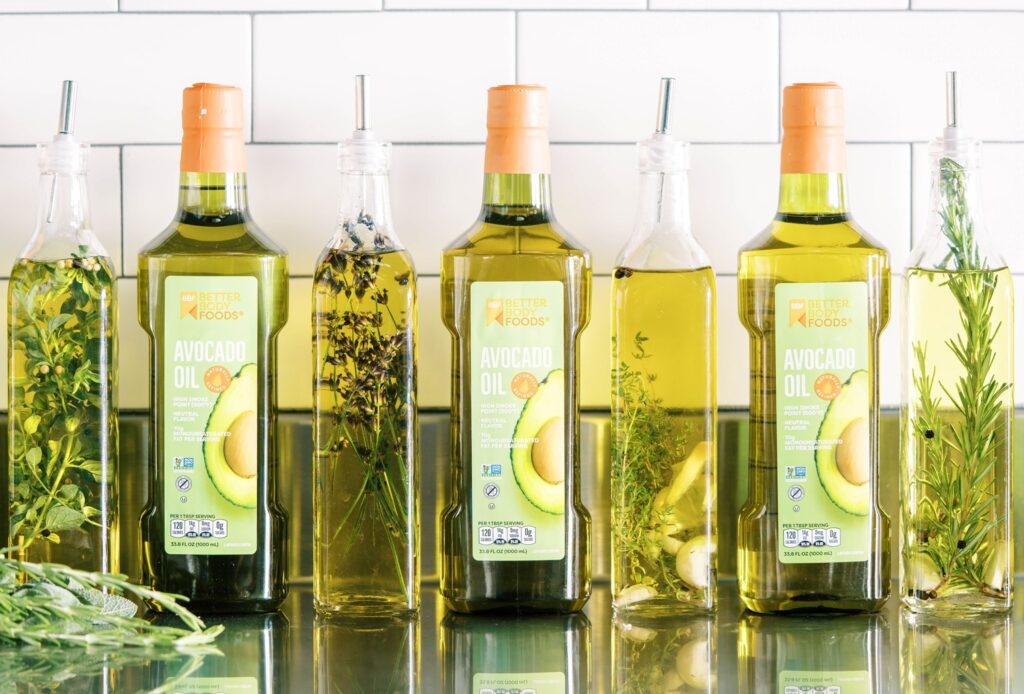 So, what should I use for infused oils?
Regardless of what you infuse, we suggest using 2 cups of BBF Naturally Refind Avocado Oil (#3516) as the base. Here are some combinations we love to infuse, but the options are endless:
Italian.
Use SupHerb Farms Fusions Fresh Frozen Italian Blend (#1840) for all the flavor of fresh herbs, without the hassle! Add about 1 Tbsp of the herbs to a saucepan, followed by the oil. Heat over medium-low, then transfer to a bottle. Add an additional 1 Tbsp of herbs, if you want more flavor. Use within 3-5 days.
Garlic Chili.
Add 3-6 cloves garlic slices and 1-2 Tbsp red pepper flakes to a saucepan, adding more or fewer pepper flakes depending on the level of heat you want. Heat over low heat, and once it shimmers remove it from heat. Allow to steep for 1 hour, then strain out the garlic and chili flakes and pour into a bottle.
Garlic Green Onion.
Heat 1/3 cup of sliced shallots in the oil until they are golden brown. Remove from heat and carefully remove shallot, and add 1/3 cup Supherb Farms Fresh Frozen Green Onion (#1864). Cook until slightly brown, then carefully transfer to a bottle and store in the fridge.
Rosemary Peppercorn.
You will need 4-5 sprigs of fresh rosemary and 2 tsp AP Whole Black Peppercorns (#1030). Place half the rosemary and peppercorns into the bottle. Then, add the other half in a saucepan along with the oil. Heat over medium-low for 3-5 minutes, then allow to cool before pouring into a bottle.
Rosemary and Lemon.
To a saucepan, add 2 cups oil, 3-6 cloves garlic, 1 spring fresh rosemary, 3 lemon slices, 1 Tbsp lemon zest, and crushed red pepper flakes (optional). Heat over medium-low, or until the oil shimmers, then remove from heat and cool before transferring to a bottle.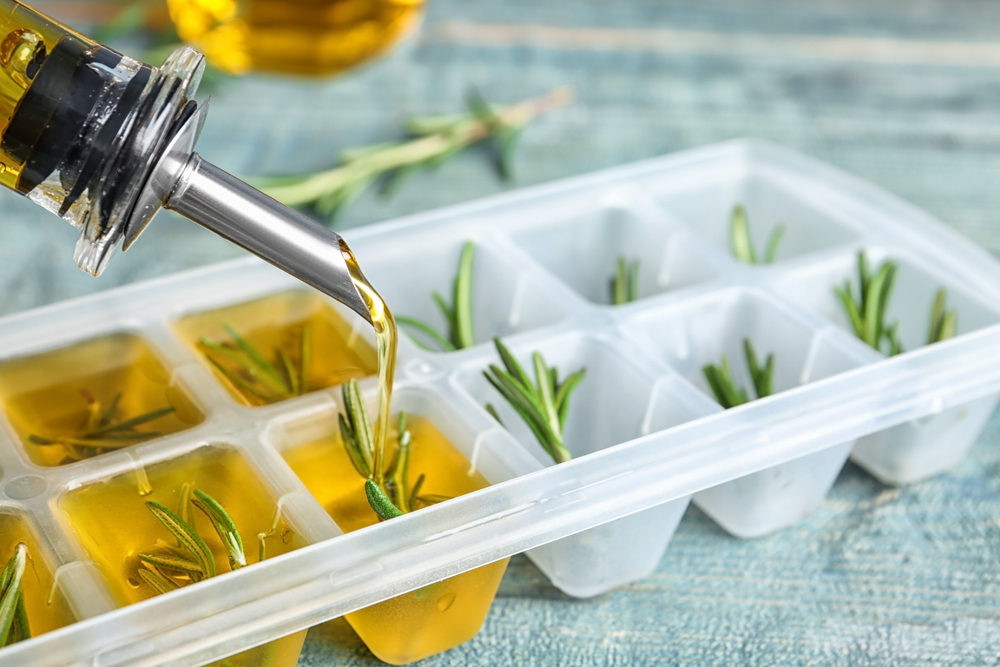 Try herb bombs!
If you don't have the counter or fridge space for a bottle(s) of infused oil, herb bombs are another great option. Simply press the herbs about into a well of a silicone ice cube tray, about 2/3 of the way full*. Cover in avocado oil, making sure the herbs are completely covered, then freeze until solid. Pop the herb bombs out into another container, like a Ziploc or glass container, for easy access.
*This is easier to push out that a hard plastic one.
How long does it last?
If you remove the extra ingredients once the flavors are infused, it will last for up to a year if stored in a cool, dry place in an airtight container. If you keep the extra ingredients, it will last for 2-4 weeks in the fridge. Please note that if it is refrigerated, it is normal for it to slightly solidify. Feel free to bring it to room temperature before using it.
Comments