Biscotti Hot Cocoa Bar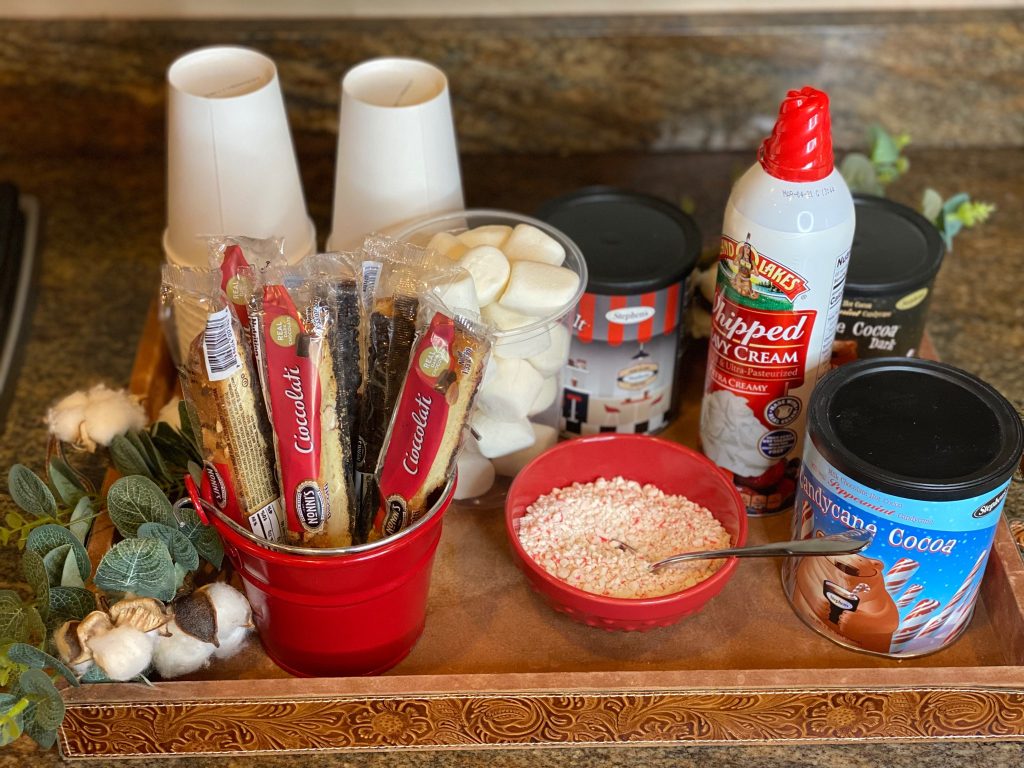 Biscotti Hot Cocoa Bar
We'll take any excuse to enjoy Stephen's Gourmet Hot Cocoa! During the winter months, we have a simple hot cocoa bar set up so everyone can enjoy a customized mug of cocoa. It's great just for parties, holidays, or just to warm up after a long day of playing in snowor watching Christmas movies. Today, we're sharing how to easily set up a Cocoa Bar of your own, from ingredients to presentation. Let us know what you think!
Start with the ingredients list.
Obviously, Stephen's Gourmet Milk Chocolate Hot Cocoa (#2310) or Candy Cane Hot Cocoa (#2311) are a must for this bar. We included both flavors, so our kids can choose which one they want. You can also include Stephen's Vanilla Chai Latte Mix (#1522), Spice Chai Tea Latte Mix (#1523), or Victorian Inn Vanilla Cappuccino (#1326), Mocha Cappuccino (#1328), White Chocolate Caramel Cappuccino (#1329), or English Toffee Cappuccino (#1330) for adults.
Here are a few topping ideas to include in your hot cocoa bar:
Marshmallows
Whipped cream
Ginger snap cookies
Crushed peppermint
Mini chocolate chips
Sprinkles
Chocolate sauce
Wafer cookies
Crushed toffee bits
Peppermint bark
Now, once you have all the ingredients chosen, let's talk about the presentation.
It really comes down to a serving board, small bowls, cups or mugs, and the optional seasonal decor. We tend to gravitate towards storing the toppings in deli containers or mason jars that can easily be sealed again, so nothing gets stale from being left out. An important part of these holiday boards is to have different layers- the hot cocoa in their tin cans, taller containers for toppings, a stack of cups, biscotti in a mug, and maybe a spread of mixing spoons. Really, just use what you have!
Here are a few more tips to keep in mind:
For ingredients that need to be kept in the fridge, like whipped cream, we just leave a spot on our platter for that and take it out when we're ready to make up some hot cocoa.
To add to the visual appeal, we scattered stems of fake greenery throughout the platter. You can do this with ribbon, garlands, or even scattered Christmas ornaments.
Another option, especially for a party, is to use Bakers Twine to tie a little cardstock label on each container so your guests know what each ingredient is.
Comments
Red Velvet Puffcake - Alisons Pantry Delicious Living Blog - […] Biscotti Hot Cocoa Bar Candy Cane Fudge Cinnamon Sugar Chex Mix SharePinTweet0 Shares 0Shares Share on Facebook Share on…