2 Chex Mix Recipes for the Holidays
Chex Mix is a popular treat for parties, snacks, or even to pack in school lunches. In our home, we like to cozy up with chex mix and a fuzzy blanket and watch Hallmark Christmas movies. No matter when you serve it, it's sure to please your taste buds. And, we love chex mix because it can be totally customized to your liking- add more nuts, more cereal, chocolate chips, etc. The possibilities are endless!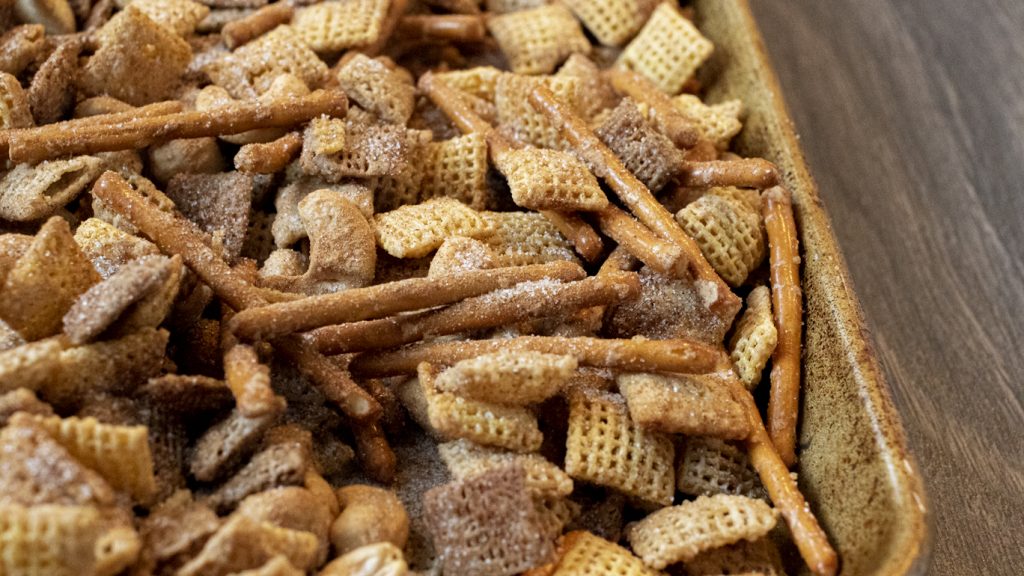 Three Chex cereals, cashews, and pretzels tossed in honey butter and cinnamon sugar for a deliciously crunchy and sweet treat.
Cinnamon Sugar Chex Mix
Ingredients:
Instructions:
First, preheat oven to 275F. Then, line a Crestware Cookie Sheet (#) with a Crestware Silicone Baking Mat (#).
Next, combine the corn chex, rice chex, wheat chex, cashews, pretzels and salt in a large bowl. Then, add the melted honey butter, making sure everything is evenly coated.
Now, spread the mixture onto the prepared cookie sheet. Bake for 20-30 minutes, or until lightly golden brown, stirring every 10 minutes.
Remove from the oven, and stir in the cinnamon sugar.
Allow to cool before serving.
Adapted from: https://chefshamy.com/recipes/cinnamon-sugar-chex-mix/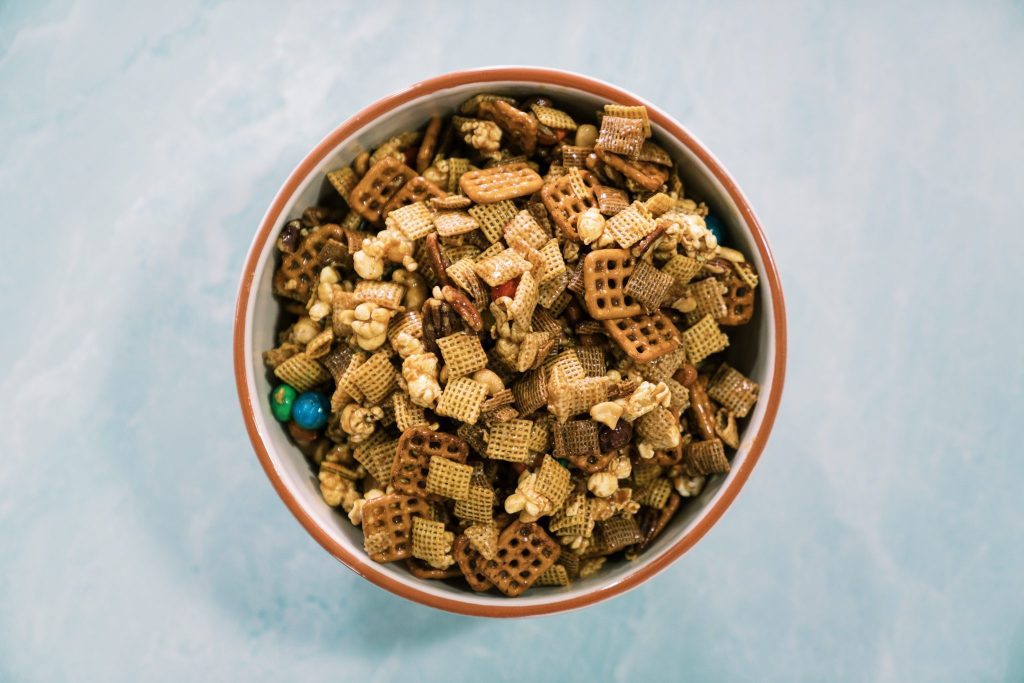 A delicious mix of three Chex cereals, pretzels, popcorn, nuts, and peanut butter m&m's tossed in creamy peanut butter.
Peanut Butter Chex Mix
Ingredients:
Instructions:
First, in a large bowl combine the chex cereal, pretzels, popcorn, nuts and m&ms. Toss to combine.
Then, in a saucepan, combine coconut oil, pbfit, honey, brown sugar and salt. Bring the mixture to a gentle boil, stirring constantly. Boil for 1 minute and then remove from heat.
Now, pour the peanut butter mixture over the cereal mixture and fold together with a rubber spatula.
Next, dump the mixture on a parchment lined baking sheet and spread out.
Before serving, place in freezer of leave on the counter to cool and get more firm.
Recipe from Catalog #12, 2021.
Looking for more movie night snacks?
Comments