Cinnamon Roll Pancakes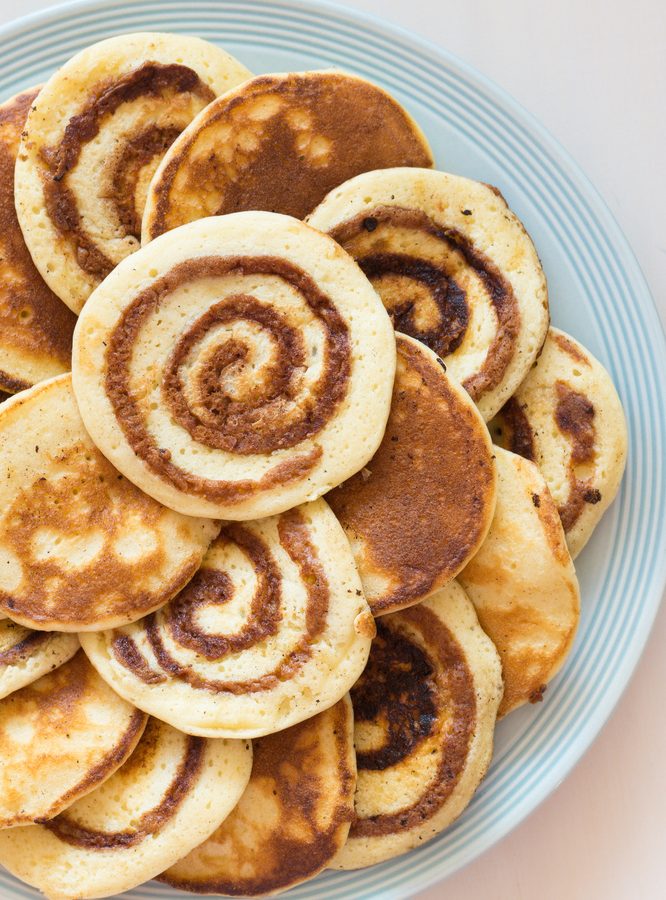 Let's be honest, we love Cinnamon Rolls in every variation- rolls, knots, breadsticks, etc. So what's not to love about Cinnamon Roll Pancakes?! Absolutely nothing, that's for sure. Everything about these pancakes screams amazing! Just wait until you top with that delicious glaze… Yum!
Tips for the perfect Pancake
If you want to become a pro-pancake maker, here are some of our favorite tried and true tips.
Make sure you oil or butter the pan. We like using Vegalene (#1575), but anything will do.
Along with Vegalene, preheat the pan or skillet before adding the batter. This will help your batter hold its shape rather than spreading out.
Use a measuring spoon. To get consistent sizes with all your pancakes, measure the batter out! We usually use 1/3 or 1/4 cup measuring cups.
Wait until the batter starts to bubble to flip. We know, it's hard to be patient when you just want to dig in! But, this trick helps get the perfect golden pancake every time.
How long will these last?
So, if you have extra batter, we suggest only leaving it in the fridge for 24 hrs before making more pancakes. But, if you cook all the batter, your pancakes can last up to 5 days in the fridge. In the freezer, they can last up to 2 months- if stored in an airtight container. Keep in mind, they may stick together. Because of these, we suggest layering with parchment paper (#1153) before sticking in the freezer.
Looking for more breakfast ideas?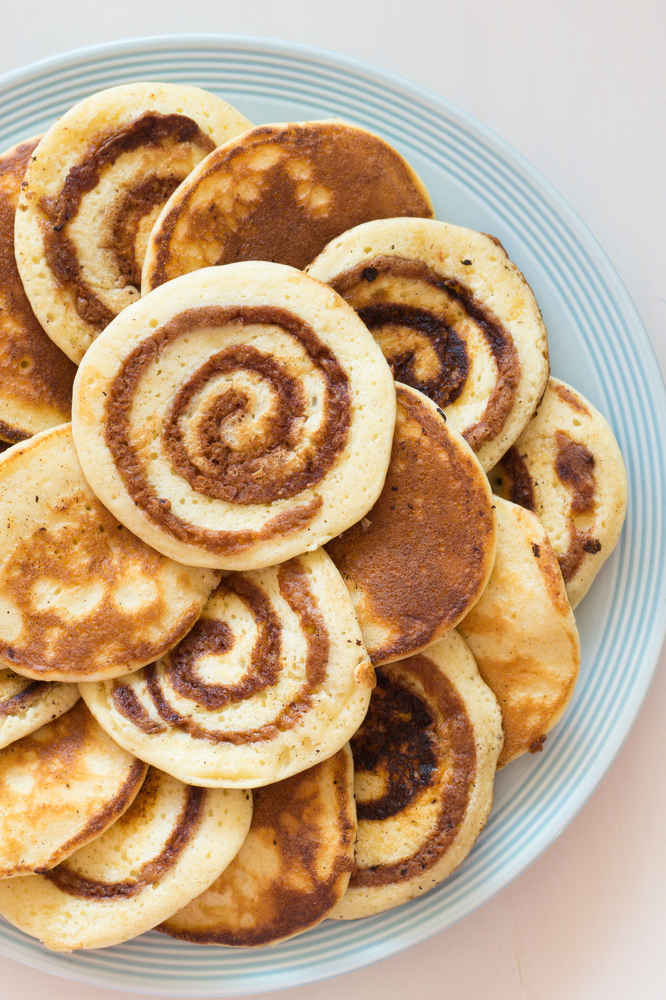 These cinnamon roll pancakes will be a crowd pleaser. With the cinnamon swirl filling and the light icing, it's the perfect pancake replica of our favorite treat.
Cinnamon Roll Pancakes
Ingredients
Cinnamon Swirl:
Icing:
Pancakes:
Instructions:
For the swirl: Combine the brown sugar, butter, and cinnamon in a small bowl and mix until smooth. Pour into a small plastic re-sealable bag and cut 1/4 inch off a corner and store it with the opening upright in a small glass until ready to use.
For the icing: Combine the confectioners' sugar, butter, milk and salt in a small bowl. Whisk until smooth and set aside. 
For the pancakes: Whisk together the mix and water.
Melt 1 teaspoon of the butter in a large nonstick skillet or griddle over medium heat. Ladle about a 1/4 cup of the batter into the skillet. Starting from the middle of the batter, pipe out a large swirl of the cinnamon swirl mixture with the outer most part of the swirl near the edge of the batter. Make 1 or 2 more pancakes, taking care to keep them evenly spaced apart, and repeat with the swirl. Cook until bubbles break the surface of the pancakes, and the undersides are golden brown, about 2 minutes. Flip with a spatula and cook about 1 minute more. Serve hot and swirl-side up, or transfer to a platter and cover loosely with foil to keep warm. Repeat with the remaining batter, adding more butter to the skillet as needed. Top with a drizzle of the icing before serving.
*For a fun twist, try using our Chef Shamy Cinnamon Brown Sugar Honey Butter.
Adapted from: https://www.foodnetwork.com/recipes/food-network-kitchen/cinnamon-bun-pancakes-3680276
Comments