Easy Homemade Calzones
Calzones are an oven-baked folded pizza. You can use homemade dough, pizza dough, biscuit dough, etc. They are delicious no matter how you fill them, and we love that every one in the family can personalize their fillings.
How do I store and reheat my calzones?
If you have leftover Calzones, make sure to let them cool completely before storing. Then, wrap in plastic wrap (#6127) or store in an airtight container and store in the fridge for up to 3 days. In addition, you can transfer to a freezer bag (#1979) and freeze for up to 3 months. To reheat, let the Calzone thaw in the fridge. Unwrap, and heat in the microwave for 2-3 minutes or in the oven until heated through.
More Filling Options:
There are no limitations to what you can put in your Calzone! You can't go wrong with a simple pepperoni (#1596) filling, but we like to use our imaginations a bit more with this recipe. Some fillings we love are: sausage crumbles with sliced mushrooms, pepperoni (#1596), olives, peppers (#6386), pineapple (#8277), chopped onions (#5772), Canadian bacon (#4047), precooked bacon (#4835), etc. You get the idea, there are tons of options! In addition to these, we like switching things up with a Chicken Alfredo or BBQ Chicken Calzone.
For the Chicken Alfredo: Simply fill with Diced Chicken Chunks (#7787), Alfredo Sauce (#9160), Crumbled Bacon (#4835), Mozzarella Cheese, and tomatoes (optional).
For the BBQ Chicken: Again, use the Diced Chicken Chunks (#7787), BBQ Sauce, Crumbled Bacon (#4835), Chopped Onion (#5772), and Mozzarella Cheese.
If you like this recipe, we think you'll like…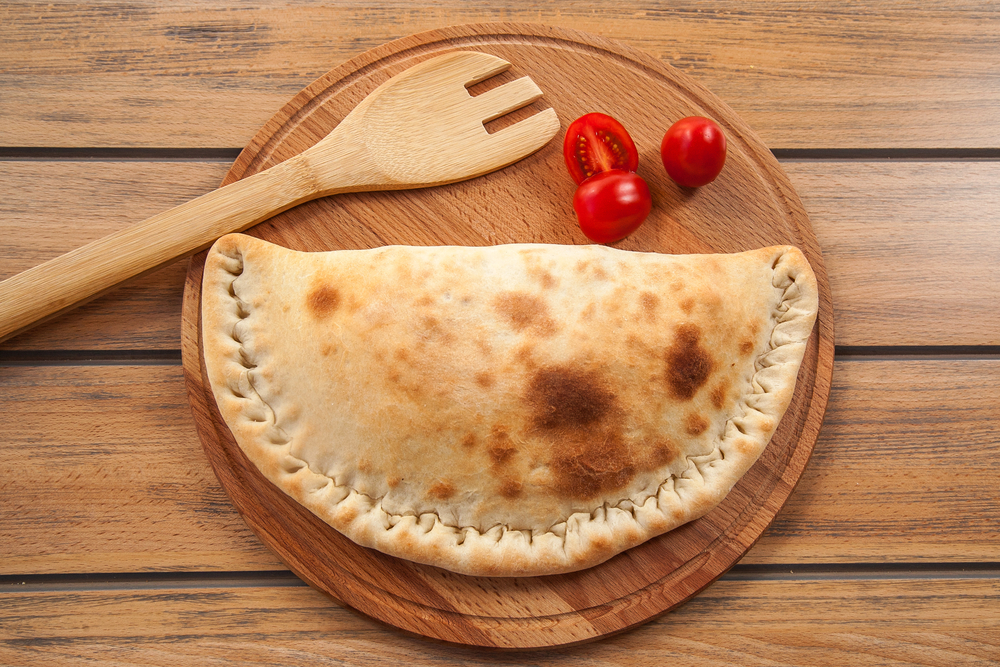 A Calzone is an oven-baked folded pizza. They are delicious no matter how you fill them, and every one in the family can personalize their fillings.
Easy Homemade Calzones
Ingredients:
One batch of Rizzuto pizza dough (#1079)
2 cups mozzarella cheese
Toppings of your choice– I usually use around ¾ cup of toppings per calzone. See above for topping ideas.
1-2 cups of marinara sauce (for dipping)
Instructions:
Make sure your dough is thawed. You can thaw overnight, or at room temperature for 1 1/2-2 hours.
When thawed, gently remove dough from bag and form to a round doughball, place it on a lightly floured surface and lightly flour the top of the dough as well. Cover with plastic wrap (#6127) or kitchen towel and allow the dough to rest for 15-20 minutes.
After the resting period, punch it down and divide into four equal lumps.
Roll each lump into a circular shape–roughly 8″ in diameter
Place the toppings of your choice on half of the dough circle (you'll be folding the other half over the top to create the pocket)
Sprinkle liberally with mozzarella cheese
Fold the top half of the circle over the toppings to create a pocket. If the two halves don't line up perfectly, it's OK– simply stretch/adjust the dough until you can crimp the edges to seal up the calzone. I usually do a bit of a rolling/pinching/mashing motion on the edges to make sure the calzones don't come apart while baking.
Place the calzones on a pizza stone or a greased baking sheet (#5957) and let them rise for 30 minutes.
Bake for 25-30 minutes in a preheated 375 degree oven. I like to brush them with melted butter or an egg wash about 15 minutes through the baking process to give them a lovely golden color.
Serve with marinara sauce for dipping.
Adapted from: https://www.theprairiehomestead.com/2014/07/calzone-recipe
Comments