Feel like a chef w/Custom Culinary Gravy
Custom Culinary starts with real pan drippings and select seasonings to create their professional gravy mixes. They're rich and savory and eliminate the guesswork of adding the perfect seasoning or smoothing out flour lumps. All you have to do is whisk in water! This is why restaurant chefs love them.
To make a gravy just like the pros…
1. In small saucepan, combine 1/4 cup dry mix with 1 cup water.
2. Whisk until smooth.
3. Cook over medium heat until thickened.
Choose from:
Shop all Custom Culinary Gravy Mixes here.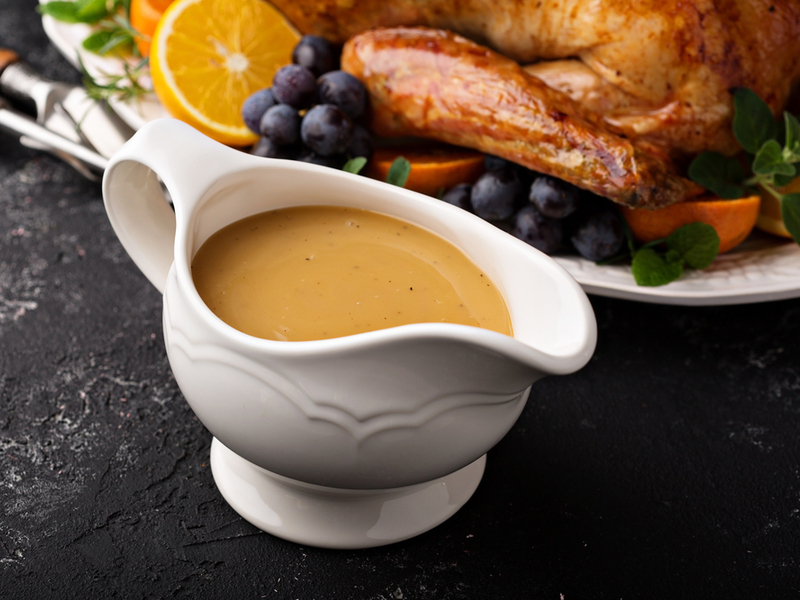 Upgrade your Gravy Mix
Start with a quality Custom Culinary mix and take your gravy to the next level with these chef tips.
Add fresh herbs like thyme, rosemary, or chives.
For a creamier gravy, swap the water with milk or Gossner Foods Shelf-Stable Whipping Cream (#1696).
Sauté Kirkland Minced Garlic (#1289) or Kirkland Chopped Onion (#5772) in Kirkland Salted Sweet Cream Butter (#1723) before adding the gravy mix and water.
Stir in 1 Tbsp C & H Granulated Sugar (#1632) for a little bit of sweetness.
For beef or pork, add Worcestershire sauce or red wine vinegar. For poultry, add a splash of white vinegar.
Here's What AP Customers are Saying
"I have been using this gravy mix for as long as I have been ordering from AP which is so many years I can't remember how many! I always have extra bags on hand because my kids also have to have a bag or two at their houses. My grandkids most requested meal is biscuits and gravy when they are at Grandmas whether it's for dinner or breakfast. Just cant say enough great things about this gravy mix!"
-Teresa Demers, Grand Jct., CO
"I LOVE the Turkey Gravy Mix #1254 (well actually, ALL of the gravy mix flavors) and I use it often! It's super easy to prepare and the flavor is fabulous! I always have several different bags on hand at a time! It's one staple I hate running out of!"
–Heather Farr, Lewistown, MT
"I wholeheartedly recommend the Custom gravy mixes and bases. These are very popular with my customers as well. Any of the gravies, Country, Peppered Biscuit, Brown, Chicken, etc. are easy to use and taste great. I always make sure I have some on the shelf!"
-Sue Anderson
Comments