Mason Jar Salads
Lunches can be one of the hardest meals of the day for us. We get busy and sometimes forget to eat or go way too long without eating then get hangry. But, if you have a refreshing Mason Jar Salad waiting for you in the fridge, you won't have to worry all day about figuring out what's for lunch. Simply prepare them on Sunday, and you have lunch for the next few days.
How to eat Mason Jar Salads
So, how exactly do we eat Mason Jar Salads? When we first heard of them, we thought you ate it straight from the jar, but we found out that's not how you do it. Once the salads are prepared, just pour the contents into a bowl when you're ready to eat. That way, the dressing gets mixed in rather than sitting at the bottom of the jar. Along with this, you want the dressing towards the bottom of the jar so it doesn't soil the greens or other ingredients if prepared days in advance. They can last for about 4 days in the fridge.
Can I add to these salads?
We love salad bars because there are so many delicious options for toppings. One thing we love about Mason Jar Salads is that they are individual servings, so they can be adapted to the person or how you feel that day. Try adding meat, olives, other veggies, nuts, seeds, cheese, or dried fruit.
Full of veggies from your garden, this refreshing Quinoa Mason Jar Salad has a slight tang from the Lemon Dill Dressing.
Quinoa Mason Jar Salad
Ingredients:
Lemon Dill Dressing:
Instructions:
Start by preparing the quinoa. Heat 2 Tbsp. oil in a skillet on med-high heat. Sauté half bag of frozen product for 6 minutes, covered, stirring frequently.
While that is cooking, chop and prepare your veggies. Set aside.
To prepare the dressing, simply blend together until smooth.
In each jar, layer the dressing, broccoli, cherry tomatoes, quinoa, radishes, avocados, and spinach. Top with feta, if desired.
You can store these in the fridge for up to 4 days. When you're ready to eat, simply dump the contents into a bowl and stir to combine.
Adapted from: https://pinchofyum.com/summer-quinoa-salad-jars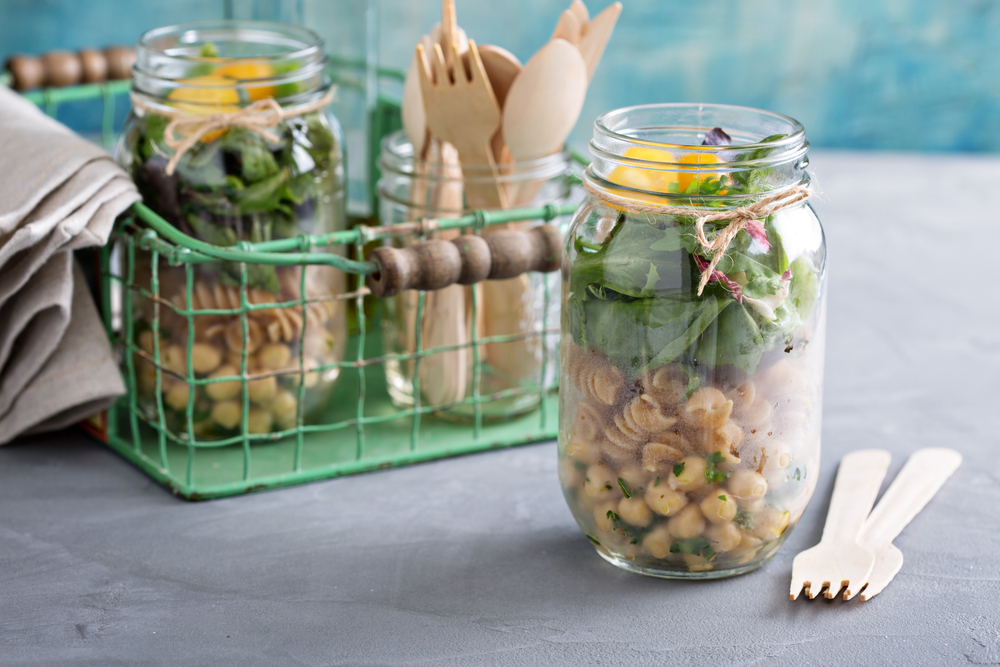 This Pasta Mason Jar Salad with its fresh Mediterranean vibe will fill you up on your lunch break.
Pasta Mason Jar Salad
Ingredients:
2 cups pasta
1 1/2 cups cooked garbanzo beans
2/3 cup red onion, chopped
1 cup chopped parsley
1-pint yellow cherry tomatoes
4 cups spinach or mixed greens
Crumbled feta cheese, optional
Greek Dressing:
Instructions:
First, prepare the pasta according to the directions on the package.
Make the dressing by whisking together the ingredients until thoroughly combined.
Mix the chickpeas with red onion, parsley, and enough dressing to lightly coat. Set aside.
To assemble, add the chickpea mixture, 1-2 tbsp extra dressing, cooled pasta, spinach, cherry tomatoes, and feta.
Adapted from: https://cookieandkate.com/mason-jar-chickpea-farro-and-greens-salad/
Comments