Pink Desserts for Valentine's Day
If you prefer to share a Valentine treat that's more homemade than candy hearts or a box of chocolates, these pink desserts lend some sweet food for thought. Chef Shamy Strawberry Honey Butter is mouthwatering on a warm roll, but it's also the secret ingredient in our pink desserts. It adds a little something extra that makes these Valentine's Day recipes extra special.
Light and fluffy classic creme cupcakes topped with a delicious strawberry frosting.
Strawberry Frosted Vanilla Cupcakes
Ingredients:
Frosting:
Instructions:
For the cupcakes, combine eggs, oil, & water. Add 1/2 liquid to bowl. Add mix and blend with a mixer for three minutes. Then, add the balance of liquids while mixing, then continue to mix for two more minutes. Fill muffin cups 2/3 full (lined with Standard Wax Baking Cups #1646). Bake 18-22 minutes in 375º oven. Allow to cool completely.
Meanwhile, mix the butter, powdered sugar, and lemon juice. If needed, add milk until desired consistency is reached.
Once the cupcakes are cooled, frost with the strawberry frosting and decorate as desired.
Adapted from: https://chefshamy.com/recipes/strawberry-frosted-vanilla-cupcakes/
Turn a childhood favorite treat into an adorable fruity and sweet Valentine's Day treat.
White Chocolate Dipped Strawberry Krispie Treats
Ingredients:
Instructions:
First, melt the butter and marshmallows over low heat, stirring frequently.
Then, add the rice cereal and stir until completely coated.
Press the mixture into a greased Crestware Cookie Sheet (#4020) and allow to sit and become firm.
Next, use a heart shaped cookie cutter to cut heart shapes. Try using different sizes!
Meanwhile, add the white chocolate and oil in a microwave safe bowl. Mircowave 15 seconds at a time until melted, stirring between each time.
Now, dip the hearts in the chocolate and add sprinkles. Serve once the chocolate has set.
Adapted from: https://chefshamy.com/recipes/white-chocolate-dipped-strawberry-krispie-treats/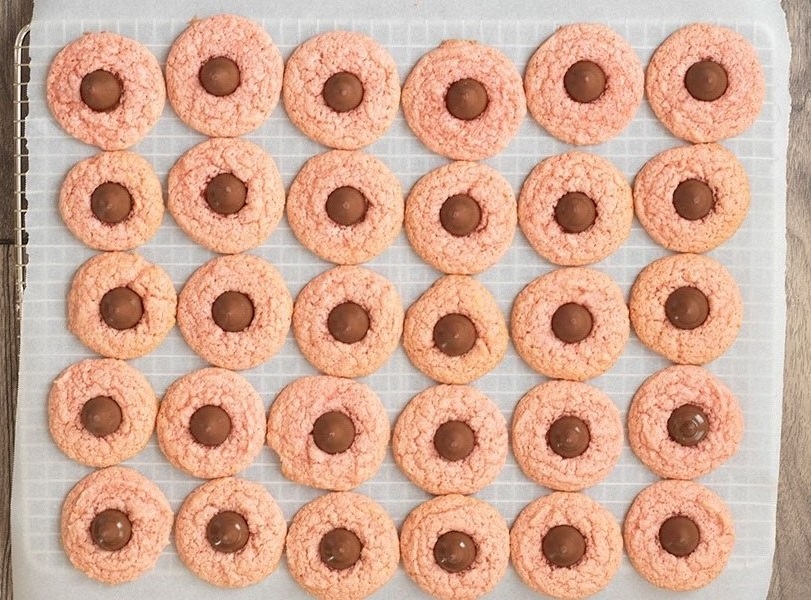 Enjoy these delicious Strawberry Blossom Cookies with a delicious bite of chocolate in the center.
Strawberry Blossom Cookies
Ingredients:
Instructions:
First, preheat the oven to 350F.
Then, cream together the strawberry butter and sugar. Add the egg and vanilla, and beat again. Now, add the flour, baking soda, and salt and mix until incorporated. As needed, add milk until the mixture reaches a normal cookie consistency.
Using a Crestware Scoop (#), scoop the dough onto a Cookie Sheet (#) lined with a Silicone Mat (#).
Now, bake for 11-13 minutes, or until the edges begin to turn golden.
Right after removing from the oven, press a Hershey's Kiss into the center of each cookie. Allow to cool before serving.
Adapted from: https://chefshamy.com/recipes/strawberry-blossom-cookies/
Comments