Tater Tot Recipes Napoleon Dynamite Would Love
Did you catch Becky's Facebook live video featuring our beloved Tots? Don't worry, you can still watch it! Just follow this link: https://bit.ly/2Sq3GOZ
Did you know?!
The word Tater Tot is a registered trademark of Ore-Ida. They were created in 1953 and first available in stores in 1956. Americans consume 70 million pounds of tater tots a year. Because of their popularity, February 2nd is National Tater Tot Day. Why wouldn't we have a day to celebrate tots?!
Other Names For Tots:
So, depending on where you're from, you may have a different name for Tots. Some additional names include Spud puppies, tater treats, tater puffs, tater rounds, crispy crowns or gems. But, that's not all! Different countries have even more names for tots!
Australia: potato gems, potato royals, potato pom-poms.
Canada: tasti-taters.
Britain: oven crunchies.
Still, regardless of what you call these delicious potato bites, they are loved all around us- not just limited to our country! And with that, we say we are all #blessed. Thank you potatoes for providing us with our delicious tots! Although, if you aren't a fan of tots… just make yourself a dang quesadilla!
If you like this recipe, you might also like:
First, this is another unique dish, these Pizza Fries are sure to be a crowd favorite for any occasion! Just like our Totchos, you can top with whatever you'd like.
Now, if you're into sharing your food, this Skillet Spinach Artichoke Dip will be a hit. But don't worry, you don't have to completely share- you'll get your own dippers!
Finally, if you're looking for a super easy appetizer- check out this Super Easy Pierogi Appetizer. Just cook your pierogis, and top with bacon and cheese!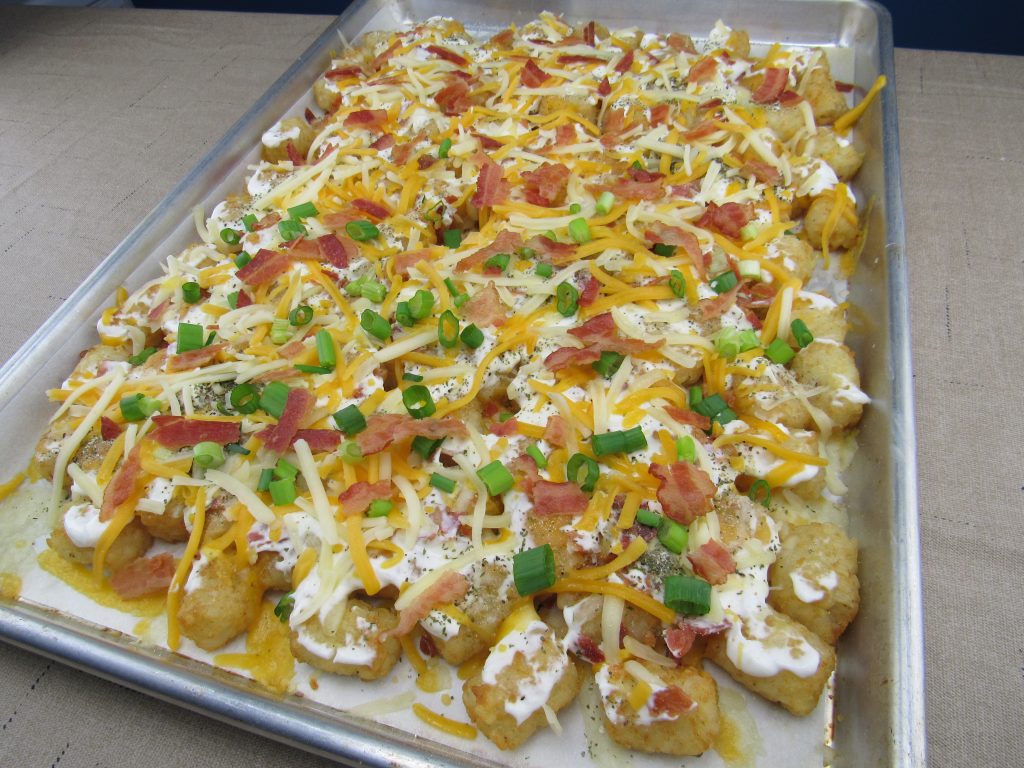 You heard us right! To.Chos. Like Nachos, but with tots. Sill, this gooey delicious mess is the same, just with the crunch of a tot instead of a chip. Of course, you can still top with whatever you like on normal nachos, so gather all the toppings if you want!
Tochos
Ingredients:
Instructions
Line baking sheet with either a silicon baking mat or parchment paper
Bake frozen tater tots according to the instructions on the package (get them good and crispy)
Sprinkle cheese on top of the tater tots
Add the bacon pieces and place back in oven at 425 degrees for 2 minutes
Spread sour cream on top and sprinkle ranch seasoning
Sprinkle more cheese, bacon and green onion
Serve and enjoy!
Adapted from: https://princesspinkygirl.com/totchos-tater-tot-nachos-recipe/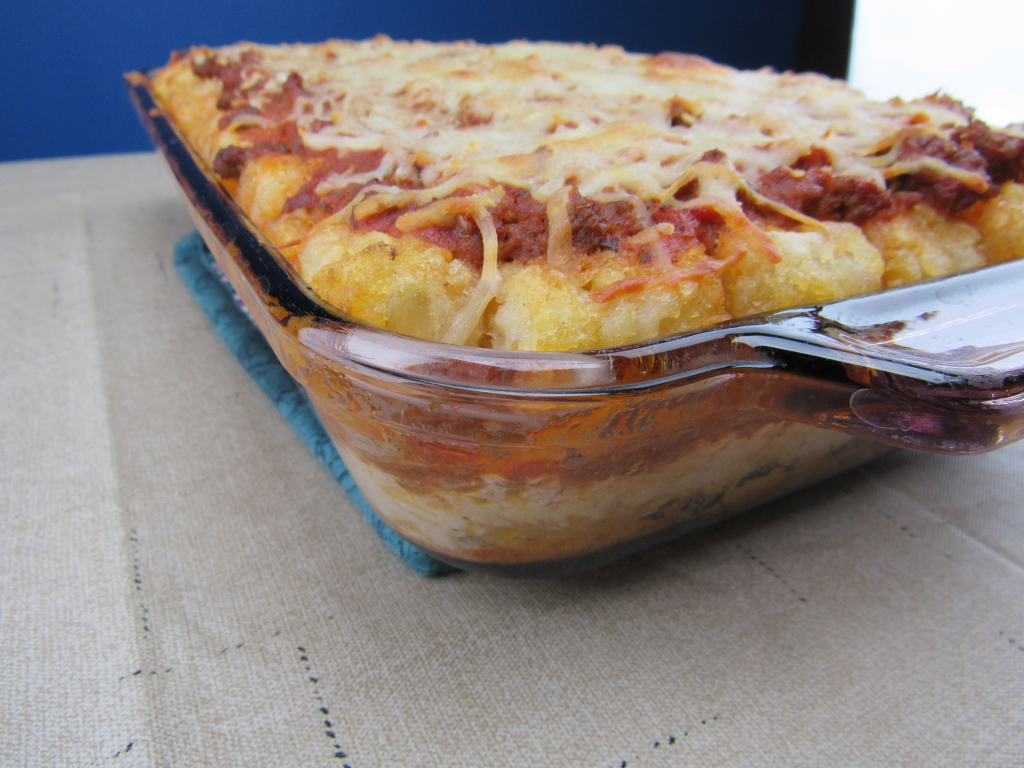 Now, just trust us on this one… Tot.Sagna. Like Lasagna, but with tots instead of noodles. We may like this better than traditional lasagna…#noshame. We know it sounds weird, but take our word- you will not regret trying this delicious tot-sagna!
Totsagna
Ingredients:
Instructions:
Heat the oven to 350° F.
Brown the ground beef on a skillet over medium-high heat. As it cooks, sprinkle on the garlic powder, mixing it into the meat. Break up the meat with a wooden spoon or spatula into small crumbles.
Once it's browned, drain any excess grease and return the meat to the skillet. Add the marinara sauce, then add the water to the skillet to thin out the sauce. Stir the sauce until it's combined, then turn off the burner.
In a large mixing bowl, combine 1 cup mozzarella, 1/4 cup grated parmesan, all of the ricotta, and the egg.
Pour enough meat sauce to lightly coat the bottom of a 13″-x-9″ pan. Top with a layer of tater tots, then the ricotta mixture, and a layer of meat sauce. Then cover with another layer of tots, add more meat sauce, then sprinkle on the remaining mozzarella and Parmesan cheese.
Last, bake in the oven for 45 minutes, or until the cheese has melted and the tots are lightly browned.
Adapted from: https://www.delish.com/cooking/recipe-ideas/recipes/a43753/tater-tot-lasagna-totsagna-recipe/
Comments
Cheesy Tater Tot Kebabs - Alisons Pantry Delicious Living Blog - […] Tater Tot Recipes Napoleon Dynamite Would Love […]