Wrapping Paper Uses for Holiday Gatherings
Wrapping Paper Uses for Holiday Gatherings
Our holiday gift wrap is from All Wrapped up and it is the best paper. I still have prints from up to 4 years ago! They're 75 ft long, it's a ton of wrapping paper that is the best quality and cutest patterns that all coordinate with each other. I have some left from last year, that still coordinate great with prints from this year. Now, the prints are sold out for this year, but if you were able to snag a roll, give these ideas a try. They will work with any wrapping paper, if you have something else.
So, I'm going to show you a couple of different ways that you can use wrapping paper other than to wrap gifts.
First, I have used it as a table runner over a tablecloth. I coordinated it with another print to use as placemats. Next, I used a thin strip to wrap around a glass and tied it with baker's twine.
You can also make cute little gift boxes, using coordinating prints for the top and bottom. This box took me about 15 minutes to put together. Allisha Hughes, a rep in Orangeville, UT gave us a simple tutorial for putting together the box (click below for the instructions!). Then, just fill it up with goodies and wrap it with twine for neighbor gifts, teacher gifts, etc. You can also do an origami box with wrapping paper, which is a lot harder.
One more idea to use the wrapping paper is to line a cookie sheet, like you would with a piece of parchment paper, as a cute way to serve holiday goodies for parties.
Let us know if you try any of these ideas!
Click below for the easy wrapping paper box instructions!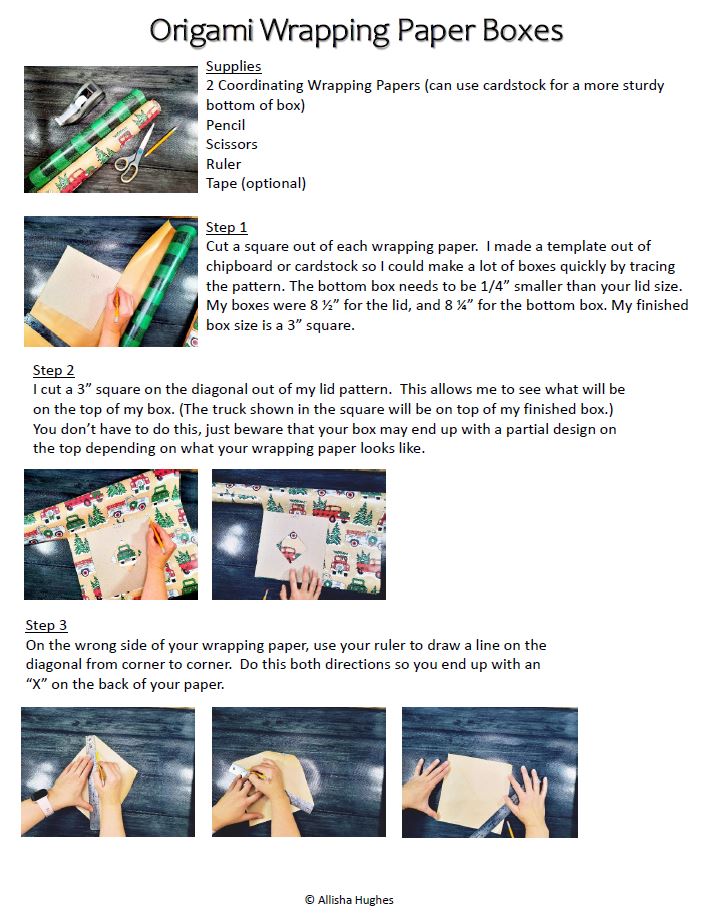 Comments