Copycat Crunchwrap Supreme
Copycat recipes can be so much fun- especially when done right! Plus, it's nice to know exactly what is going into the food we eat, and save a few bucks while we're at it. These Copycat Crunchwrap Supreme are layered with taco ground beef, nacho cheese sauce, a crispy corn tortilla, sour cream, tomato, and lettuce. While they aren't traditionally served with toppings, you can add sour cream, guacamole, or salsa to the top before you eat. Be prepared to get messy!
Easy Recipe Swaps
For a slightly lighter meal, use Norbest Ground Turkey (#4124).
Swap out the corn tortillas for tostada shells.
Mix 1 Tbsp AP Lip Smackin' Chipotle Ranch Dip (#2589) into the sourcream for an extra kick.
Use a simple queso recipe instead of nacho cheese sauce.
Add Simplot RoastWorks Flame-Roasted Sweet Corn & Jalapeno Blend (#1984) to the meat mixture.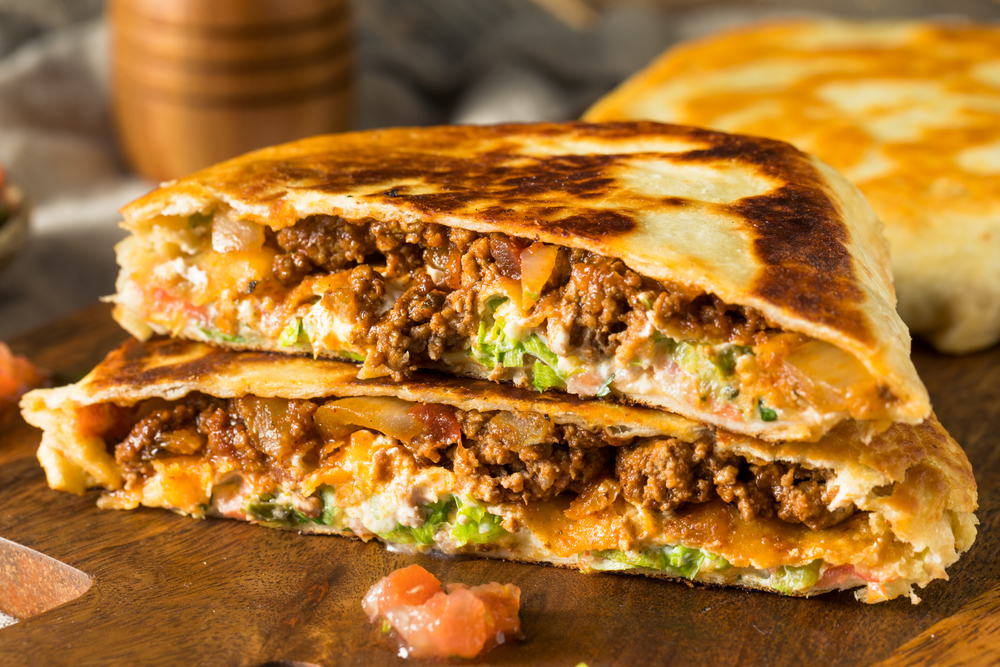 Copycat Crunchwrap Supreme layered with taco ground beef, nacho cheese sauce, a crispy corn tortilla, sour cream, tomato, and lettuce.
Copycat Crunchwrap Supreme
Ingredients:
Instructions:
First, heat half the oil in a skillet. Then, add the ground chuck and onions and cook until the meat is browned and crumbled and the onions are soft. Drain excess fat, then mix in the water, orange juice, and taco seasoning. Set aside.
Meanwhile, line a Crestware Cookie Sheet (#4020) with a Crestware Silicone Baking Mat (#8436). Spray the corn tortillas with Vegalene Premium 3-Oil Blend (#1212) and heat in the oven at 400F for 10 minutes or until crispy, flipping halfway. Then, heat the flour tortillas in a skillet until warm.
To assemble, spread about 1/2 cup of the meat mixture onto the center of a 10 inch flour tortilla, followed by a drizzle of nacho cheese sauce. Now, top with the crispy corn tortilla with a layer of sour cream spread on, followed by lettuce, tomato and cheese. Repeat with the other reamining 5 corn and flour tortillas.
To fold, place an 8 inch tortilla on top, then fold the edges of the larger tortilla into the center, continuing your way around.
Add to a skillet over medium heat with Kirkland Salted Sweet Cream Butter (#1723), with the seam side down. Compress with a second pan to help seal it, and cook until golden brown. Flip, and cook an additional 1 to 2 minutes or until golden brown and crisp. Repeat with remaining crunch wraps, and serve immediately.
If desired, top with Calavo Fiesta Guacamole (#1060), sour cream, or salsa.
Adapted from: https://life-in-the-lofthouse.com/taco-bell-crunchwrap-supreme-copycat/
If you like this recipe, try these!
Comments
Chicken Taco Bowl - Alisons Pantry Delicious Living Blog - […] Copycat Crunchwrap Supreme Southern Fiesta Rice Bowl Tex Mex Stuffed Zucchini SharePinTweet0 Shares 0Shares Share on Facebook Share on…