Life Hack: Cut Your Veggies Like a Master Chef
Be a Master Chef at Cutting!
How often do you find yourself in awe by the amazing knife yielding skills, and cuts of professional chefs? Perhaps you just notice that your fruits and veggies are a mess after several cutting attempts and a variety of dull knives that have betrayed you once or twice. At the peak of canning season, I found myself using the cutting board and knife a lot! These knife cutting tips will keep you sharp, when cutting food for family dinners and the last push of canning season.
Check out these few basic tips to cut like you're a Master Chef!
First, you'll need to know three standard rules for the proper cutting
Sharpest is safest! If you are cutting with dull knives, you are more likely than not to struggle with your cuts.
Dullness also leads to those dangerous sliding blades that find their way to your fingers! Keep your knife sharp, so it can easily slice into the surface.
Stop cutting on your counter top! Using a wooden, plastic, or composite cutting board won't dull your knife, or leave marks on your counters. Glass, metal, marble, and stone surfaces are a huge no, no!
Clean your knives by hand. The dishwasher is no place for your quality cutting knives. Be gentle with the blade after cutting. Just run it under the faucet and wipe clean.
You're going to really only need three knives:
Chef's Knife: most used, you'll find it handy for chopping and dicing.
Paring Knife: used for peeling, seeding, and trimming fat from meat, smaller tasks.
Serrated Knife: best for slicing bread and tomatoes.
These three essentials will cut just about anything you bring to the kitchen.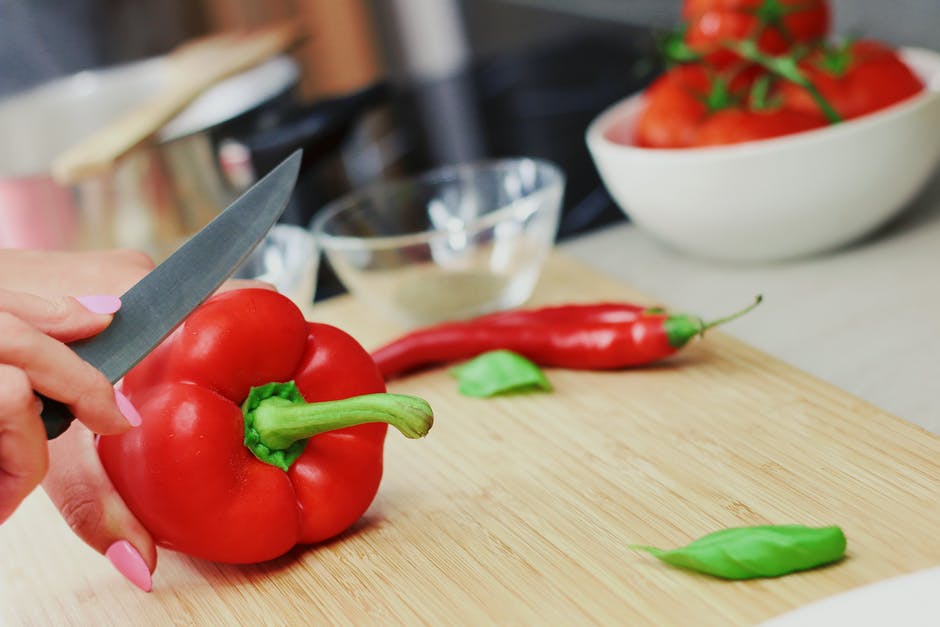 Hand Placement
To be more efficient and confident with your cuts, learn the right way to place your hands!
Where the blade meets the handle, grip the knife with your thumb and forefinger. Just like you're making an "OK" sign. It's important that you never place your index finger on top of the blade, and that you let the handle rest in your other remaining fingers.
Rather than moving the knife all around the food, you'll want to guide the food to your knife. It may seem scary, but it is safer for you. When guiding, curl your fingers inward like a claw with your thumb behind your fingertips–you can even brush the flat of the knife against your knuckles to keep it straight and safe.
Be sure you are stepping your fingers back slightly after you make each cut. Don't forget to curl your fingers!
Are you ready to learn to cut like the pros?!
Chop VS Dice: how to do them and the difference they will make in your dinners.
Chop–more often than not, you're going to be going for this type of cut. It's basic, easy, and quick. But you'll only want to chop when the recipe doesn't ask for exact, even pieces. Also, uneven pieces cook differently, so you'll want to make sure you are using it on recipes that will cook for a while.Once you are holding the knife correctly (like we just learned,) you'll want to rest the tip of the blade of your Chef's Knife on the cutting board, just moving the heel in an up and down motion.For onions, cut the top off first, and then cut it in half lengthwise. Peel back the top "skin" layer towards the root. Then, you'll have two easy to work with halves that you can place flat end down. Slice from the stem, almost down to root, all across the onion. Next, turn the onion and cut across the slices! Straightforward and quick.
Dice–for more precision, you'll dice. When you dice, your food is going to look better, and it will cook more evenly.Again, use a chef's knife to practice dicing a carrot! Cut off the top and bottom ends., and then "square" the carrot by cutting a lengthwise slice off four sides of the carrot. That way the carrot won't roll away from you!Then make even, lengthwise cuts. Stack those slices, and repeat until you get "match sticks." Now, you'll just turn your sticks and cut across them to make the dice!Of course, according to your recipe, you can vary the size of your dices.
Practice makes perfect! So use this guide to practice your skills so that you can slice faster dice and better. Save time, make it look fancy, and stay safe. You'll be feeling like a pro in no time.