What's on the Menu? Make-Ahead Chicken Bacon Subs
September's Meal of the Month
The cool, crisp days of fall are fast approaching. Kids are back in school ushering in busy nights of homework and after-school activities. Between the math assignments and carpools, it can be difficult to get a nutritious meal on the table—not to mention a meal that the kids will actually eat. Jessica Fisher from
lifeasmom.com
creates kid friendly recipes that are simple to prepare and delicious. These recipes can be popped in the freezer for emergency meals when you've had a long day and don't feel like messing up the kitchen. This month we're excited to share one of her favorite standbys for busy nights! Jessica's chicken bacon subs pair the lovely crunch of
bacon
with the robust flavors of shredded
chicken
and Colby jack cheese. Put that on a fresh
ciabatta bun
, and even the kiddos will love it! They can be wrapped up individually, making them perfect for a quick dinner or after-school snack. The best part is Alison's Pantry will save you a trip to the store and supply all the ingredients you need through your local Rep.
Instructions:
Place each Ciabatta Roll on an individual square of foil. Spread the garlic butter on both halves. Layer cheese slices over the bread. Next layer the shredded chicken over the cheese. Sprinkle bacon over the chicken. Place the top half of the bread on the sandwich. Wrap in foil.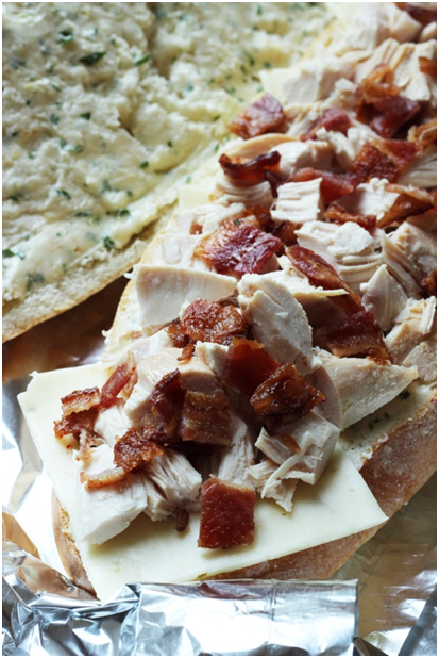 If serving right away, bake in 350 oven for about 25 minutes, depending on the thickness of the bread. If preparing to serve later, freeze. On serving day, bake for 50-70 minutes if frozen. If thawed, bake for 25-30 minutes.
Note from Jessica: I like to make these on small ciabatta rolls and wrap them individually in foil. I've found that they reheat really well in the slow cooker, for about four hours on low, turning once if possible.
Let us know what you think!
Tried the recipe? Let us know and others what you thought of it!
Comments