Easy Freezer Apple Pie Filling
Since the fruits of fall are only at their peak once a year, we do everything we can to stretch out their delicious flavors by canning and freezing our favorites. Our families especially love homemade peach and apple pie fillings. Today, we're sharing one of our tried-and-true favorite recipes for an uber-easy apple pie filling that can be stored easily in our Deli Containers in the freezer, so you can skip all of the water-bathing process. Loaded with juicy apples, swimming in a sweet and cinnamon-spiced syrup, this mouthwatering recipe can be used in multiple ways.
Try it in:
In a cobbler, crisp, or pie.
As a topping for pancakes or waffles.
In an "Apple Pie Sundae" with scoops of vanilla ice cream and crumbled graham crackers over the top.
Served over cheesecake.
In apple empanadas or turnovers.
Even over a slice of gingerbread for Christmas!
When we make fruit fillings, we like to use Cornaby's E-Z Gel (#8733) (formerly called Ultra Gel) because it performs so much better than regular cornstarch as a thickener (there are 25 years of development behind it!). You'll see an Ultra Gel bag in our photo because it has a 5-year shelf life! We're just finishing off a bag with the previous name on the label.
Cornaby's E-Z Gel™ is a gluten-free, Non-GMO, instant cornstarch that can be added directly to any liquid – hot or cold – for immediate thickening. E-Z Gel™ can be used in baked applications to keep breads and cookies soft, or to add body to low-calorie sauces and salad dressings, too. Products made with E-Z Gel™ can be refrigerated, canned, or frozen without weeping, thinning, or breaking down. We especially love that E-Z Gel™ whisks into food without lumping (no pesky white dots in your recipes!) and adds no flavor of its own.
Try it out in our Easy Freezer Apple Pie Filling and let us know what you think!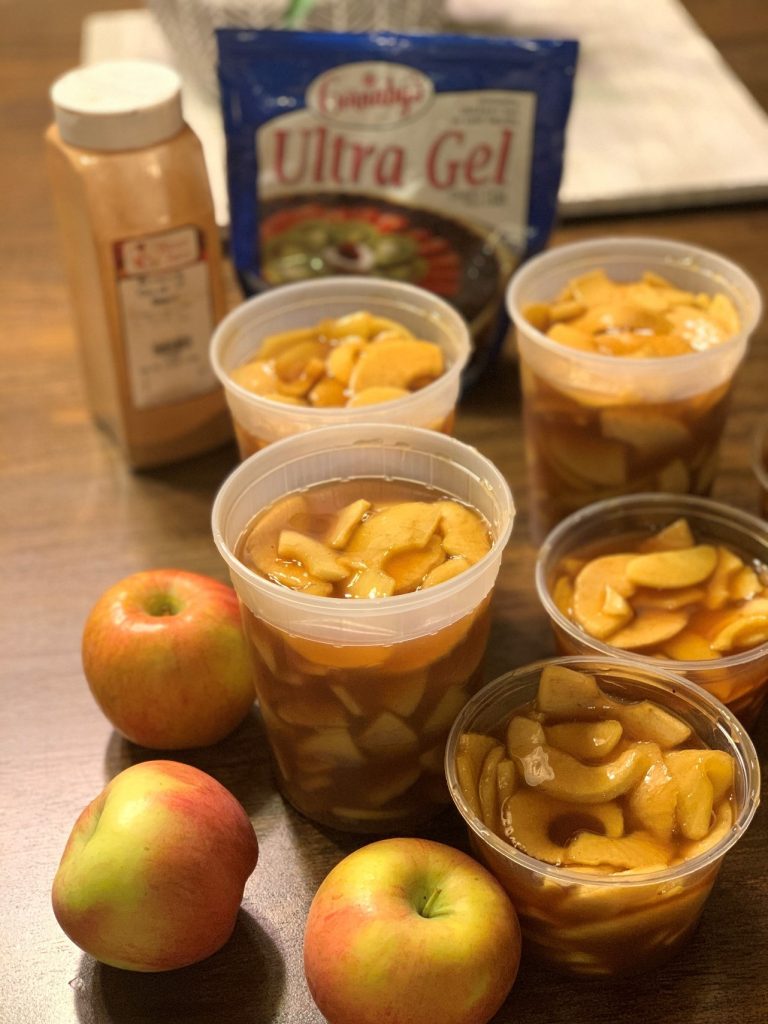 Easy Freezer Apple Pie Filling
Ingredients:
18 cups thinly sliced apples (1 apple = close to 1 cup of sliced apples. If you're using an extra juicy variety of apple, reduce water a bit and add more apple slices)
3 Tbsp lemon juice
5 cups 100% apple cider
4 cups water
2 ¼ cups C & H Granulated Sugar (#1632)
2 ¼ cups C & H Brown Sugar (#2261)
¼ tsp ground nutmeg
Instructions:
First, in a large bowl, toss apples with lemon juice and set aside. Pour water into a Dutch oven over medium heat. Combine sugar, Cornaby's E-Z Gel, cinnamon, salt, and nutmeg in a bowl; add to water, stir well, and bring to a boil. Boil for 2 minutes, stirring constantly.
Then, add apples and begin timing 6-8 minutes. Return mixture to a boil. Reduce heat, cover, and simmer for until timer goes off and apples are tender. Cool for 30 minutes.
Now, ladle into Deli Containers in desired sizes, leaving 1/2 inch headspace. Cool at room temperature no longer than 1 1/2 hours.
Seal and freeze. Can be stored for up to 12 months.
Pro Tip: Divide the cooled pie filling into Ziploc freezer bags (#1979) and lay them individually in pie tins (molding the apples to fit into the tin as you would for baking). Then the filling will freeze as a "puck" that you can pull from the freezer and pop right into your pie tin for baking later.
AP Products we love using with our homemade Apple Pie Filling:
Comments