Two Phyllo Appetizers
Athen's products are a hit during the holiday season, and our Mini Phyllo shells are no exception. They are bite-size flaky phyllo shells, ready to thaw and fill with your favorite sweet or savory fillings. Perfect for holiday parties! Test them out with these 2 incredibly easy recipes that are just waiting to be served at a holiday party.
More Phyllo Recipes to Love: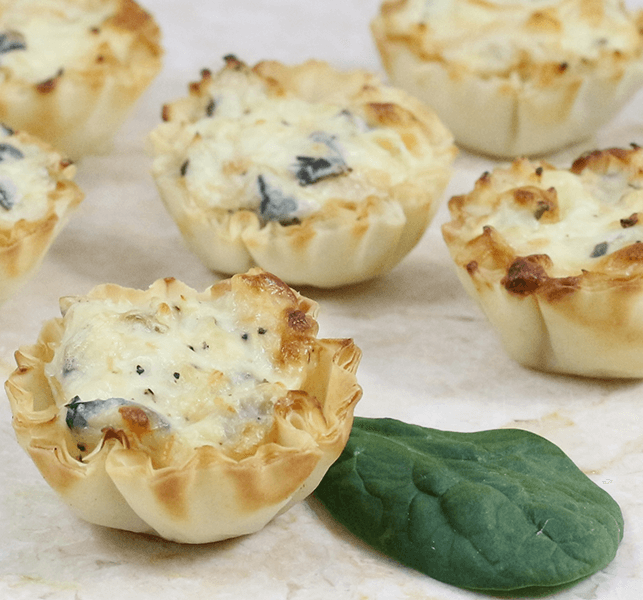 Serve our phyllo cups with this delicious creamy filling made of chicken, cheese, and spinach artichoke dip.
Creamy Chicken & Spinach Cups
Ingredients:
Instructions:
First, preheat oven to 350F.
Mix all the ingredients together.
Then, spread the mixture out between each of the shells.
Bake for 8 minutes and serve immediately.
Adapted from: https://athensfoods.com/recipes/creamy-chicken-spinach-cups/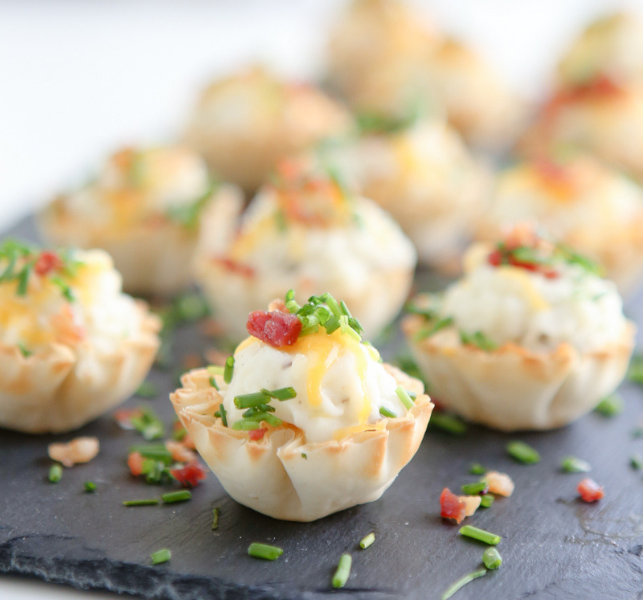 Who knew there was yet another way for us to serve mashed potatoes? The crispy phyllo shell really seals the deal with this easy mashed potato appetizer.
Loaded Potato Bites
Ingredients:
Instructions:
Heat Athen's Phyllo Shells according to the temperature on the package for 5 minutes.
Meanwhile, prepare the potatoes by adding them to a pot with water and salt. Bring to a boil and cook until tender. Drain the potatoes then mash- leaving the skins. Then mix in the butter, sour cream, salt, and pepper to taste.
Using a pastry bag, pipe the potato mixture into the shells. Sprinkle with cheese, then place back in the oven at 350F for an additional 5 minutes or until the cheese is melted.
Remove from the oven and sprinkle with bacon crumbles and chives.
loaded potato bites:
https://athensfoods.com/recipes/loaded-potato-bites/
Comments