5 Eerily Easy Halloween Recipes
These easy sweet & savory recipes are perfect for your next Halloween bash. There are no tricks here, just delicious treats! Cut down your prep time by using our donuts, mixes, and cookie dough pucks. We love making your time in the kitchen easier, especially for Holidays!
Still looking for more ideas?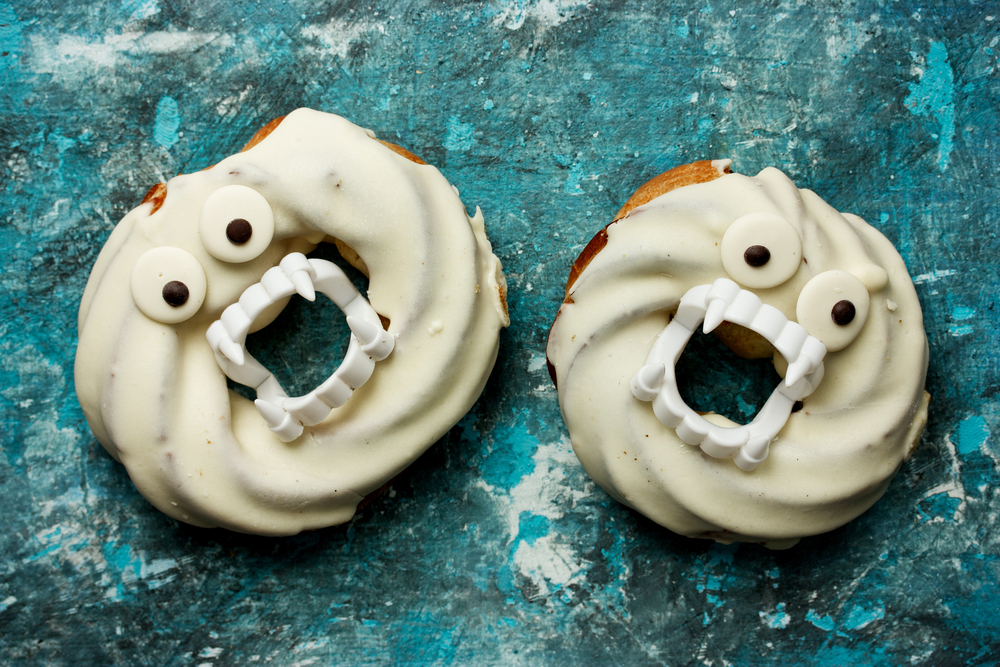 Halloween Donut
These no-hassle Halloween Donuts are the perfect dessert that your kids can decorate on their own! Simply prepare our Janey Lou's Raised Donut Rings (#7151) using the method of your choice. Once they are cooled, use a simple glaze or frosting to coat, and add Ghirardelli Vanilla Chocolate Chips (#1306), tip-down, for the eyes. Use melted chocolate to create the dots for the eyes, and plastic vampire fangs for the mouth. Your kids will eat these up!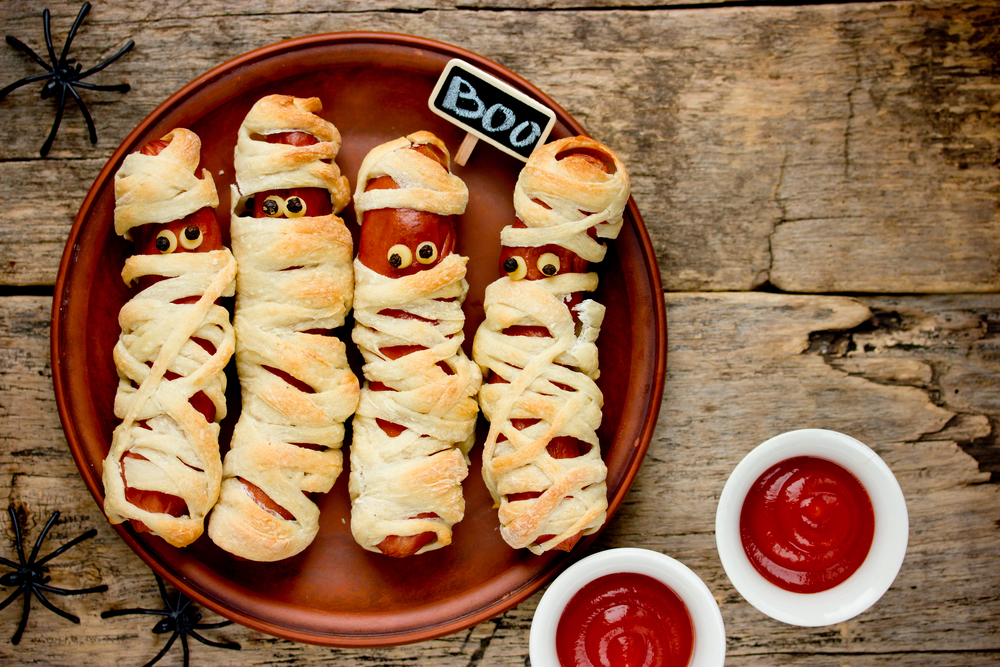 Hot Dog Mummies
These Hot Dog Mummies are perfect for an easy dinner before trick-or-treating. You will need 10 Hebrew National Beef Franks (#2765), 8 oz crescent dough or Rizzuto Pizza Dough (#1079), 2 1/2 slices American Cheese (#1867) quartered, Vegalene (#1212), and dipping sauce. Preheat the oven to 375F. Roll the dough out and cut into 40 slices and cut the cheese into quarters. Use 4 pieces of dough to wrap around the cheese and frank to look like bandages, leaving space for the "face". Add a tiny ball of dough for the eyes, using a peppercorn (#1030) for the middle. Place on a cookie sheet (#4020) and lightly spray with vegalene. Bake for 13-17 minutes or until dough is starting to turn golden brown.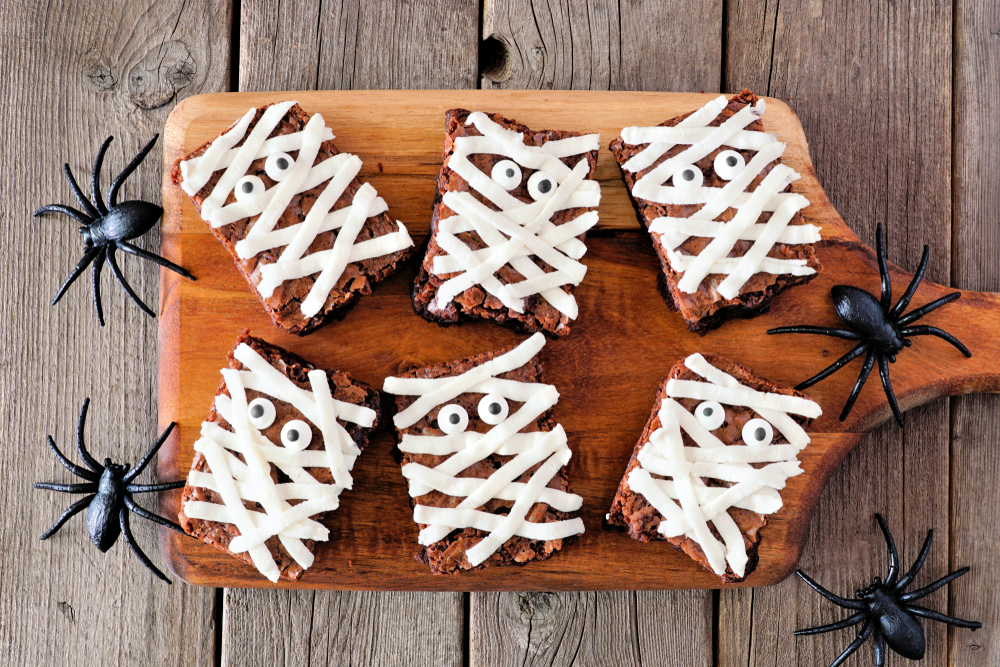 Mummy Brownies
These adorable Mummy Brownies will disappear right before your eyes! They are spookily easy to prepare using our Richly Delicious Fudge Brownie Mix (#1824). Prepare the brownies according to the directions on the bag and let cool before adding frosting. Cut the brownies into squares. Then, add Chef Shamy Vanilla Buttercream Frosting (#8126) into a Ziploc bag (#1978), cutting a tip from one of the corners. Frost in a zigzag pattern to create the mummy bandages and add 2 eyes to each brownie. Enjoy!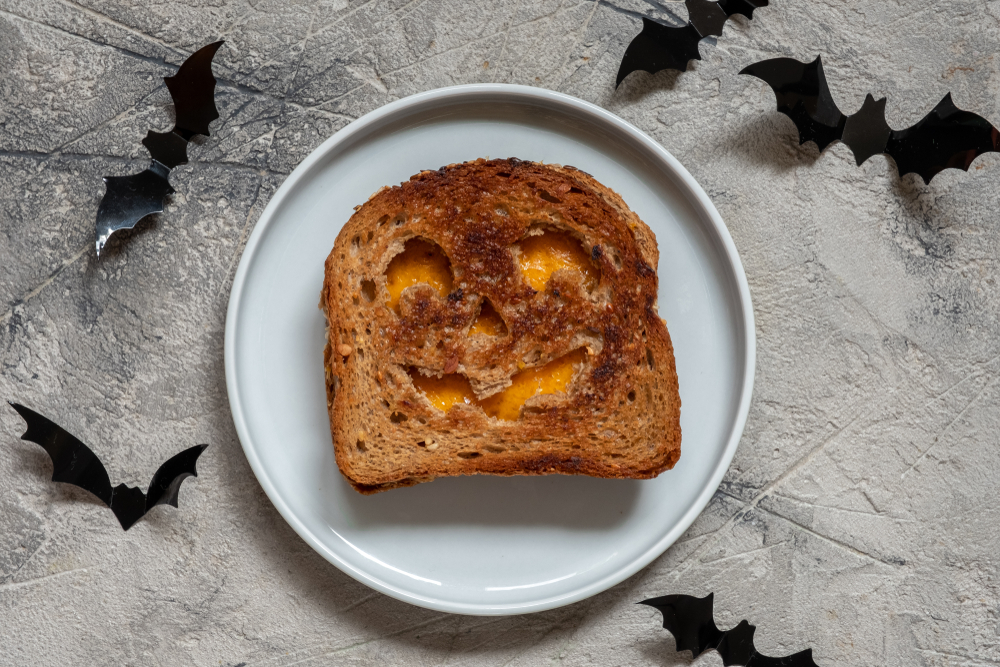 Jack o Lantern Grilled Cheese
Jack o Lantern Grilled Cheese is an eerily easy lunch for your little ghouls. Using 10 slices of either our Rocky Mountain White (#1336) or Wheat (#1345) bread, cut a jack o lantern face in 5 of the slices with our Zyliss 3 Piece Knife Set (#1659). Spray a skillet with Vegalane Buttery Delight (#1576), and place the uncut slice of bread in the pan. Add 1 slice of California Select Mild Cheddar Cheese (#1859), then place the cut slice of bread on top. Grill until it begins to brown, then carefully flip over and cook until the cheese is melted. Repeat for each sandwich.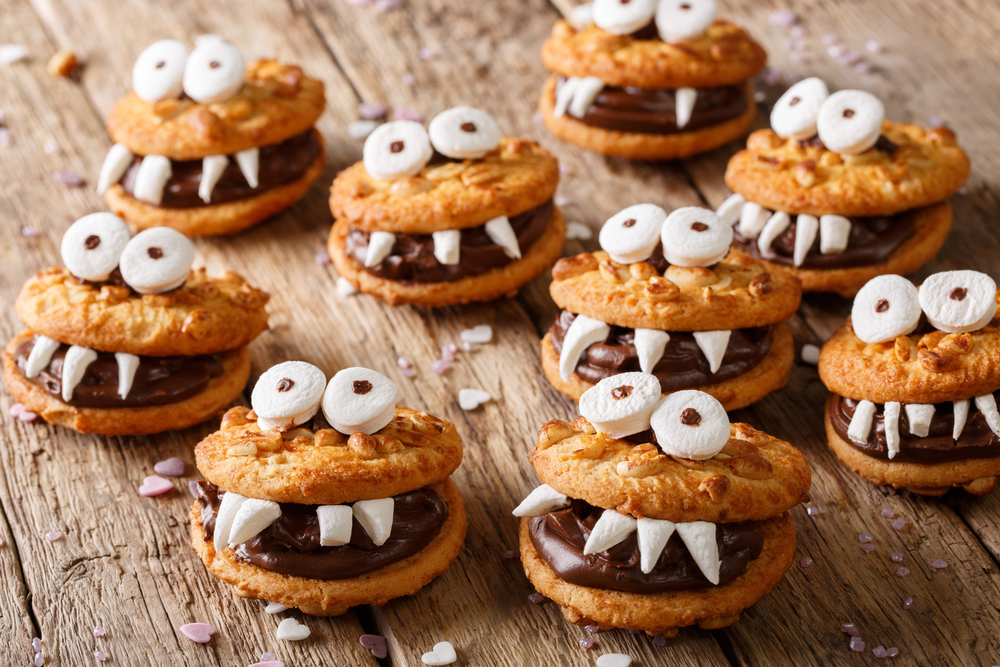 Monster Cookies
These Monster Cookies are perfect for a spooky class party and are easy to prepare using your choice of our Simply Goodness Cookie Dough Pucks. After the cookies have cooled, use about 1 tablespoon of our Chef Shamy Chocolate Buttercream Frosting (#8127) on a cookie, topping with another and pressing them together. For the eyes, cut mini marshmallows in half and use a dot of frosting to secure it to the cut side to the top cookie. Cut additional marshmallows for the teeth, then gently press into the frosting to secure. Use a toothpick to dot the eyes. Enjoy!
Comments
Halloween Candy Caramel Corn - Alisons Pantry Delicious Living Blog - […] 5 Eerily Easy Halloween Recipes Candy Corn Pumpkin Chocolate Chip Cookies Chocolate Dirt Pudding SharePinTweet0 Shares 0Shares Share on…