Caramel 101: Tips & Tricks
Love caramel apples, but aren't sure how to get yours to look like the ones at the county fair? Our J Morgan's Caramel Block (#9068) has been a customer favorite for years because it makes this favorite treat so easy. We love having it on hand in the fall, as soon as the apple harvest begins. We'll share some simple step-by-step tips in this post so anyone can be successful with caramel dipping.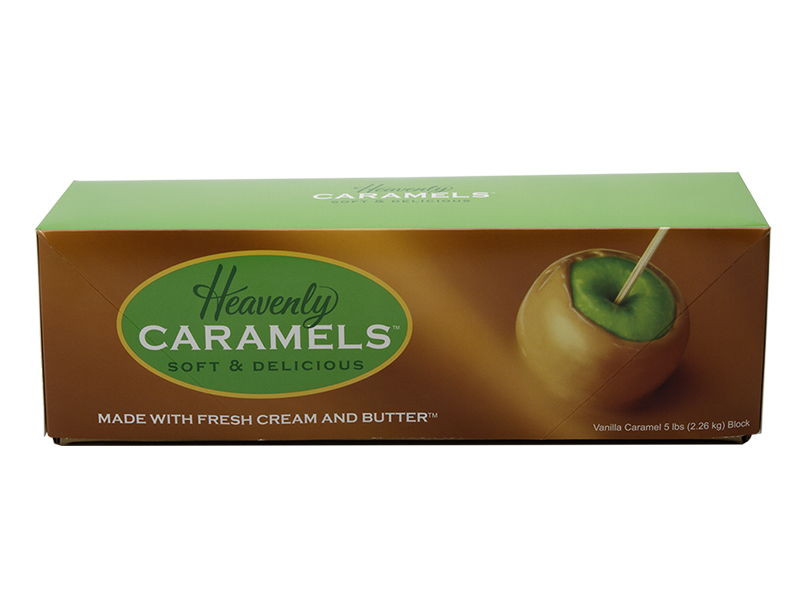 Quick ways to melt the caramel:
Stove Top: In a saucepan, heat caramel at low-temperature stirring frequently. Add small amounts of cream or milk to prevent overcooking.
Microwave:Â Cook in 1-minute intervals, stirring between each.
Oven: In an oven-safe dish with a lid, bake for 60 to 90 minutes at 200°F. Check at 45 and 60 minutes.
More ways to use our caramel block:
J Morgan's Caramel Block (#9068) is rich, creamy, and incredibly soft. It can be melted, rolled out, dipped, drizzled, and shaped.
To thin caramel, add small amounts of milk, cream, or evaporated milk.
To thicken caramel, add 1/2-1 oz Confectioners Sugar (#1151) per 1 lb. of caramel until you reached the desired thickness.
Flavor it! Try stirring in a few drops of your favorite extract or our Monin syrups for some irresistible flavors.
Color it! Add a few drops of food coloring to change things up. For example, if you make a cinnamon flavored caramel, add some red food coloring. Darker colors tend to work best.
Storage: At room temperature, the shelf life will be around 7 months. If it is kept in the fridge, the shelf life will be extended.
Perfect Caramel Apples
If you attended our 2019 Food Show, you may have seen this recipe for Perfect Caramel Apples. Click below to enlarge the image or to print a copy for yourself.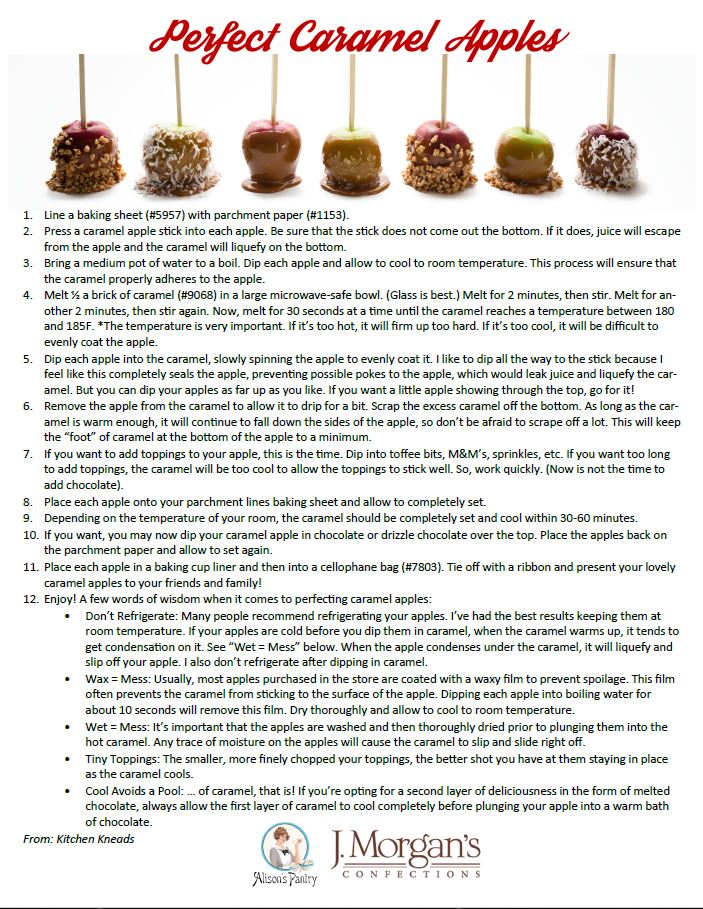 Don't limit yourself to just Caramel Apples!
Although caramel apples are the most popular use for this block, there are so many tasty ways to use it. Try it in:
Comments