Chef Shamy Cheesy Spinach Puffs
There's something so comforting about a spinach and cheese combo. Whether in a tasty dip or in stuffed chicken, it's a pair we can't seem to get enough of. Then you tuck it into a perfectly crisp puff pastry shell…and bam, a new favorite recipe!
Perfect for a quick lunch; enjoy these Spinach Puffs filled with three cheeses + spinach, then enveloped in crispy puff pastry squares.
What is the best way to reheat these?
There are a few easy ways to reheat your spinach puffs, although they are still just as delicious when eaten cold!
Pop it in the microwave for 30-60 seconds.
Place in an airfryer at 400F for 3-5 minutes, or until heated through.
Heat in an oven at 400F for 5 minutes, or until heated through.
If you like this recipe, try these: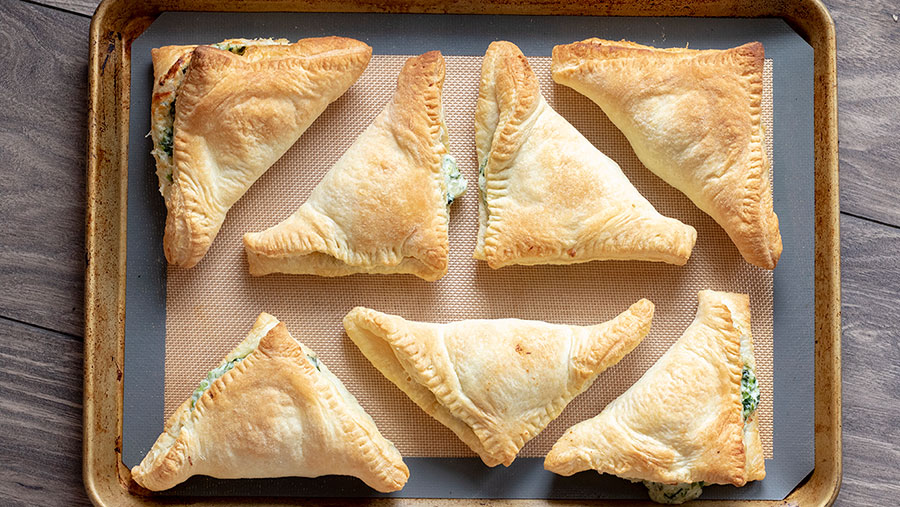 A three cheese + spinach mixture enveloped in crispy puff pastry squares.
Chef Shamy Cheesy Spinach Puffs
Ingredients:
Instructions:
First, preheat oven to 350F. Line a Crestware Baking Sheet (#4020) with a piece of AP Parchment Paper (#1153).
Then, sautee the onion in the garlic butter until translucent.
Now, squeeze as much excess liquid from the spinach as possible, then add to the pan along with the three cheeses. Stir to combine, and cook until the cheese is melty, about 3-5 minutes. Add salt and pepper as needed, then remove from heat to cool slightly.
Next, divide the spinach mixture between the 8 puff pastry squares and fold in half to make a triangle. Use a wet fork to crimp the edges shut, the place on the prepared baking sheet.
If desired, use a basting brush to brush the tops of each puff with melted garlic butter.
Bake for 15-18 minutes, or until the puff pastry is golden brown. Allow to cool before serving.
Adapted from: https://chefshamy.com/recipes/cheesy-spinach-puffs/
Comments