All Natural Artichoke Dip
Spinach Artichoke Dip is always a crowd pleaser. Who could say no to the combination of delicious, creamy cheese, spinach, and artichokes with a crisp golden top? Did we mention cheese?
Does Spinach Artichoke Dip have to ruin your diet?
In a word, no. To enjoy this rich dip without ruining your health goals, you can substitute lighter ingredients.
First, reach for light sour cream.
Next, replace typical egg-based mayonnaise with Better Body Foods Avocado Oil Mayo or choose a light mayo.
Then, try out our healthier recipe (below) instead of one with heavier cream cheese.
Replacing Frozen Spinach with Fresh Spinach
If you'd prefer to use fresh spinach over frozen, no problem! First, you'll want to chop your spinach and remove the stems. Then cook the spinach, and squeeze dry 1 cup.
What to Serve With Artichoke Dip
There are many things artichoke dip is delicious with, including sliced baguette, crackers, or sourdough bread. In addition to these crunchy options, try dipping your favorite veggies.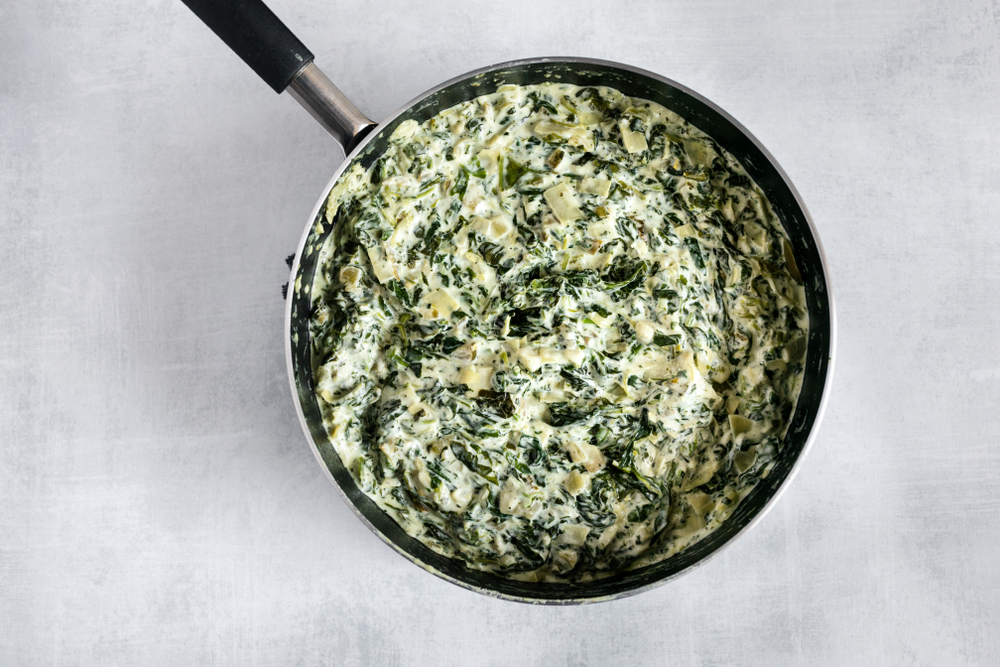 All Natural Artichoke Dip
Instructions:
Preheat oven to 400°F.
In a medium bowl mix all ingredients until well combined.
Transfer to a round baking dish and bake for 40 minutes.
Set oven to broil and broil for 5 minutes or until top is golden.
Let cool for at least 5 minutes before serving.
Serve with vegetable crudités and/or pita chips.
If you like this recipe, you might also like these:
Comments
3 Essential Sides for Every BBQ - Alisons Pantry Delicious Living Blog - […] All Natural Artichoke Dip […]
Tailgating Ideas using Naan Bread - Alisons Pantry Delicious Living Blog - […] and Artichoke Dip with warmed naan cut into chips. Make a batch of this delicious All Natural Artichoke Dip…
Triple Onion Dip with Toasted Pretzilla Bites - Alisons Pantry Delicious Living Blog - […] All Natural Artichoke Dip […]
Chef Shamy Cheesy Spinach Puffs - Alisons Pantry Delicious Living Blog - […] something so comforting about a spinach and cheese combo. Whether in a tasty dip or in stuffed chicken, it's…