Creamy Coconut Shrimp
Creamy Coconut Shrimp is a one-skillet meal bursting with flavor. It has sauteed shrimp seasoned with paprika, salt, and pepper cooked in a creamy coconut milk sauce with tomatoes, ginger, garlic, basil, and onion. Since it only uses one pan, clean up is easy for a busy night.
Wondering what to serve with this dish?
As with most Thai-inspired dishes, this can be served in a variety of ways. over a bed of rice, Flav-R-Pac Riced Cauliflower (#2743), Wing Hing Yakisoba Noodles (#9176), or even zoodles. Don't skimp out on the sauce, either!
How long will it stay good?
As long as it's stored in the proper container, this dish can last in the fridge for up to 3 to 5 days. This makes it an excellent choice for meal prep! Make up the recipe at the beginning of the week, and you'll have lunch for a few days.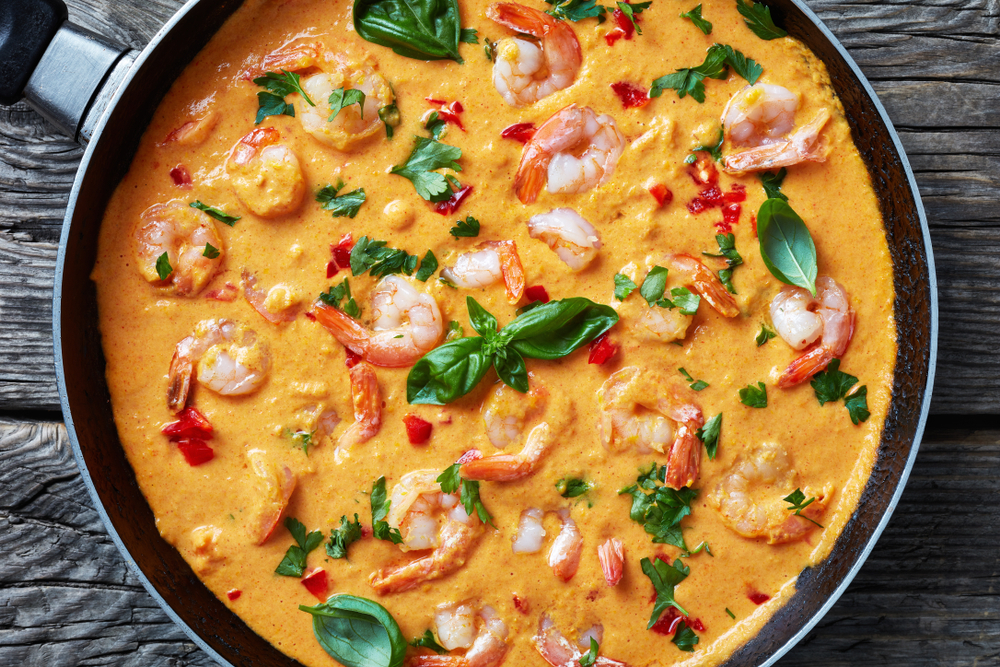 A flavorful one-skillet meal with sauteed shrimp in a coconut sauce with tomatoes, ginger, basil, and onion.
Creamy Coconut Shrimp
Ingredients:
Instructions:
First, heat half the oil in a skillet over medium heat. Generously season the shrimp with paprika, salt and pepper. Then, add to the skillet and cook for a couple minutes per side, or until opaque and cooked through. Remove from pan and set aside.
Now, add the remaining oil and saute the onions until soft. Then, add the garlic, basil and ginger, cooking until the ginger is fragrant.
Next, stir in the diced tomatoes, cooking for 3 minutes. Add the coconut milk, bringing to a simmer for 5 minutes.
Then, add the shrimp back to the skillet and cook for a minute or so to incorporate the flavors.
Adapted from: https://diethood.com/creamy-coconut-shrimp/
Looking for more recipes like this?
Comments
Chef Shamy Creamy Lemon Garlic Shrimp - Alisons Pantry Delicious Living Blog - […] Creamy Coconut Shrimp Shrimp Alfredo Creamy Tuscan Garlic Butter Shrimp SharePinTweet0 Shares 0Shares Share on Facebook Share on Twitter…