Teriyaki Beef Noodles
Teriyaki Beef Noodles in under 30 minutes! Enjoy steak strips, broccoli florets and Yakisoba noodles coated in a simply teriyaki sauce. For Take-Out at home, serve with a side of Ling Ling Chicken And Vegetable Potstickers (#4767) and Mihn Vegetable Egg Rolls (#4078)
Easy Teriyaki Sauce
Ingredients:
Instructions:
First, add the water, soy sauce, brown sugar, ginger, and garlic powder to a saucepan. Cook until heated through.
Next, combine the cornstarch and water until dissolved. Pour into the saucepan and cook until thickened, approx. 5-7 minutes. Set aside until ready to use.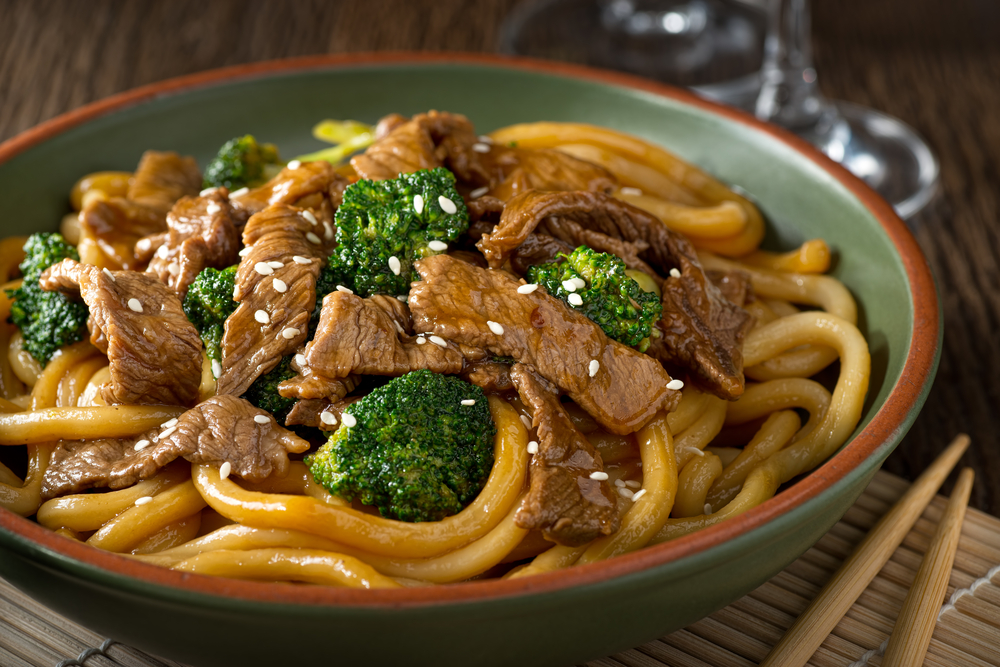 Teriyaki Beef Noodles in under 30 minutes! Enjoy steak strips, broccoli florets and Yakisoba noodles coated in a simply teriyaki sauce.
Teriyaki Beef Noodles
Ingredients:
Instructions:
First, coat the beef in the cornstarch. Set aside.
Then, cook the noodles by blanching in boiling water for 1 minute. Strain and set aside.
Now, heat a pan with half of the oil. Add the steak and saute until browned on all sides, approx. 3-4 minutes (This might be easier to do in two batches).
Once the meat is browned, add the broccoli and 2 Tbsp of water, cooking until tender (approx. 6 minutes).
Next, stir in the teriyaki sauce and noodles and mix until evenly coated in the sauce.
Garnish with sesame seeds. Enjoy!
Try these for Take-Out at home!
Comments