Dog Days of Summer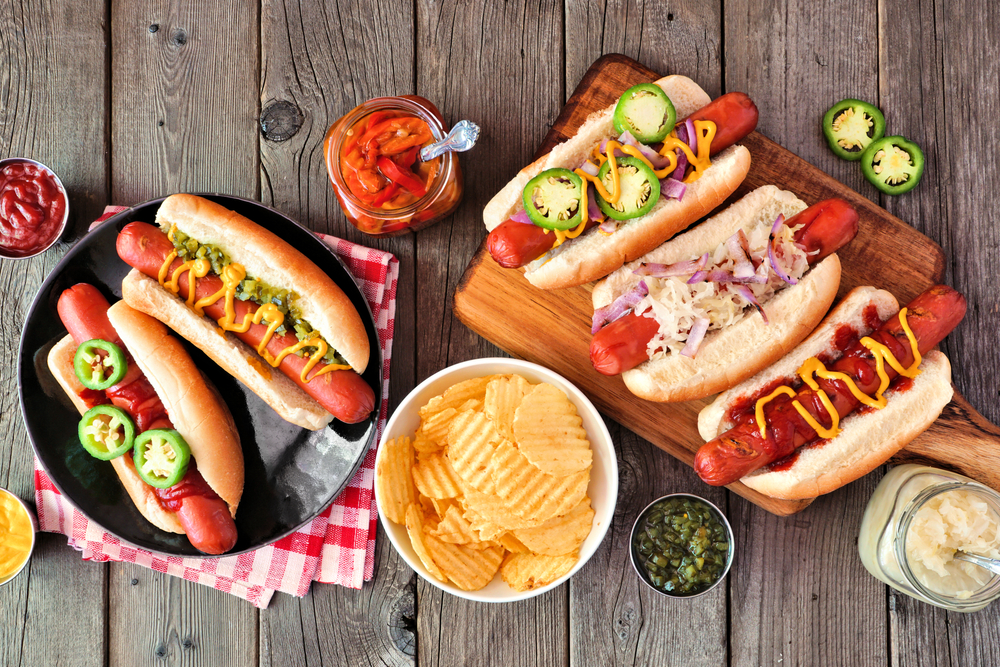 Leave the basic hot dogs with ketchup and mustard to the kids. Treat yourself to a grilled Double L Ranch Angus Beef Frank (#2260) with Cornaby's kicky Campfire Candy (#2121) (candied jalapeno relish) and you may never go back to basic again. We're losing our minds over these gourmet dog ideas for this summer.
For any of these ideas, choose from: Double L Ranch Angus Beef Frank (#2260) or Hebrew National Beef Franks (#2765).
Load up the toppings!
Keep is classic with mustard, ketchup, and relish.
Who needs Taco Tuesday? Top with Simplot Jalapeno & Corn Blend (#1984), cotija cheese, cilantro, and Calavo Fiesta Guacamole (#1060).
Jazz up a sauerkraut dog with sliced red onion, sweet pickle relish, mustard, and caraway seeds.
If you're a Hawaiian pizza lover, top with Simplot Flame-Roasted Pineapple & Pepper Blend (#2411), Daily's Regular Slab Precooked Bacon (#4835), and barbecue sauce.
Breakfast for dinner has a new meaning! Add a fried egg, Daily's Honey Cured Center Cut Bacon (#3298), Tillamook Medium Cheddar Shredded Cheese (#1866), and Flav-R-Pac Roasted Redskins w/Rosemary Seasoning (#2068).
Add your favorite panini toppings like Bridgerland Deli Craft Oven Roasted Sliced Turkey Breast (#2100), Daily's Hardwood Smoked & Honey Cured Center Cut Bacon (#3298), swiss cheese, tomato, and mayo.
Make Chili Cheese Dogs with homemade chili, Tillamook Medium Cheddar Shredded Cheese (#1866),, dill pickle, and Flav-R-Pac Chopped Onion (#5772)
Classic Chicago Dogs with franks topped with dill pickle spears, onion, peppers, tomatoes, celery salt, and mustard.
Finger food is truly the best. Turn your franks into Mini Corndogs and serve with ketchup and mustard.
We can't forget about these honorable mentions… Moore's Texas Toothpicks (#2493), Cornaby's Savory Sauce- Peach Habanero (#1070) or Raspberry Jalapeno (#1490), Gehl's Jalapeno Cheese Sauce (#6899).
The options really are endless! Which toppings would you add to our list?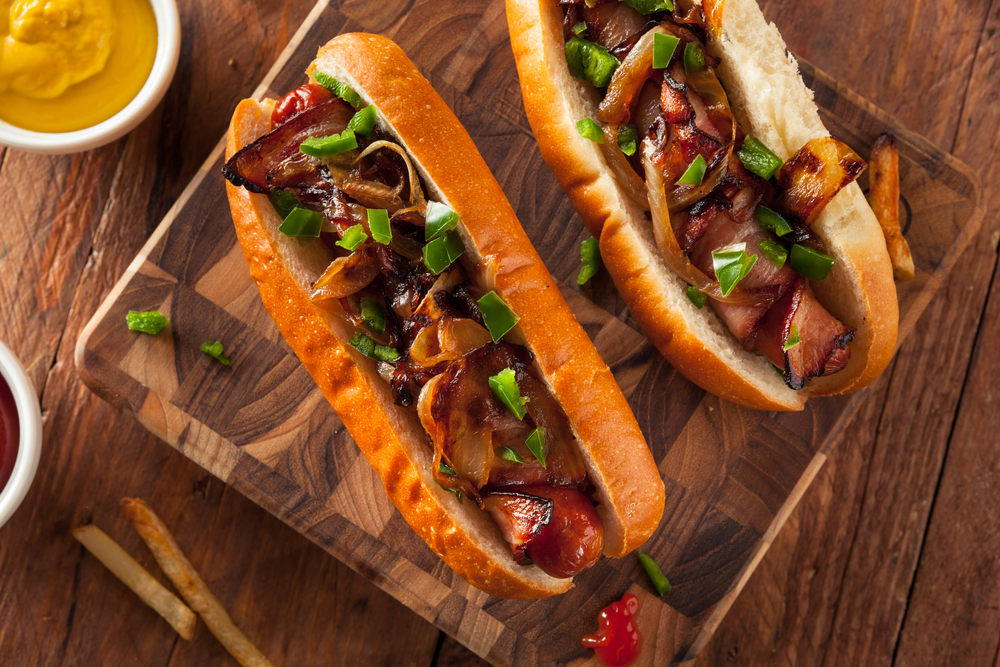 Get the most out of your dog.
Listen, there are much tastier ways to prepare a hot dog than boiling in water or in the microwave, and they don't take too much longer. Throw them on the grill, in a frying pan, or even in the oven- and you'll already notice a better flavor. But, there are still a few simple tricks to get the most out of your meal:
Carefully cut two or three X's in the dog. This will help the dogs not shrink as they cook. Keep in mind that the dog may lose some of the juices, so be extra careful not to overcook it!
Don't be afraid to use spices! Our secret ingredient is sprinkling celery salt on our hot dogs along with the other toppings.
Bacon makes everything better…wrap a slice of Daily's Hardwood Smoked Peppered Thick Cut Bacon (#8465) onto a frank before placing on the grill.
Slather the buns with a simple garlic butter and toss on the grill until lightly toasted.
Comments