Expert Tips for Perfect Pancakes
Who can resist the warm, fluffy, melt in your mouth goodness that is pancakes? Here are some expert tips to whip up pancakes everyone will love.
Expert Tips for Perfect Pancakes
Don't over stir the batter. Excess stirring will develop gluten in the batter and make the pancakes tough instead of light and fluffy.
Rest the batter after 15 minutes. That gives the gluten a chance to rest and relax so the pancakes have a thicker consistency and they are soft and tender.
Use butter not oil in the pan. Butter has more flavor.
Remember to wipe out the pan between batches to keep the butter from burning.
Flip the pancakes when the bubbles first begin to pop.
To keep pancakes warm when serving a crowd place them on a single layer on a cooling rack in your oven at 200 degrees. Don't stack them or they will get soggy.
Can you freeze pancakes?
Yes! Place in the freezer for a few hours. Allow the waffles or pancakes to freeze completely through. Then place them in a freezer bag. The reason you freeze them like this, is so you can easily just pull out one or 2 pancakes as you need them.
What toppings and additions can you add?
The beauty of pancakes is that they are so versatile! You can add fruit such as strawberries, peaches or blueberries to the batter. Our favorite extra to add is chocolate chips. You can also add yummy spices such as nutmeg, pumpkin pie spice or cinnamon.
You can top your pancakes with flavored syrups, jams, whipped cream and butter. Really, the possibilities are endless!
Did you know Alison's Pantry has several options when it comes to pancakes?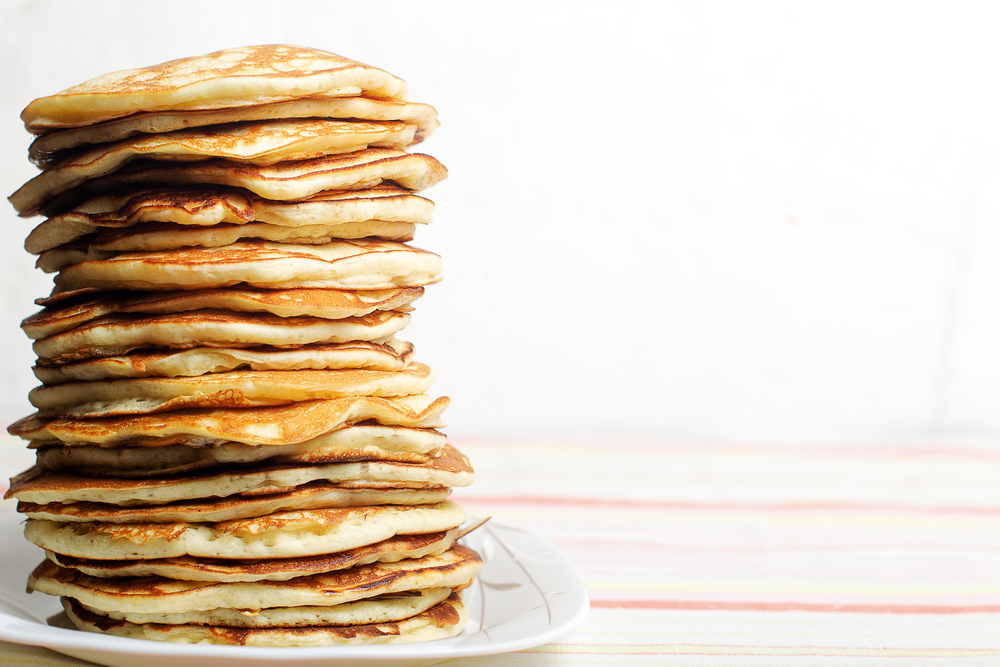 Everyday Pancakes
Serves 4 to 6
Ingredients:
Instructions:
Heat a griddle or large skillet over medium-low heat. In a bowl, mix together dry ingredients. Beat eggs into 1 1/2 cups milk, then stir in 2 tablespoons melted cooled butter, if using it. Gently stir this mixture into dry ingredients, mixing only enough to moisten flour; don't worry about a few lumps. If batter seems thick, add a little more milk.
Place a teaspoon or 2 of butter or oil on griddle or skillet. When butter foam subsides or oil shimmers, ladle batter onto griddle or skillet, making pancakes of any size you like. Adjust heat as necessary; usually, first batch will require higher heat than subsequent batches. Flip pancakes after bubbles rise to surface and bottoms brown, after 2 to 4 minutes.
Cook until second side is lightly browned. Serve, or hold on an ovenproof plate in a 200-degree oven for up to 15 minutes.
Adapted from: https://cooking.nytimes.com/recipes/1893-everyday-pancakes
Comments
BBQ Breakfast Sandwich on French Toast - Alisons Pantry Delicious Living Blog - […] Expert Tips for Perfect Pancakes […]
Cinnamon Apple Stuffed French Toast - Alisons Pantry Delicious Living Blog - […] Expert Tips for Perfect Pancakes […]