Steak with Shrimp Cream Sauce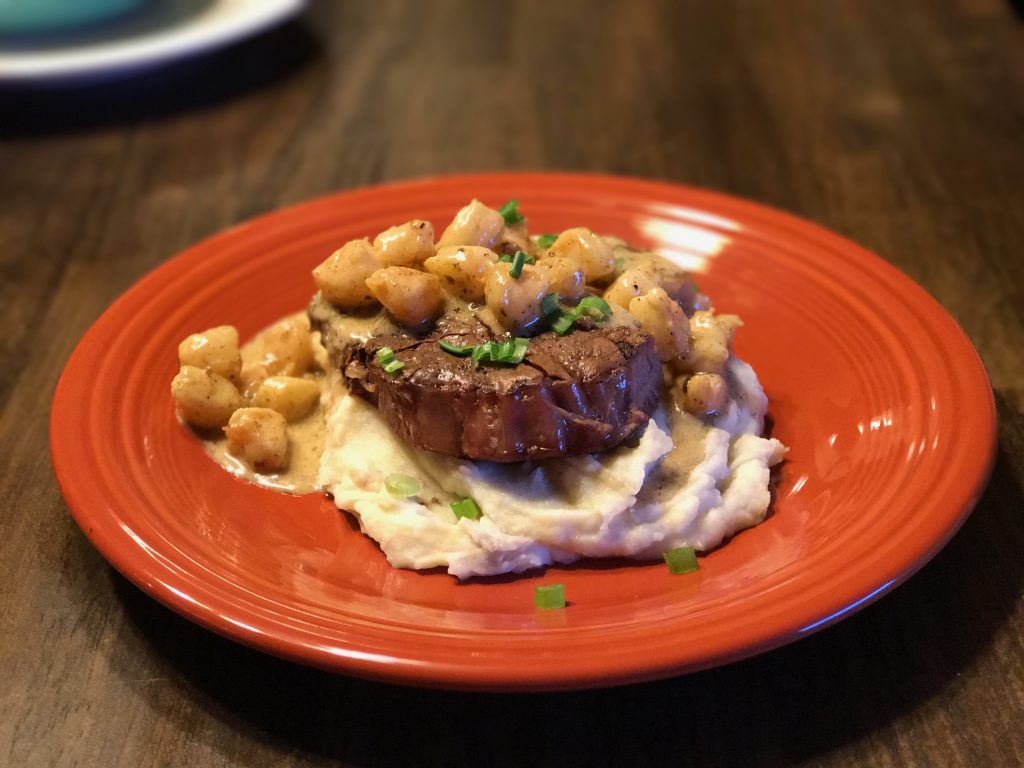 It's time to break out the candles and the chocolate! Valentine's Day is almost here. Instead of fighting the crowds and the noise at a restaurant this year, how about a romantic dinner for two at home? With Alison's Pantry products you can prepare a delicious dinner in your own kitchen that tastes as good, if not better, than what you can purchase at a restaurant. Then you can spend more time chatting quietly over candlelight rather than waiting for a table.
Chef Alex, head chef at a renowned Utah resort can help you cook like a chef in your own kitchen! Just follow his simple steps below for mouthwatering juicy steak with buttery rich shrimp sauce, served with warm mashed potatoes and beautiful Riviera vegetables.
Watch Chef Alex share step-by-step instructions for this scrumptious meal here…
Steak with Shrimp Sauce & Garlic Mashed Potatoes
Ingredients:
Instructions:
Mashed potatoes – thaw and add to sauce pan, once heated add heavy cream and butter until blended and smooth. Season with salt /pepper Set aside while keeping warm.
Shrimp sauce. Dice 1/2 onion, 1 lg. clove garlic. Sauté until clear, add 3 tabs of butter and 1/4 cup heavy cream, sauté add diced shrimp and cook until slightly pink. Add dash of parsley, salt, pepper. Remove from heat and set side.
Steak- Thaw steak, sear in hot pan with small amount of oil, after brown color begins at edges turn over and sear on remaining side. Let rest on drip pan for 5 min.
Sauté beans in 2 tabs butter and a teaspoon oil until firm but hot. Set aside.
Return steak to hot pan, add 2 generous spoonful's of garlic herb butter to pan, let melt and baste over steak. Add one large spoonful of potatoes to plate and slide across plate, Add beans and place in center of potatoes, remove steak from hot pan to cutting board, slice diagonally and then place steak on top of beans and add garnish if desired.
Serve and enjoy!
By: Chef Alex Izatt
Comments