Surf & Turf Menu for Dad
Surf & Turf is an easy way to show off for dad on Father's Day. It is perfect for an intimate dinner, or for serving a crowd. But, what exactly is Surf & Turf? According to Google, it is:
noun NORTH AMERICA: surf and turf
a dish containing both seafood and meat, typically shellfish and steak.
What sides go with this dish?
With Alison's Pantry, side dishes are easier than ever! We offer a variety of ready to go sides including our Lamb Weston Garlic Mashed Potatoes (#7944), which pair perfectly with our Beehive Rolls (#8925). In addition, we love pairing our Surf and Turf dishes with our favorite Flav-R-Pac green veggies, slathered in Chef Shamy Garlic Butter (#8124): Brussels Sprouts (#6381), Asparagus Spears (#3127), Green Beans (#3781), or even Petite Green Peas (#6208).
Looking for more hearty dishes for Dad?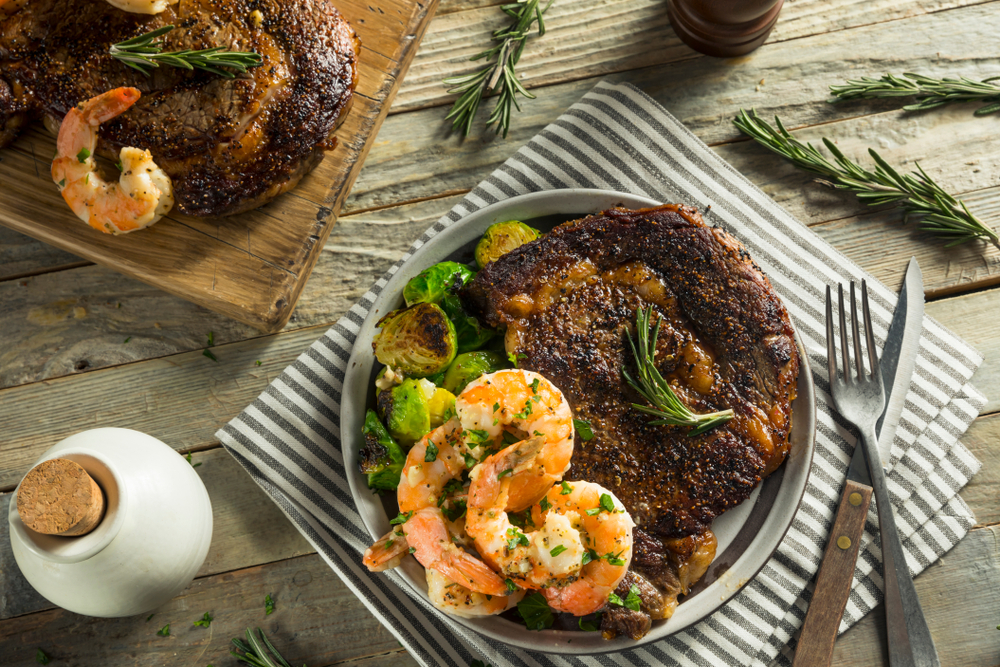 This Garlic Butter Grilled Steak & Shrimp (Surf & Turf) is the definition of a gourmet dinner from the comfort of your own home. It is slathered in garlic butter and full of flavor, plus dinner will be on the table in less than 15 minutes.
Garlic Butter Grilled Steak & Shrimp
Ingredients:
Instructions:
First, mix together butter, garlic and fresh chopped parsley. Refrigerate until ready to use.
Heat a large grill over high heat. Lightly grease grill plates with oil. Pat steaks dry with paper towel. Brush lightly with oil and generously season with salt and pepper.
Then, grill steaks for 4-5 minutes each side until browned and cooked to desired doneness. Spread half of the butter all over of steaks. Transfer steaks to a warm plate and let rest for 5 minutes.
While steaks are resting, melt remaining butter. Season shrimp with salt and pepper.
Next, reduce heat to medium and grill your shrimp for 5-6 minutes, depending not the size and thickness of your shrimp. Flip each one halfway through cook time and continue cooking until they turn nice and pink in color while white and opaque on the inside.
Toss remaining butter through shrimp and serve with steak!
Adapted from: https://cafedelites.com/garlic-butter-grilled-steak-shrimp/
Comments