Ghoulish Snacks
These ghoulish snacks are sure to wow your guests- especially when they find out how easy they are to prepare! From Pretzel Witches Broomsticks to Apple Head Fruit Punch, there's a creepy dish for everyone to enjoy.
Now, keep reading for the easy snack recipes!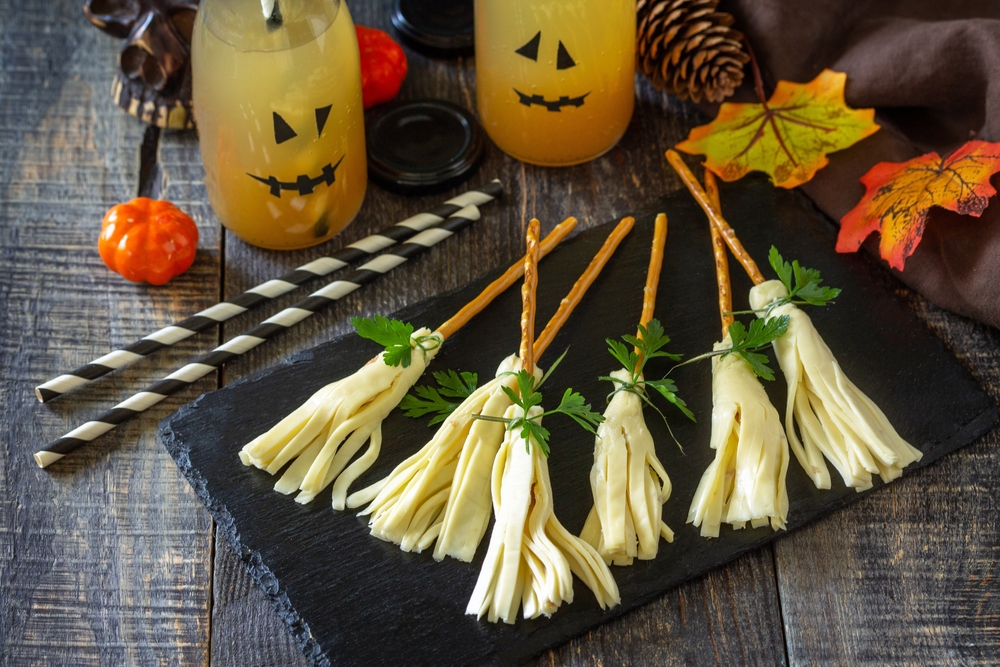 We're all about easy holiday treats, and these Pretzel Broomsticks are no exception. They only use three ingredients, and will be ready in 10 minutes- making them great for a quick after school snack, or as part of a Halloween spread. They'll be flying into your mouths in no time!
Pretzel Witches Broomsticks
Ingredients:
Instructions:
Once the string cheese is cut in half lengthwise, carefully cut small slices about 3/4 of the way up. Gently pull apart the pieces for the broom bristles.
Now, use a tooth pick to gently make a hole in the top. Carefully press a pretzel stick into the hole, then wrap with a stem of cilantro. Repreat with remaining ingredients.
Keep refrigerated until ready to use.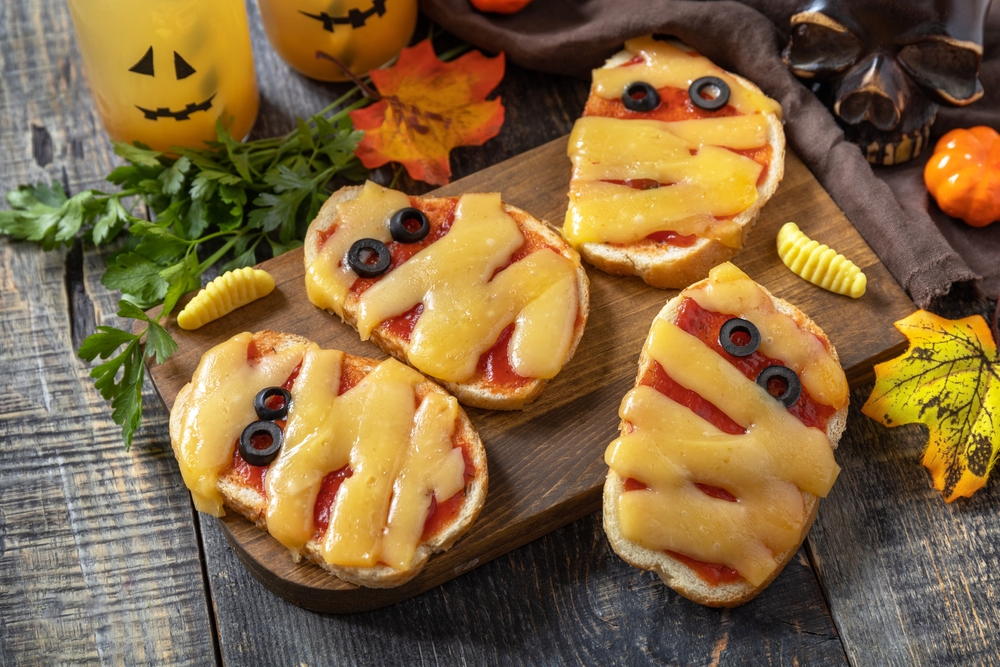 A spooky dish for lunch or dinner, ready in under 15 minutes! These Mummy Pizzas can easily be adapted to your liking by adding additional toppings like pepperoni, candadian bacon, pineapple, etc. under the mummy cheese bandages.
Mummy Mini Pizzas
Ingredients:
Instructions:
First, preheat oven to 400F. Line a Crestware Baking Sheet (#5957) with a piece of AP Parchment Paper (#1153).
Now, spread a layer of pizza sauce onto the bread. Lightly sprinkle on some pizza seasoning, then arrange the strips of cheese to look like bandages, alternating the direction. Next, place two olive slices near the top for the eyes.
Bake for 5 minutes, or until the cheese is melted.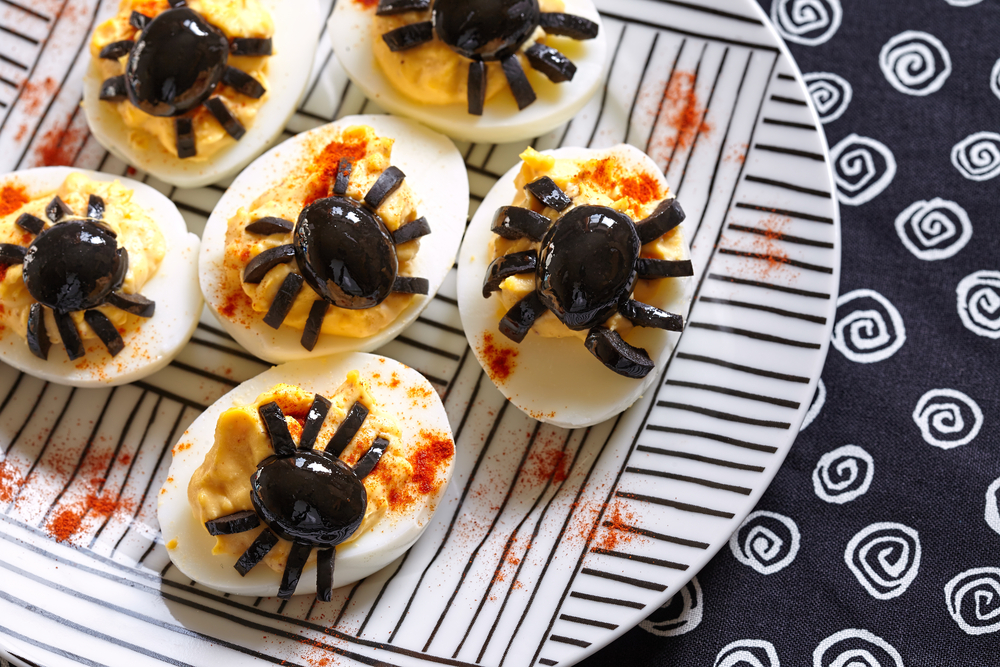 Using your favorite Deviled Egg recipe and black olives arranged to look like spiders, this creepy appetizer is perfect for Halloween parties.
Spider Deviled Eggs
Ingredients:
Instructions:
First, add water and a splash of vinegar to a small pot and bring to a boil. Carefully add the eggs, and boil for 12 minutes. Transfer to a bowl of ice water, and let sit for a couple minutes until cooled.
Then, peel the shell off and cut them in half lengthwise. Remove the yolks and place into a bowl, placing the egg whtites onto a platter.
Now, mash the yolks until smooth and mix in the mayo and mustard.
Use a spoon to scoop the filling back into the egg whites, then garnish with paprika.
Next, to create the spiders, place a halved black olive into the center of each egg, with olive slices arranged arond the body for the legs.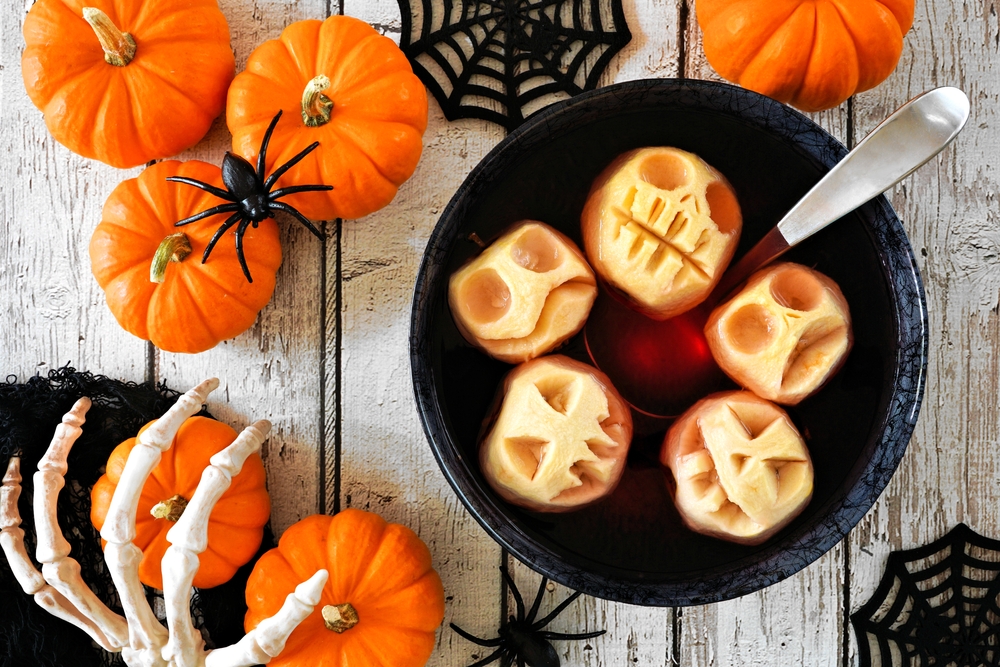 A simple fruit punch with cranberry juice, pineapple juice, orange juice, lime juice and sprite with floating Apple "Heads" for a eerie twist.
Apple Head Fruit Punch
Ingredients:
Instructions:
First, prepare the apple heads by preheating the oven to 350F. Line a Crestware Baking Sheet (#5957) with a piece of AP Parchment Paper (#1153).
Then, peel the apples and use a knife to carefully carve out faces. Place on the baking sheet and sprinkle with AP Cinnamon Sugar and bake for 45 minutes.
Meanwhile, assemble the punch by mixing together all the liquids. Allow the apples to cool completely, then add them to the punch bowl along with ice cubes.
Use a Stainless Steel Serving Ladle (#2390) to serve.
Check out these spooky recipes!
Comments