Green Desserts for St. Patrick's Day
We're not Irish, but you're going to want to kiss us when you try these recipes! It's never a bad time to enjoy mint and chocolate together, but these cute green desserts are the perfect way to bring a little sweetness to St. Patrick's Day.
More spring desserts to try: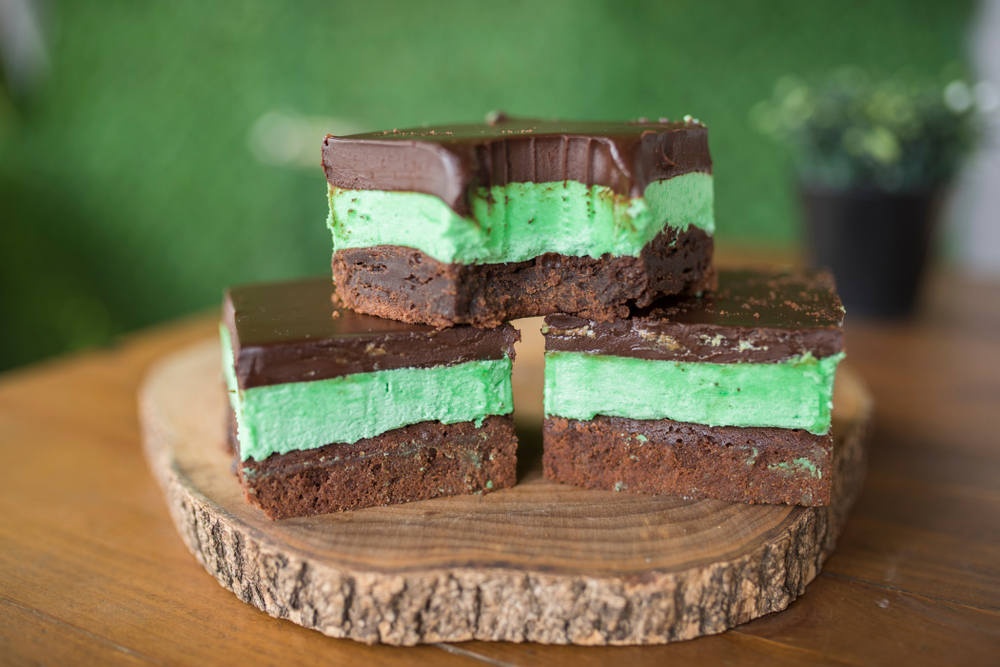 Treat yourself to this mouthwatering three-layer brownie featuring our best selling Richly Delicious Fudge Brownie Mix (#1824), topped with a minty filling and chocolate glaze.
Chocolate Mint Brownies
Ingredients:
Filling:
Topping:
1/3 cup heavy whipping cream
Instructions:
Slowly add hot water to other ingredients while blending with mixer until smooth. Spread evenly in a 9″ x 13″ pan sprayed with Bak-klene (#5564). Let rest 10 minutes before baking. Bake in preheated 350°F oven for 20-23 minutes. Allow it to cool completely.
Meanwhile, beat together the softened butter and cream cheese until smooth. Then, mix in the whipping cream and beat until incorporated. Slowly add the powdered sugar and mix until fluffy, then add the mint extract and food coloring if desired. Spread over the cooled brownies, then place into the fridge for 1 hour to set.
Then, add the topping ingredients to a saucepan and heat over medium-low until melted. Remove from the element and let stand 15 minutes.
Next, pour the topping over the cream cheese mixture and spread over top. Place back into the fridge for 2 hours or until fully set. Cut the brownies as desired, and enjoy. Store covered in the fridge.
Adapted from: https://www.bettycrocker.com/recipes/chocolate-mint-brownies/
Enjoy a fun minty twist on everyone's favorite classic Chocolate Chip Cookie for St. Patricks Day.
Mint Chocolate Chip Cookies
Ingredients:
Instructions:
Preheat oven to 375F.
In a bowl, combine the flour, baking soda, and salt. Set aside.
Then, beat together the butter and sugar until fluffy. Add the eggs, food coloring, and extract until mixed well. Slowly beat in the flour mixture until fully incorporated. Fold in the chocolate chips.
Next, use a crestware scoop (#3838) to drop the dough onto a cookie sheet (#4020) lined with a silicone mat (#8436).
Bake for 10-12 minutes or until the edges begin to brown. Allow to cool on the baking sheet for 1 minute before transferring to a cooling rack (#1145).
Adapted from: https://www.mccormick.com/recipes/dessert/mint-chocolate-chip-cookies
Comments
Shamrock Cookies - Alisons Pantry Delicious Living Blog - […] Chocolate Mint Brownies […]
Mint Chip Pudding Cookies - Alisons Pantry Delicious Living Blog - […] Chocolate Mint Brownies Jennifer's Mint Brownie Cookies Shamrock Cookies […]
Mint Cheesecake Mousse - Alisons Pantry Delicious Living Blog - […] Green Desserts for St. Patrick's Day […]
Irish Apple Cake with Vanilla Custard - Alisons Pantry Delicious Living Blog - […] Pot Corned Beef & Cabbage Chocolate Mint Brownies Rainbow Pancakes SharePinTweet0 Shares 0Shares Share on Facebook […]