Instant Pot 10-Minute Steak Tacos
In our homes, Taco Tuesday has become "Busy night of the week? We're having tacos!" It is a quick and easy meal, plus everyone seems to love tacos. As much as we love the traditional ground beef taco, these 10-Minute Steak Tacos are life.changing.
Toppings for your Tacos
The amazing thing about taco night is that you can have multiple topping options so everyone is happy! Some of our favorites include cilantro, lime wedges, chopped onions (#5772), guacamole (#2588), pico de gallo or salsa, sour cream, hot sauce, shredded lettuce, or shredded cheese. But, don't feel limited to these options! There are many other delicious toppings you can add to your Instant Pot Tacos.
What is the best kind of steak to use?
Although most cuts of steak can be used in tacos, some work better than others! The best cut of steak to use is flank steak or skirt steak. If you are picky about the texture like we are, you will likely like skirt steak best. It's all about personal prefernce!
If you like this recipe, give these a try: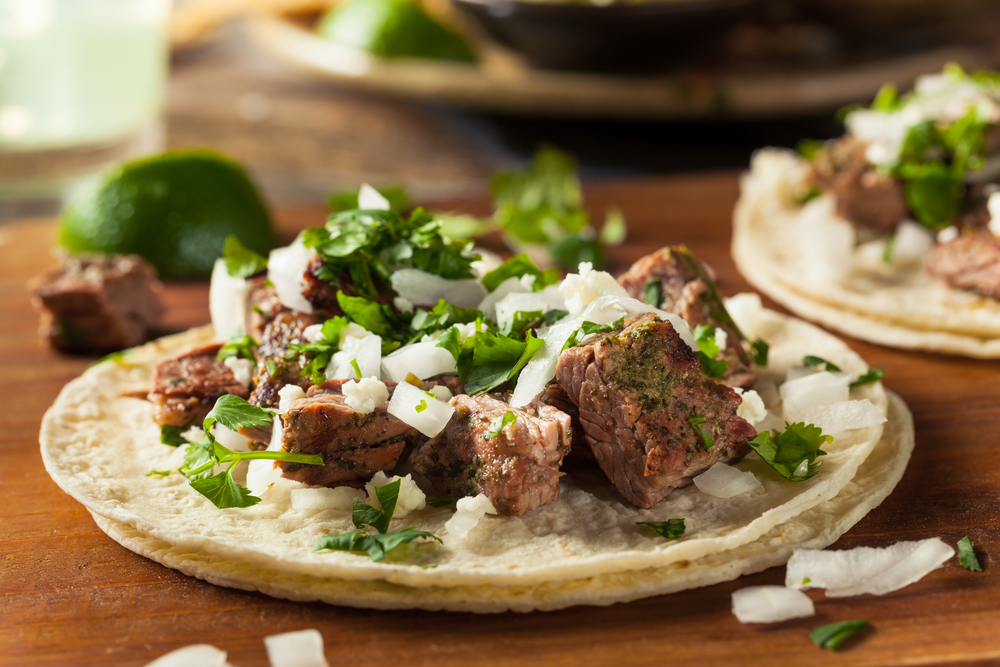 These quick 10-minute steak tacos are great for a busy night meal. They are healthy and loaded with salsa, steak, and guacamole. Add whatever toppings you like for a personalized taco night!
Instant Pot 10-Minute Steak Tacos
Instructions:
Turn the Instant Pot on the saute' function. When the pot displays "Hot" add the avocado oil to the pot.
Season the Flank Steak with the seasonings. Add the steak to the pot.
Cook both sides of the steak for 2-3 minutes until the steak turns brown.
Remove the steak from the pot. Top the steak with cheese immediately if you prefer melted cheese on your tacos.
Turn the oven on Broil. When heated, add the corn tortillas to the oven. Place the tortillas directly on an oven rack. Allow the tortillas to warm for a couple of minutes.
Remove the tortillas and add the steak, cream cheese, salsa, and tomatoes. Sprinkle the cilantro throughout.
Adapted from: https://www.staysnatched.com/instant-pot-10-minute-steak-tacos-2/
Comments