Jamie's Bread Pudding
Jamie's Bread Pudding is easy to make with just a few simple ingredients (They are kitchen staples for us!). Plus, you can't go wrong with a big ol' scoop of icecream and caramel sauce.
What Toppings go With This Bread Pudding?
To be honest, this bread pudding is delicious by itself- especially if you use Jamie's Cinnamon Chip Bread Recipe! But, if you want to step it up a notch, we really love adding Uncle Denny's Caramel Sauce and a big ol' scoop of vanilla icecream. If you're feeling a more fruity vibe, top with 1 Tbsp orange juice + 2 Tbsp sugar + 1 cup blackberries (#1221) + 2 cups sliced peaches (#2833).
Tips for the Best Bread Pudding
Always soak your bread in the egg mixture. This way, it can absorb some of the liquid before baking. In addition, it makes a wonderfully soft bread, which balances out the crisp edges from baking.
Don't use fresh bread! So, there's a reason the recipe calls for day-old bread, it acts like a sponge to soak up the delicious flavors. But, if you only have fresh bread try this hack: after you cube it, stick it in the oven on a baking sheet at 200° F for about 10 minutes.
What kind of bread IS best to use? Going along with not using fresh bread, there are certain types of bread that work best in bread pudding. Some good options are Challah bread, French or Italian bread, or Brioche. In addition, for a fun twist try using dried donuts or croissants.
Know how to tell if it is cooked. Similar to checking if a cake is done, try sticking a knife (or a toothpick) in the middle. If it comes out clean, then it's done! Don't forget that as it cools, it will continue cooking a little bit.
How do I store and reheat my bread pudding?
From the refrigerator: If you know you will devour your bread pudding within 3-4 days(we bet it won't even last that long!), then you can store it in the fridge. But, it will start to lose moisture after 1-2 days. To reheat, first preheat your oven to 350°F. Then, covering your pudding in foil, cook for 5 to 15 minutes. If you choose to use the microwave, we suggest warming individual portions for 2-10 minutes, checking it often.
From the freezer: If you know it will take more than a few days to eat, or you made more than enough intending to save for a later date, the freezer is your friend. Bread pudding can be stored in a freezer safe dish for 2-3 months. Once you're ready to dig in again, make sure you let the bread pudding thaw in the fridge overnight. Then, reheat as stated above.
Has your Bread Pudding lost its moisture? If it has, no need to worry as this is normal because the bread soaks up the moisture. All you need to do is add ice cream, dream whip (#1952), or heavy cream just before serving.
Looking for more delicious treats?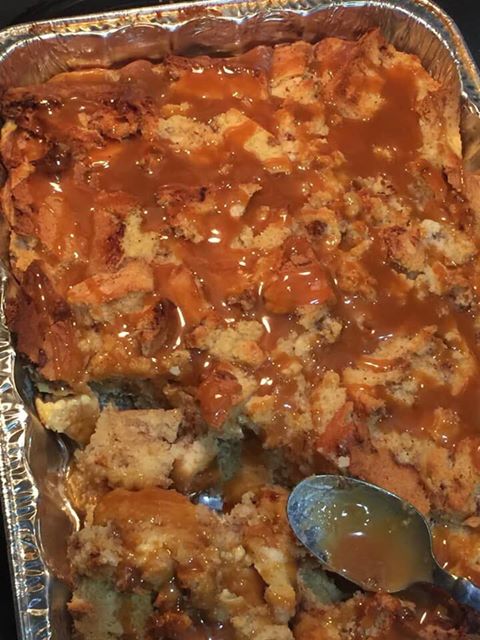 Jamie's Bread Pudding is easy to make with just a few simple ingredients (They are kitchen staples for us!). Plus, you can't go wrong with a big ol' scoop of icecream and caramel sauce.
Jamie's Bread Pudding
Ingredients:
Instructions:
First, spray a 9×13 baking dish with nonstick cooking spray. Place the cubed challah bread (or cinnamon chip) into the prepared baking dish and spread it around into an even layer. Set aside.
In a very large mixing bowl, whisk together the eggs, sugar, milk, vanilla, nutmeg, and cinnamon until fully combined. Then, pour the mixture evenly over the bread in the prepared baking pan, making sure all of the bread is coated. Allow to sit and soak up the mixture for about 15 minutes.
Meanwhile, preheat oven to 350°F. Once the 15 minutes is over, place the bread pudding in the oven and bake at 350°F for 45-50 minutes or until the top is set.
Remove from the oven and allow to cool slightly before serving.
*We love using Jamie's Cinnamon Chip Bread for this recipe!
Adapted from: https://www.livewellbakeoften.com/grandmas-bread-pudding
Comments
2 Blueberry Favorites - Alisons Pantry Delicious Living Blog - […] Jamie's Bread Pudding […]
Classic Lemon Bars - Alisons Pantry Delicious Living Blog - […] Jamie's Bread Pudding […]
3 Grilled Pound Cake Ideas - Alisons Pantry Delicious Living Blog - […] it into bread pudding! Simply use any recipe for Bread Pudding and replace the bread with pound […]