Salmon en Papillotes
This Fish en Papillote is as easy to cook as it is to clean up. Plus, it is full of flavor and will leave your kitchen smelling amazing.
What is en Papillotes cooking?
Although it isn't something most people hear every day, we've come to love this method of cooking! En papillote means "in Parchment" in French. Pretty fancy, right? It might sound that way, but it's actually a very simple cooking method to master. Basically, you just steam small portions of food in the oven using a parchment packet. The idea is similar to tinfoil dinners (we love these for camping!), but you bake rather than cook over a fire. In addition, the aroma from the steam when you open your parchment packets smells amaaaazing!
Can you prepare papillotes in advance?
If you think you'll be pressed for time before dinner, you can prepare papillotes an hour or two ahead of time. Plus, this makes a great meal to serve if you're having guests over. First, cut and prepare your parchment packets. Second, fill with your desired ingredients. Finally, carefully fold to seal the papillotes and store under refrigeration until ready to cook.
Can you cook en papillote in the microwave?
Sure, papillote recipes can be made in the microwave, and fish cooks especially easily and quickly. For best results, thinly slice vegetables so they will cook as quickly as the fish. The fish is typically done in just 2 minutes. If it needs additional cook time, use small increments so as not to overcook.
Looking for more en Papillote recipes?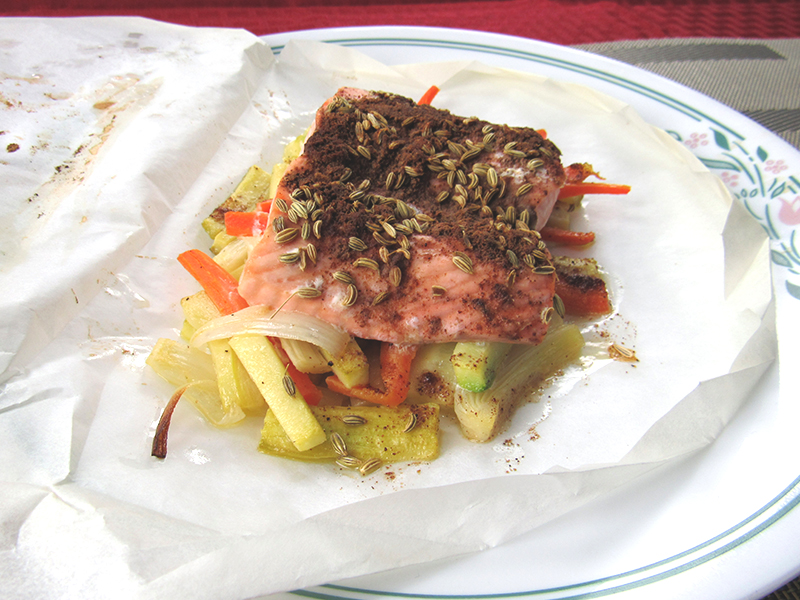 This Fish en Papillote is as easy to cook as it is to clean up. Plus, it is full of flavor and will leave your kitchen smelling amazing.
Salmon en Papillote
Ingredients:
1 tbsp olive oil, or avocado oil (#3515)
1 carrot, leek, and zucchini, all peeled and cut into julienne
Squeeze of lemon
1 tsp fennel seed
1 tsp quatre-epices, or Chinese five-spice
Instructions:
First, heat the oven to 375 degrees F. Then, heat the oil in a small skillet and gently fry the vegetables together until they are al dente (erring on the undercooked side).
Then, sprinkle with some salt, pepper and a squeeze of lemon.
Cut two pieces of parchment to accommodate the fish very generously. Fold one in half to form a wide rectangle and cut half a heart shape from the top and around the open edge (i.e. when you open it out again, it will be shaped a bit like a heart).
Next, put half the vegetables in the center of one side of the heart-shaped parchment paper. Set a fish fillet on top, scatter over half the fennel seed and quatre-epices.
Sprinkle the fish with some salt, pepper and another squeeze of lemon. Fold over the heart. Working from the top, fold the edges of the heart to seal, working all the way around as if it were a pastry.
Then, set on a baking sheet and repeat with the other piece of parchment paper and fish fillet.
Set the papillotes on a baking sheet. Bake 8 to 10 minutes. Remove from the oven and let sit 2 minutes.
To serve, simply cut open the papillotes and eat the contents inside.
Adapted from: https://www.cookingchanneltv.com/recipes/lauracalder/fish-en-papillote-2119603
Comments