Soy and Ginger Shrimp en Papillotes
What is en Papillotes cooking?
Although it isn't something most people hear every day, we've come to love this method of cooking! En papillote means "in Parchment" in French. Pretty fancy, right? It might sound that way, but it's actually a very simple cooking method to master. Basically, you just steam small portions of food in the oven using a parchment packet. The idea is similar to tinfoil dinners (we love these for camping!), but you bake rather than cook over a fire. In addition, the aroma from the steam when you open your parchment packets smells amaaaazing!
Can you prepare papillotes in advance?
If you think you'll be pressed for time before dinner, you can prepare papillotes an hour or two ahead of time. This makes them great to serve if you're having guests. First, cut and prepare your parchment packets. Second, fill with your desired ingredients. Finally, carefully fold to seal the papillotes and store under refrigeration until ready to cook.
Can you cook en papillote in the microwave?
Sure, papillote recipes can be made in the microwave, and fish cooks especially easily and quickly. For best results, thinly slice vegetables so they will cook as quickly as the fish. The fish is typically done in just 2 minutes. If it needs additional cook time, use small increments so as not to overcook.
What can I serve with my Shrimp en Papillote?
Even though our Soy and Ginger Shrimp en Papillote is delicious on its own, we love an excuse to make a good side! If you're wanting a low key dinner, just serve with Wing Hing Yakisoba noodles (#9176), steamed Minute White Rice (#1468), or one of our riced veggies. But, if you have more time for your side dishes, try making some fried rice (or use our Amoy Fried Rices), or Easy Chicken Lo Mein.
If you like this recipe, you may also want to try: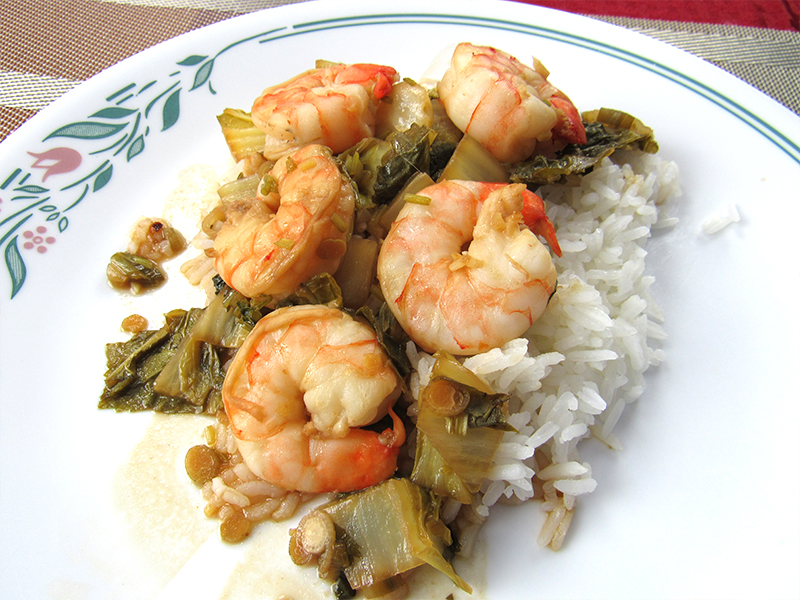 In this simple recipe, bok choy and shrimp are infused with the delicious combination of Asian-inspired flavors. Plus, this delicious en Papillotes recipe will be on the table in less than 30 minutes.
Soy and Ginger Shrimp en Papillotes
Ingredients:
1-1/2 Tbsp. soy sauce
1-1/2 Tbsp. unseasoned rice vinegar
1 Tbsp. hoisin sauce
1 Tbsp fresh lime juice
1 tsp. hot chili sesame oil
2 tsp. minced fresh ginger
2 small cloves garlic, minced (#1289)
8 oz. bok choy (preferably baby bok choy), washed and cut into 1/2-inch-thick slices (3 cups)
Peanut or vegetable oil for brushing the packets
2 scallions (white and light-green parts only), thinly sliced
2 Tbsp. chopped fresh cilantro
Preparation:
Position racks in the upper and lower thirds of the oven and heat the oven to 375°F.
First, prepare the parchment packets. Cut four 15×24-inch sheets of parchment. Fold each sheet in half, forming a 15×12-inch rectangle. With a pencil, draw a half-heart on each, centering it on the folded edge. Cut out the hearts. (This shape is easier to seal than a rectangle.)
Then, in a small bowl, stir the soy sauce, vinegar, hoisin sauce, lime juice, hot chili oil, and honey. Likewise, combine the shrimp, ginger, and garlic. Pour about half of the soy mixture over the shrimp and toss to coat. In another medium bowl, combine the bok choy, scallions, and cilantro. Finally, add the remaining soy mixture to the bowl and toss to coat.
Assembly and Cooking:
Unfold the parchment sheets and arrange on a work surface. Brush the inside of each with oil, leaving a 3-inch border. Distribute the bok choy among the sheets, arranging it on one side. Pour over any liquid remaining in the bowl. Arrange the shrimp on the bok choy, using a rubber spatula to scrape any seasoning on top. Fold the other side of the parchment over the shrimp and line up the edges.
Starting at the top of the heart, fold over about 1/2 inch of the edge, pressing down to make a crisp crease.
Continue working your way around the edge of the packet, making overlapping folds (like pleats), always pressing firmly and creasing the edge so the folds hold. Likewise, twist the tip of the heart to seal. If necessary, make a second fold anyplace that doesn't appear tightly sealed.
Transfer the packets to two large, rimmed baking sheets and bake for 8 minutes. Rotate and swap the baking sheets' positions and continue to bake until the packets are puffed and fragrant, about 7 minutes more. Serve immediately.
Adapted from: https://www.finecooking.com/recipe/soy-and-ginger-shrimp-en-papillotes
Comments
Tilapia and Asparagus en Papillote - Alisons Pantry Delicious Living Blog - […] Soy and Ginger Shrimp en Papillote […]
Ginger Mango Chicken en Papillotes - Alisons Pantry Delicious Living Blog - […] Soy and Ginger Shrimp en Papillote […]