Shrimp Spring Roll
Fresh spring rolls filled with black tiger shrimp, rice noodles, and crisp vegetables served with a delicious peanut sauce. It might seem like an intimidating recipe to create at home, but we promise it's actually quite simple. And, the process might be relaxing to some. Our favorite part is the delightful dip and crunch once the prep work is done.
The most important step is making sure you soak the wrapper for the proper time. Just soak for 15 to 20 seconds in cool water, and magic will happen before your eyes! The wrapper will soften up to wrap up the delicious fillings. If your fingers are sticking to it, simply dip your fingers in water.
Let us know what you think!
Try these fillings
Change the protein with chicken, pork, or tofu.
Use different vegetables like bell peppers, cucumbers, cabbage, and more!
Make it fruity by filling it with strawberries, peaches, mangoes, or even lemon.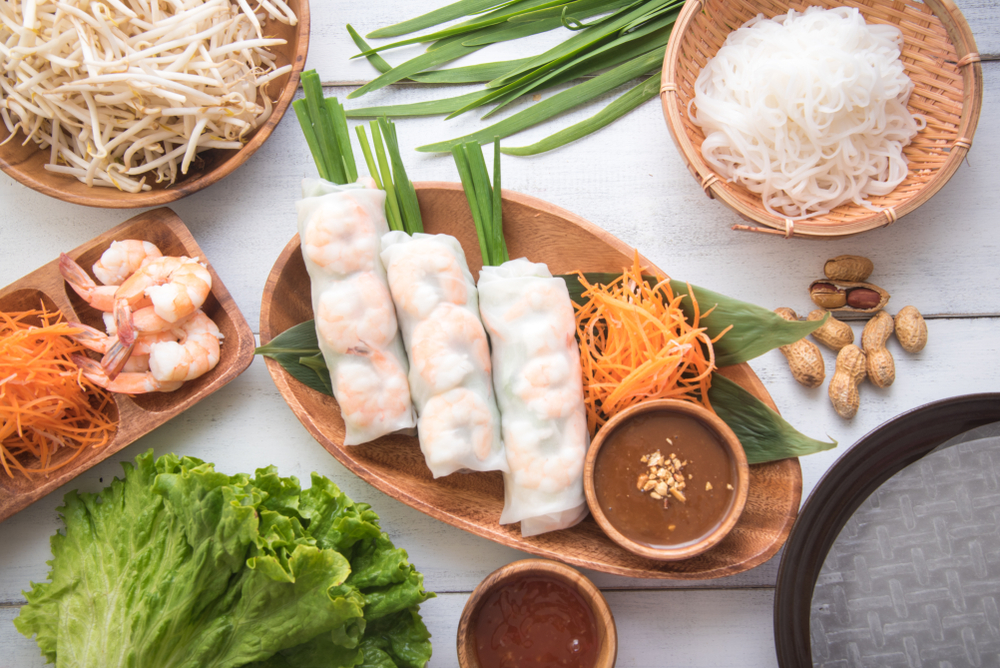 Fresh spring rolls filled with black tiger shrimp, rice noodles, and crisp vegetables served with a delicious peanut sauce.
Shrimp Spring Rolls
Ingredients:
10 rice paper wrappers
2 Tbsp mirin
1 Tbsp soy sauce
1/2 tsp sesame oil
6 oz. thin rice noodles
10 lettuce leaves, cut in half
1 cup carrots, thinly shredded
1 cup bean sprouts
1/2 cup cilantro leaves
1 bunch green onion or chives, optional
Instructions:
Prepare the sauce by whisking together the peanut butter, hoisin sauce, fish sauce, minced garlic, sugar and water. Stir until smooth, adding more or less water as needed. Transfer to a serving bowl and top with chopped peanuts. Set aside until ready to use.
For the spring rolls, bring a pot of water to a boil. Add the rice noodles and cook until tender, about 4 to 6 minutes. Strain with a colander, rinse with cold water and place in the fridge until ready to use.
For the shrimp, add the mirin, soy sauce, and minced garlic to a skillet. Cook until the shrimp is pink, about 2 minutes. Remove from heat and stir in the sesame oil. Set aside. You can either refrigerate or add to the spring rolls warm, depending on preference.
To assemble, fill a dish with cool water. Add a rice wrapper to the water for 15 to 20 seconds, then shake off the excess water and place on a cutting board. Lay a piece of lettuce on top, followed by noodles, carrots, and bean sprouts. Then, roll it up halfway, folding the sides in like an envelope. Add a couple pieces of shrimp, cilantro, and a couple pieces of chives. Continue to roll the wrapper until sealed.
Repeat with remaining ingredients, placing on a serving tray seam side down. Serve immediately with the sauce. Enjoy!
Adapted from: https://www.jessicagavin.com/fresh-shrimp-spring-rolls-with-peanut-dipping-sauce/
Looking for more Asian-inspired recipes?
Comments