St. Patty's Day Favorites
Fun facts about St. Patty's Day:
If you're anything like us, then you celebrate St. Patty's day ever year, even if you don't have any Irish heritage! So, we did our homework about St. Patrick's Day. Here are some of our favorite facts!
Saint Patrick was not Irish!
The original St. Patty's Day color was BLUE! Not Green. The color changed in the late 18th century.
Why celebrate on Match 17? This is the day St. Patrick's death.
Originally, Cabbage and Boiled Bacon was the main dish for your St. Patty's Day feast. Once the Irish came to American, they couldn't afford bacon- thus, Corned Beef and Cabbage was born!
The first St. Patrick's Day celebration was in Boston in 1737.
Lucky St. Patty's Day Games
We love any excuse to play Minute To Win It games, and St. Patty's day is no exception. Don't worry, we've included some more laid back games for those that don't like to embarrass themselves. Although, sometimes we just can't help it!
Lucky Charm Challenge. In this game, the goal is to stack as many lucky marshmallow's on top of each other using a clothespin. Now, this may seem easy, but you only have 1 minute to complete this challenge!
Cup of Green. Each pair gets a bowl of skittles. Every person has a pair of chopsticks, and the goal is to get only green skittles into your own cup. Whoever gets the most green skittles after 1 minute is the winner.
Peppermint Patty Game. If you like Minute To Win It, you'll recognize this game- commonly played with Oreos. Place an unwrapped peppermint patty on your forehead, and try to get it to your mouth without using your hands!
Shamrock Shake. Another popular Minute to Win It Game, the Shamrock Shake uses a green tissue box. Just strap the empty tissue box to the player's waist, and let them shake their shamrocks (ping pong balls). Whoever gets the most out in 1 minute is the winner.
What goes into a traditional St. Patty's Day meal?
So, when most people think of St. Patrick's Day, they think of Corned Beef and Cabbage. This is the traditional main dish for a St. Patty's Day meal. But, that can't be all! In addition to the Corned Beef, we like to serve delicious Irish Soda Bread. In a traditional recipe, you would add currants, but you can also add raisins or nuts. Other typical dishes include Shepherd's Pie, Irish Stew, or Colcannon (mashed potatoes with kale or cabbage).
Irish Soda Bread is an easy recipe, and is a mix between a yeast bread and a biscuit. There are a few adaptations you can make including swapping the currents for raisins, nuts, or just taking them out altogether.
Irish Soda Bread
Ingredients:
Instructions:
First, preheat the oven to 375 degrees F. Line a sheet pan with parchment paper (#1153).
Combine the flour, sugar, baking soda, and salt in the bowl of an electric mixer fitted with the paddle attachment. Then, add the butter and mix on low speed until the butter is mixed into the flour.
With a fork, lightly beat the buttermilk, egg, and orange zest together in a measuring cup. With the mixer on low speed, slowly add the buttermilk mixture to the flour mixture. Combine the currants with 1 tablespoon of flour and mix into the dough. It will be very wet.
Then, dump the dough onto a well-floured board and knead it a few times into a round loaf. Place the loaf on the prepared sheet pan and lightly cut an X into the top of the bread with a serrated knife. Bake for 45 to 55 minutes, or until a cake tester comes out clean. When you tap the loaf, it will have a hollow sound.
Cool on a baking rack. Serve warm or at room temperature.
*Don't have buttermilk? Try making some by adding 2-4 tbsp lemon juice OR vinegar to 1 3/4 cup milk. Simply stir to combine, then let sit for 10 to 15 minutes. Use in the recipe as needed.
Adapted from: https://www.foodnetwork.com/recipes/ina-garten/irish-soda-bread-recipe-1949134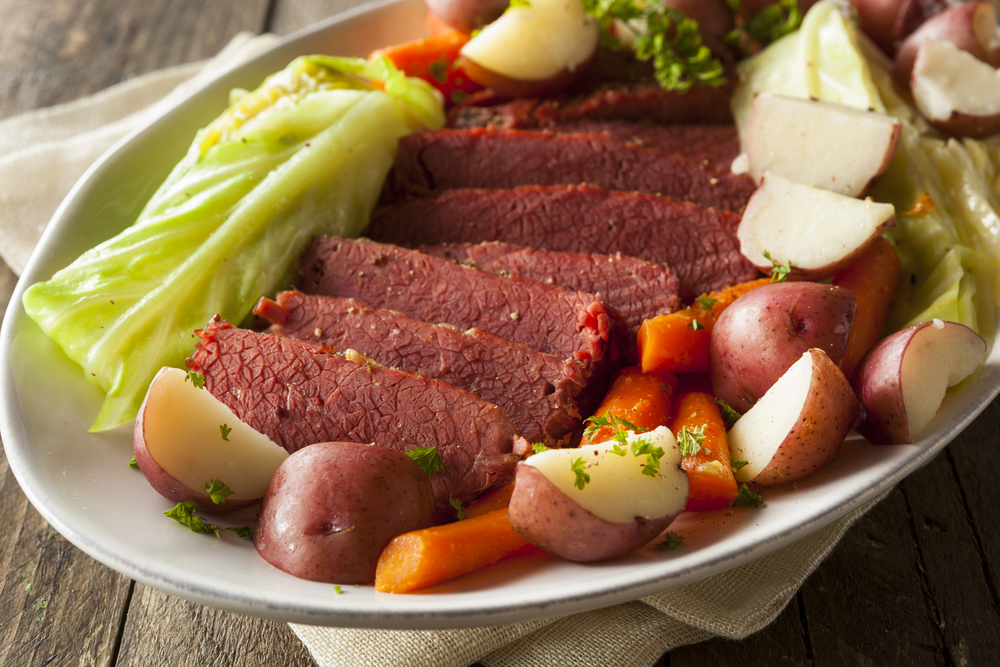 The most well known St. Patty's Day dish- made easier with our Instant Pot!
Instant Pot Corned Beef & Cabbage
Ingredients:
Instructions:
First, place corned beef brisket, spice packet, garlic and 4 cups of water into the instant pot. I used the rack to keep the brisket off the bottom of the pot.
Cook on 90 minutes using the meat/stew setting or high pressure for 90 minutes. Once time is up, quick release pressure. Remove corned beef to a platter and cover with foil. Let rest while cooking the vegetables.
Then, without discarding liquid, add potatoes, carrots, and cabbage to pressure cooker, you may remove the rack if desired.
Cook at high pressure for 4-5 minutes. Do a quick pressure release before removing vegetables.
Recipe notes:
Did your Corned Beef not come with a spice packet? Simply combine 2 tbsp black peppercorns (#1030), 2 tbsp mustard seed (#1428), 2 tbsp coriander seed, 3-4 bay leaves (#1753), 2 tbsp whole cloves, and 1 tbsp ginger (#1420). There are additional spices you can add depending on personal preference.
For more flavor, use 4 cups beef broth (#1039) instead of water.
Adapted from: https://www.familyfreshmeals.com/2017/03/instant-pot-corned-beef-and-cabbage.html*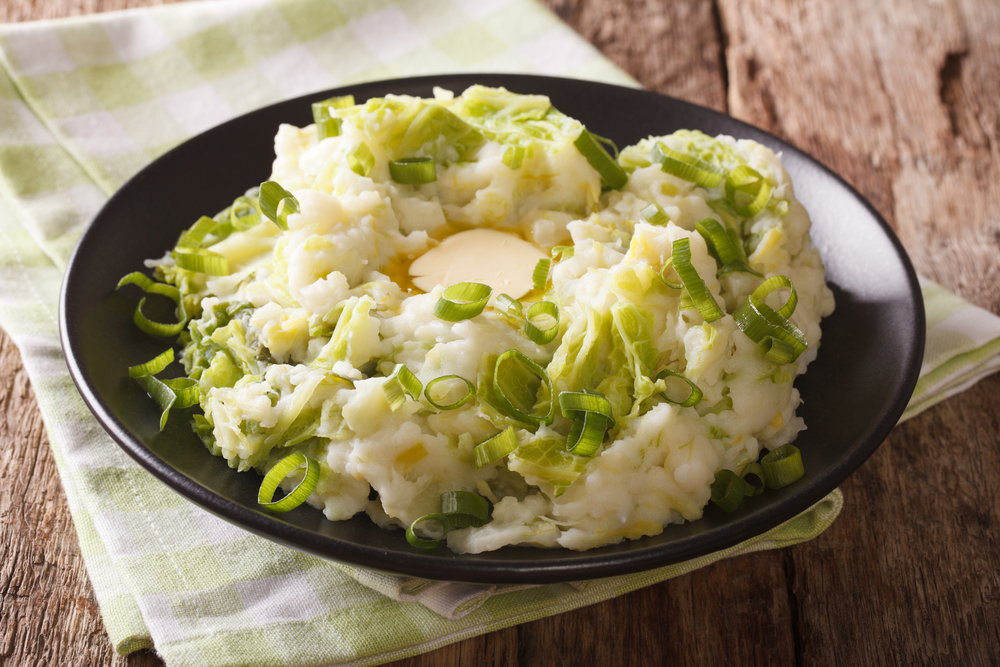 A traditional Irish Dish, Colcannon is a mashed potato dish with mixed greens and lots of butter and cream for a creamy finish.
Colcannon
Ingredients:
Instructions:
Cover potatoes with water in a small pot; season with salt. Bring to a boil over medium-high heat, then reduce heat and simmer until a paring knife slides easily through the flesh, 30–40 minutes. Drain, let cool slightly, and peel.
Meanwhile, melt 4 Tbsp. butter in a large saucepan over medium heat. Add leeks and cook, stirring frequently, until very soft, 8–10 minutes. Then, add garlic and cook, stirring frequently, until garlic is fragrant and leeks are just beginning to brown around the edges, about 3 minutes longer. Add 1 cup cabbage and cook, stirring constantly, until wilted. Add milk and cream and bring to a simmer.
Next, combine the potatoes and remaining 1 cup cabbage, and coarsely mash with a potato masher. Season with salt and pepper.
Transfer colcannon to a large serving bowl. Top with remaining 2 Tbsp. butter and sprinkle with scallion.
Adapted from: https://www.bonappetit.com/recipe/colcannon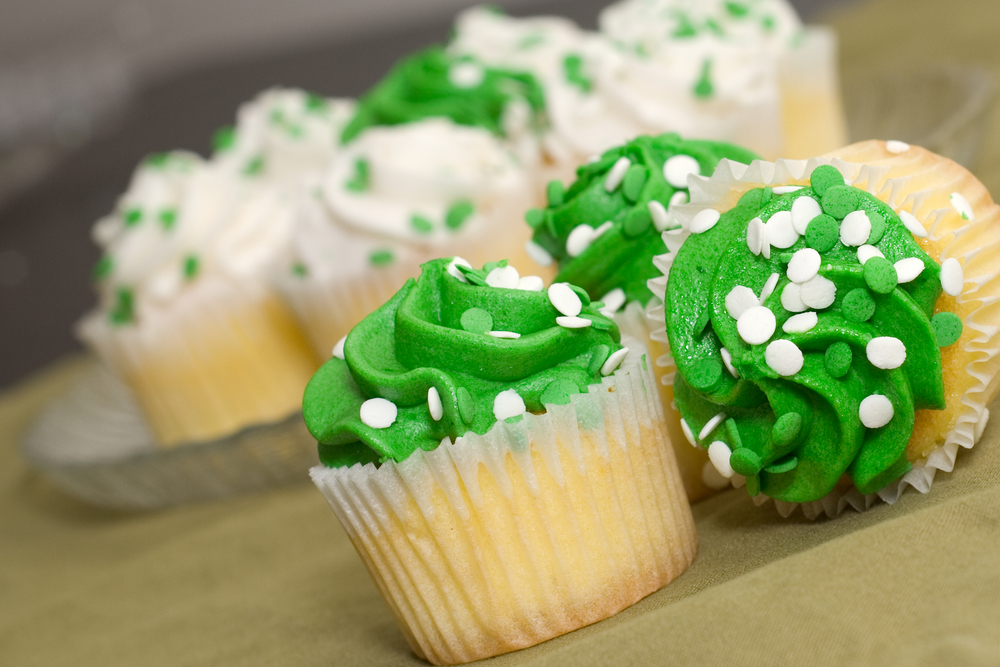 St. Patrick's Day Cupcakes
Although this isn't a traditional St. Patrick's Day dessert, after all the work that goes into the main dish we like something easy. With our Creme Cake Mix (#1823), you won't have to worry at all about dessert!
You will need: 4 1/2 cups of mix, 3/4 cup oil, 3 eggs, 1 cup of water, Buttercream frosting, Green food coloring, sprinkles.
For the batter: First, combine eggs, oil, & water. Then add 1/2 liquid to bowl. After that, add mix and blend with a mixer for three minutes. Last, add the balance of liquids while mixing, then continue to mix for two more minutes.
Once you have made the batter, line your muffin tin with liners. Fill muffin cups 2/3 full, then baking 18-22 minutes in 375ºF oven. After they cool, frost with green buttercream frosting.
Comments