Watermelon & Feta Phyllo Cups
Summer is coming to an end, but we're trying to get our watermelon fix in before we can't enjoy it anymore. Enter Watermelon & Feta Phyllo Cups: a delicious way to use up watermelon (if you don't eat it out of the bowl first!). This is a perfect finger treat for an afternoon snack, backyard picnic, or just because.
Try this!
Athen's Mini Phyllo Shells (#1816) are ready to use, simply thaw and fill as desired. But, we have found that baking in the oven at 350F for 3-5 minutes gives you a delightfully crisp shell, and helps prevent it from getting soggy. Give it a try!
Check out these fruity recipes!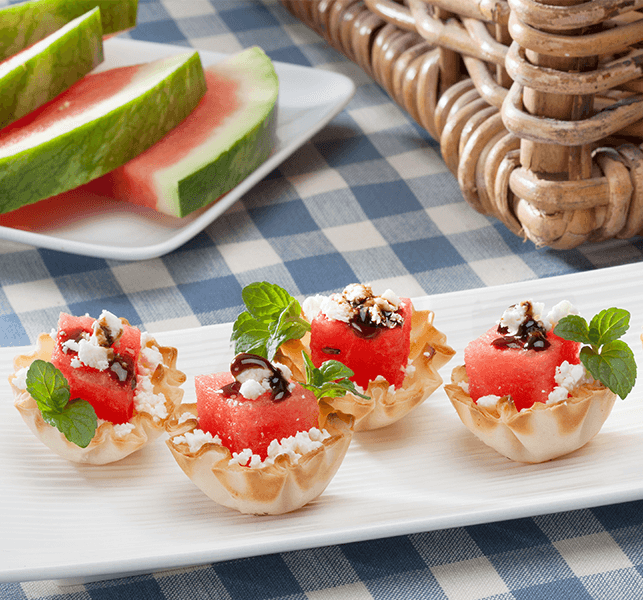 Watermelon & Feta Phyllo Cups
Ingredients:
4 slices seedless watermelon
1 cup Feta cheese, crumbled
3 Tbsp balsamic reduction
Small mint leaves for garnish
Instructions:
First, cut the watermelon into 1/2 inch cubes.
Then, sprinkle some feta into the bottom of each shell, topping with a watermelon cube and more feta.
Now, drizzle with balsamic reduction glaze and garnish with mint leaves. Enjoy!
Adapted from: https://athensfoods.com/recipes/watermelon-feta-phyllo-cups/
Comments