3 Easy Dutch Oven Bread Recipes
So, what's so great about Dutch Ovens? Other than being perfect for camping, the size, shape, and thickness of the oven make it great for a wide variety of recipes- including these 3 bread recipes.
More Dutch Oven Favorites: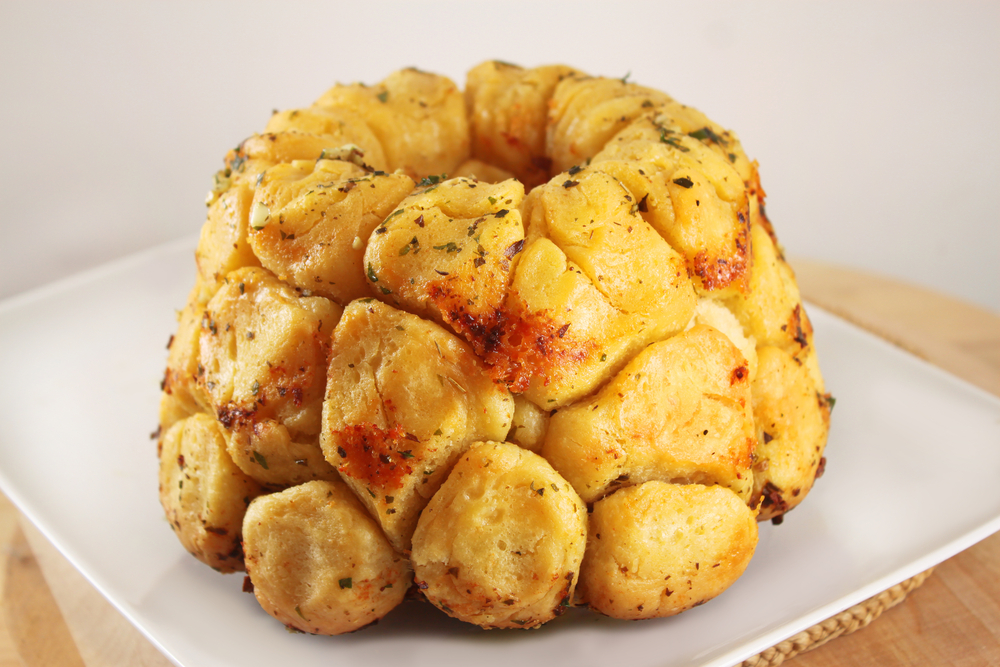 This savory Garlic Parmesan Monkey Bread is the perfect side to any meal.
Garlic Parmesan Monkey Bread
Ingredients:
Instructions:
Combine the butter, parsley, garlic, salt and parmesan cheese together in a mixing bowl.
Separate the refrigerated biscuits from each other and cut into fourths. Add the biscuits to the parmesan mixture and mix well.
Coat a Dutch oven with non-stick spray and add in the ingredients. Bake in dying coals ( 350-375 degrees) for 30-40 minutes or until golden brown. Rotate the dutch oven halfway through to make sure they cook evenly.
Allow to cool before removing from pan. Pull apart pieces and enjoy.
Recipes notes:
*We suggest pre measuring everything before your camping trip so it's ready to go!
*If you use rolls, cut the dough into quarters. If you use pizza dough, cut them it into small chunks. This is easiest done beforehand as well.
*For an easier option, try using our Chef Shamy Garlic Butter (#8124)!
Adapted from: http://seevanessacraft.com/2016/03/recipe-garlic-parmesan-monkey-bread/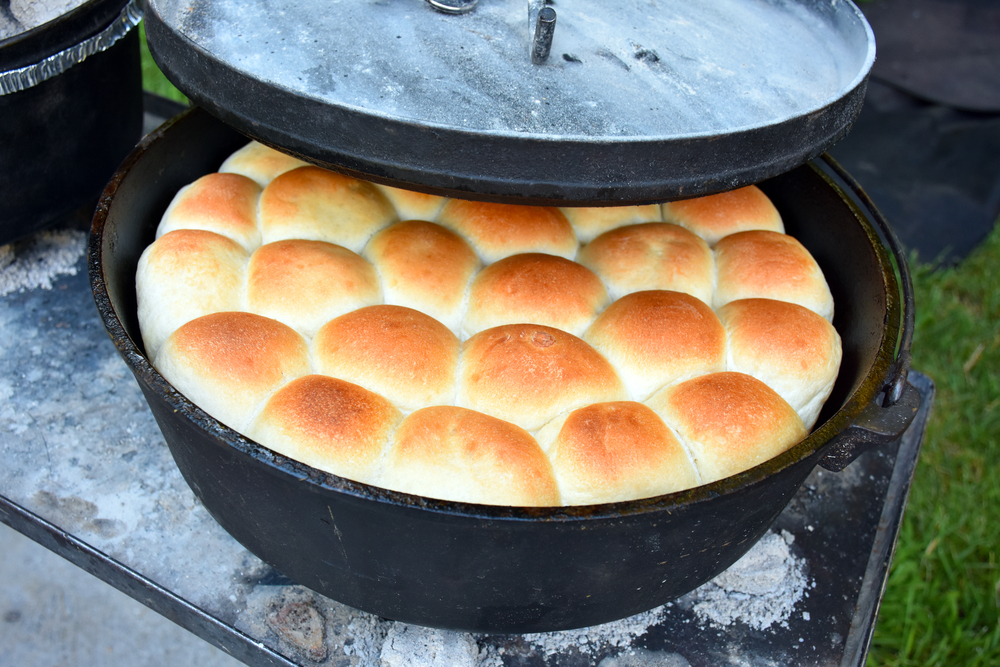 These rolls are the perfect match of soft and crispy, and are so easy to make during camping trips!
Dutch Oven Rolls
Ingredients:
Butter, optional
Briquettes– 10 on the lid, 6 on the bottom
Instructions:
Place frozen roll dough in your Dutch oven and thaw until they double in size. Cover in plastic wrap. This will be approximately 3 hours.
Place 6 hot briquettes under your Dutch oven, and 10 on top. Bake for 15-20 minutes. You will know they are done when the top is golden brown.
Once they are done, baste the tops with butter and serve warm.
Recipe notes:
*We like to butter our roll dough before baking them, in addition to once they are done. This makes the rolls full of flavor!
Adapted from: http://www.lovetheoutdoors.com/dutch-oven/Breads/Dinner-Rolls.html
A dreamy twist on our beloved classic Cinnamon Rolls. These Blueberry Cinnamon Buns are a great way to change up breakfast!
Dutch Oven Blueberry Cinnamon Buns
Ingredients:
For the dough:
For the Blueberry Filling
Additional Blueberries for Sprinkling
Instructions:F
First, prepare your blueberry filling: In a small dutch oven, combine 1 pint of the blueberries, sugar and cornstarch. Stir in lemon juice, lemon zest and water. Cook over a full spread of coals, stirring often, until mixture begins to thicken slight. Remove from heat and allow to cool.F
Then, prepare your dough. Mix whole milk, vegetable oil and sugar in a pan. Scald to 150 degrees. Let cool until lukewarm (~45 minutes). Sprinkle in yeast and let sit. Then add 4 cup flour, stir mixture together. Cover and let sit for one hour. Add 1/2 cup of flour, baking powder, baking soda, and salt. Stir mixture together. Add enough flour to make a semi-sticky dough.
Divide the dough in half. Sprinkle surface generously with flour and form into a rectangle, roll the dough thin, maintaining a rectangular shape. Spread half of the blueberry filling onto the dough. Sprinkle half of the additional blueberries for sprinkling on top. Roll the dough toward you. Pinch the seam to seal it. Cut rolls 3/4 to 1 inch thick and lay in greased dutch ovens. Repeat with other half of dough and blueberry filling.Cover the rolls and let sit for 30 minutes.
Bake at 375 for 18-20 minutes or until golden brown. Use 1 1/2 rings plus a couple of coals on top and 1 ring on the bottom.
Generously drizzle your favorite cream cheese frosting over warm rolls after they finish baking.
Makes 24-30 rolls.
Adapted from: http://dutchovenmadness.blogspot.com/2012/04/blueberry-cinnamon-rolls.html
Comments
Farrah's Breakfast Sandwiches - Alisons Pantry Delicious Living Blog - […] 3 Easy Dutch Oven Recipes […]
Campfire Dishes - Alisons Pantry Delicious Living Blog - […] Dutch Oven Rolls Pierogies and Brat Foil Packet Campfire Breakfast Burritos SharePinTweet0 Shares 0Shares Share on Facebook Share on…