5 Spooky Halloween Pretzel Rods
We are so excited that Halloween season is officially here! There are so many deliciously easy kid-friendly treats to make for any class party or other spooky get-togethers. Decorating Pretzel Rods is a popular treat for a variety of holidays, and we are loving these 3 eerily easy ways to decorate for monster bashes.
5 Spooky Halloween Pretzel Rods
The main steps will be the same for each rod, while the instructions for toppings will vary.
You will need:
To decorate:
Instructions:
To begin, line a cookie sheet (#4020) with parchment paper (#1153).
Then, melt the vanilla chips by placing into a bowl and microwaving for 30-second intervals, stirring between, until the chocolate is smooth.
Dip one pretzel rod into the chocolate, or use a spoon to cover 1/2-2/3 of the rod.
Add toppings- find instructions below.
Allow to set before serving.
To make Ghost Pretzel Rods:
Using food coloring, dye a small portion of the melted chips black.
Once the melted vanilla has set, use a toothpick to carefully draw the ghost faces. Be careful not to press too hard, or it will scrape the chocolate underneath.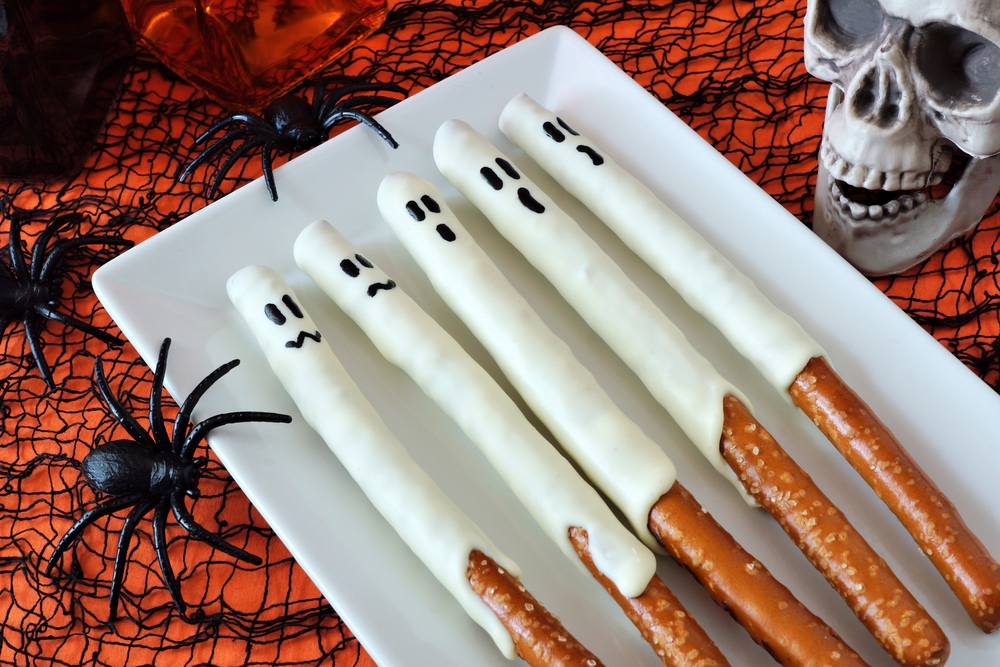 Frankenstein Pretzels
Mix green food coloring into vanilla chips. Dip the pretzel rod, and plate two eye sprinkles from Boo Bash Sprinkle Set (#1779) near the top of the rod. Allow it to set.
Then, dip the top again to make the hair, and immediately sprinkle with black sprinkles. Use a toothpick to draw the mouth in a zigzag fashion.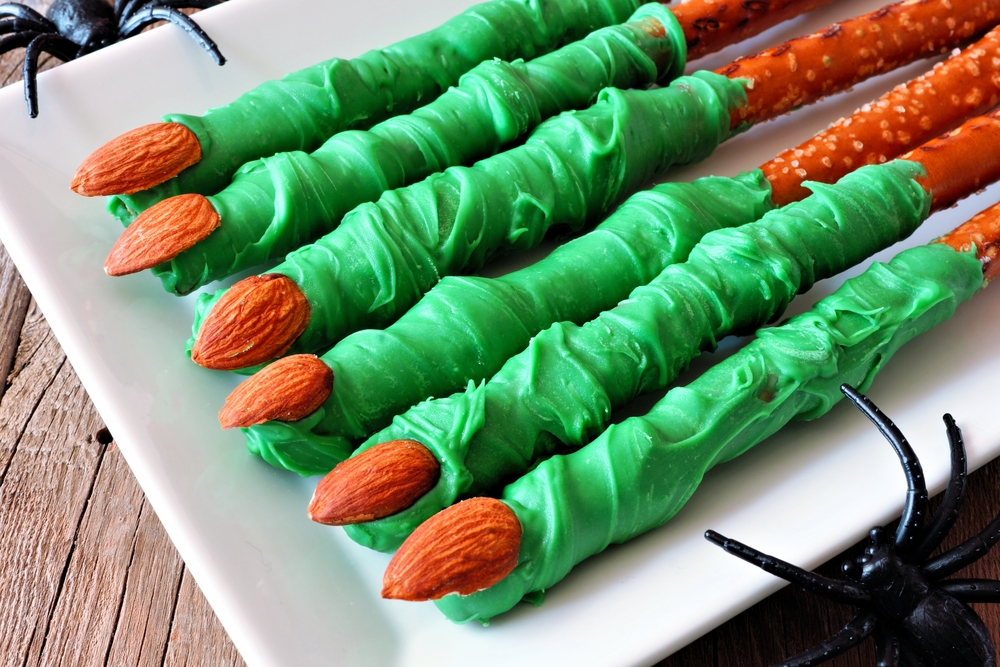 To make Halloween Witches Fingers:
Before dipping the pretzel into the melted chocolate, add green food coloring to get the desired color.
Then, dip each rod into the mixture. It doesn't need to be smooth. Immediately press almonds on the tip of the rod.
Candy Pretzels
After dipping your pretzel rod in chocolate, immediately top as desired.
Try using sprinkles, candy corn, or other small Halloween candies. For a simple decorated pretzel, use food coloring to dye the vanilla chips various colors to drizzle.
To make Spooky Mummy Pretzel Rods:
Immediately after dipping in melted vanilla chips, place two eye sprinkles from Boo Bash Sprinkle Set (#1779) near the top of the rod. Allow the chocolate to harden.
Once it has set, drizzle additional chocolate across the pretzel to resemble a mummy-wrap
Comments