Halloween Breakfast Ideas for Kids
Start Halloween morning off with a spooky but sweet meal! Your kids can help prepare these easy dishes, too.
More ideas to try:
Pumpkin Cinnamon Rolls. Thaw Janey Lou's Cinnamon Rolls (#9134) and gently unfold about 1 inch of the dough. Fold the portion in half and stick to the main part of the roll to create a pumpkin stem. Add Janey Lou's Cream Cheese Icing (#8388) to two small bowls, with a few drops of orange food coloring in one and green food coloring in the other. Use to frost the pumpkin and stem.
Halloween Waffles. Make up a batch of Lehi Roller Mills Belgian Waflles (#2402), Sweet Potato Waffles (#1967), or Conestoga Sweet Cream Waffles (#7435), Then, decorate! Create a Jack-O-Lantern Face with Ghirardelli Semi-Sweet Chocolate Chips (#7121), use green food coloring for Frankenstein, or drizzle with Pioneer Valley Raspberry Syrup (#2316) for "Vampire Waffles".
Puff Pastry Pumpkins. Flaky puff pastry pumpkins filled with Peach Cobbler Jam- great for breakfast.
Candy Corn Donuts. Prepare Janey Lou's Raised Donut Rings (#7151) with desired method. Then, make a simple glaze with 2 cups C & H Powdered Sugar (#1151) + 1/4 cup milk (try using Dawn White Flat Icing (#1910) for a no-prep option). Divide it between 3 bowls, adding a few drops of orange food coloring to one and yellow to the other. Add a few spoonfuls of each color onto a small plate in lines, close enough to be slightly touching. Carefully dip the top of each donut into the glaze.
Halloween Egg in a Hole. Simply use a Halloween cookie cutter for the center of the bread. Follow the instructions here.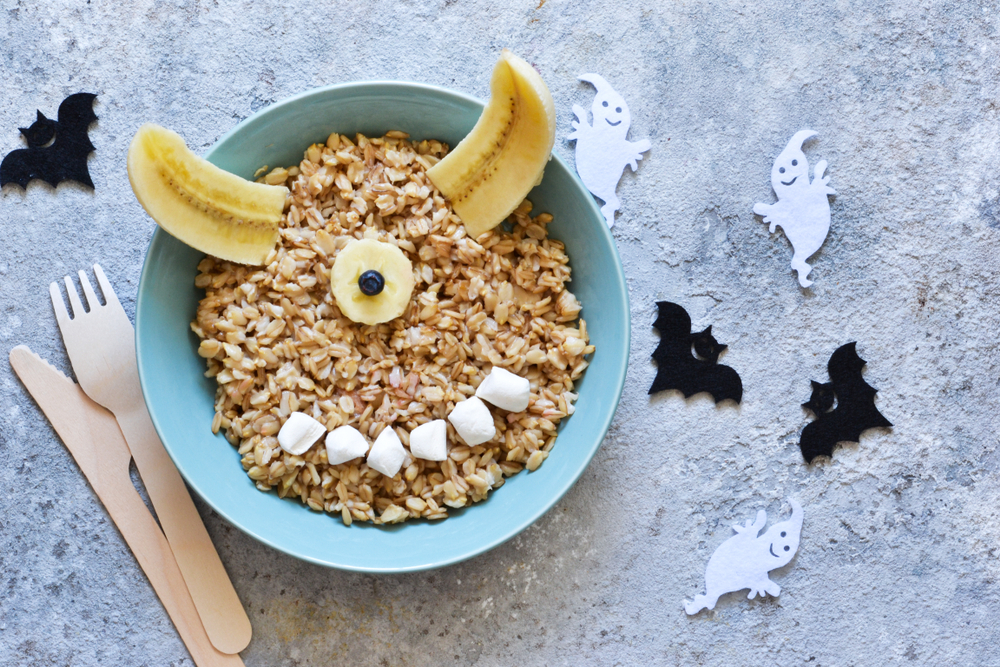 Make a bowl of oatmeal, then use fruits, nuts, mallows, etc to create a monster face for a scary but sweet breakfast.
Monster Oatmeal
Ingredients:
1 banana
1 blueberry
Mini Marshmallows
Instructions:
First, add the oats and milk to a microwave safe bowl. Place in the microwave for 1-2 minutes. Remove from microwave.
Cut a banana in half. Then, cut one of the halves in half lengthwise. Place each portion at the top of the bowl to create horns. Slice off a small piece of the remaining banana half for the eye, topping with a blueberry. Then, create the mouth by placing mini marshmallows in a curved line. Enjoy!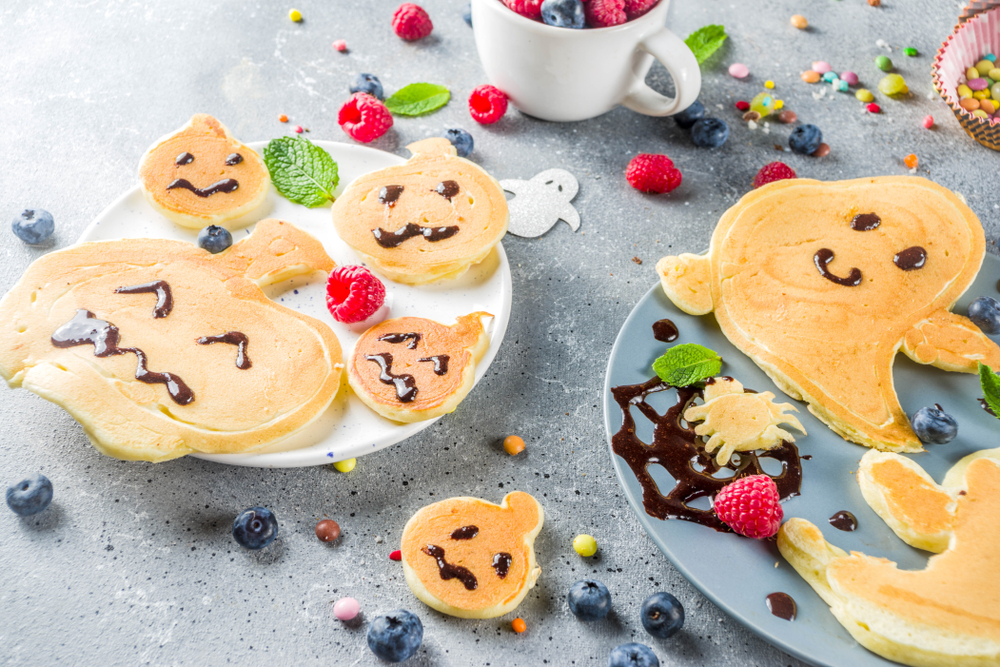 A simple way to start Halloween morning. Use chocolate syrup or chocolate chips to create Halloween designs on your spooky shaped pancakes. Serve with a side of Daily's Skinless Sausage Links (#5464) or Daily's Applewood Smoked Bacon (#8464).
Halloween Pancakes
Ingredients:
2 cups cool water
Chocolate syrup
Instructions:
Preheat griddle to 375F with a slab of Kirkland Sweet Cream Butter (#1723).
Then, combine cool water and pancake mix. Blend well with Zyliss Easy Clean Whisk (#1204) until dry mix is well incorporated (Slightly lumpy batter is okay).
Next, transfer batter to a batter dispenser and pour approx. 1.5 ounces of batter on griddle in Halloween shapes*: pumpkin, ghost, skulls, etc. If you have metal shaped cookie cutters, use those then fill with batter!
Flip pancakes when edges begin to dry (approx. 1 1/2 minutes). Flip and cook approximately 1 1/4 to 1 1/2 minutes on second side.
Now, use chocolate syrup (or syrup of your choice) to decorate as desired.
*Try using Ghirardelli Semi-Sweet Chocolate Chips (#1305) to create a Jack-O-Lantern face, spider web, or other Halloween designs before flipping the pancake.
Comments