Heavenly Angel Food Cake
Simply add ice cold water and bake for a light, luxurious Angel Food Cake! We feel confident that you won't find a better-tasting mix. Guaranteed! Take it from Judy Fuchs, who shared, "I purchased the AP Heavenly Angel Food Cake Mix (#2815) and wondered what quality this possible could be. I was so happy with the results. This product is 5 Star – fluffy, springy, and wonderful flavor. Outstanding product…."
Try these variations!
For a tropical twist, add Dole Tropical Gold Pineapple Chunks (#3002) to the cake batter. Top with whipped cream, toasted coconut, and Maraschino cherries.
For fellow Boston Cream Pie lovers, carefully cut the cake in half and add a layer of Jell-o Vanilla Instant Pudding & Pie Filling (#1914). Top with
Mix in poppy seeds, and add some lemon juice to the whipped cream.
Turn it into a Trifle Cake by layering it with berries and pudding.
Carefully cut the cake in half and layer with a simple Lemon Curd, topping with whipped cream and Wyman's Fresh Frozen Red Raspberries (#1219) if desired.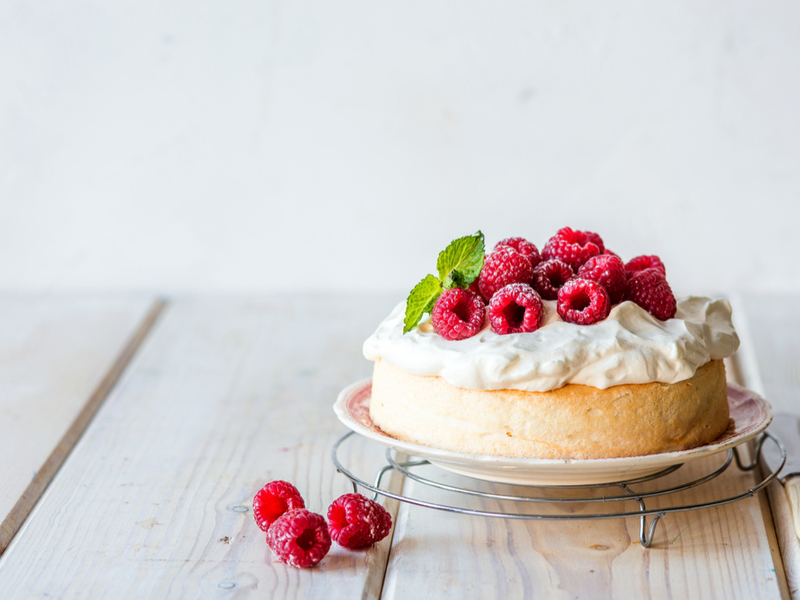 Simply add ice cold water and bake for a light, luxurious Angel Food Cake!
Heavenly Angel Food Cake
Ingredients:
Instructions:
First, sift mix to be sure there are no lumps; spoon into measuring cup and level off.
Add mix to ice cold water and whip, using wire whip, until fluffy, or about 3-5 minutes with mixer.
Bake at 370° for 37-40 minutes, then carefully remove onto a Crestware Cooling Rack (#1145).
For the whipping cream, whip until stiff peaks are about to form. Add the powdered sugar and vanilla, and beat until stiff peaks form.
When ready to serve, top the cake with whipped cream and berries.
If you like this recipe, try these:
Comments
Slow-Cooker Double Chocolate Cake - Alisons Pantry Delicious Living Blog - […] Heavenly Angel Food Cake Chocolate Turtle Brownies Marbled Bundt Cake […]