Maple Bacon Cupcakes
Maple/Bacon desserts are all the rage right now, and we're slow to get on board. And, we have to admit, it's actually surprisingly good! These Maple Bacon Cupcakes are a good gateway into this Maple/Bacon world.
More Fun Desserts: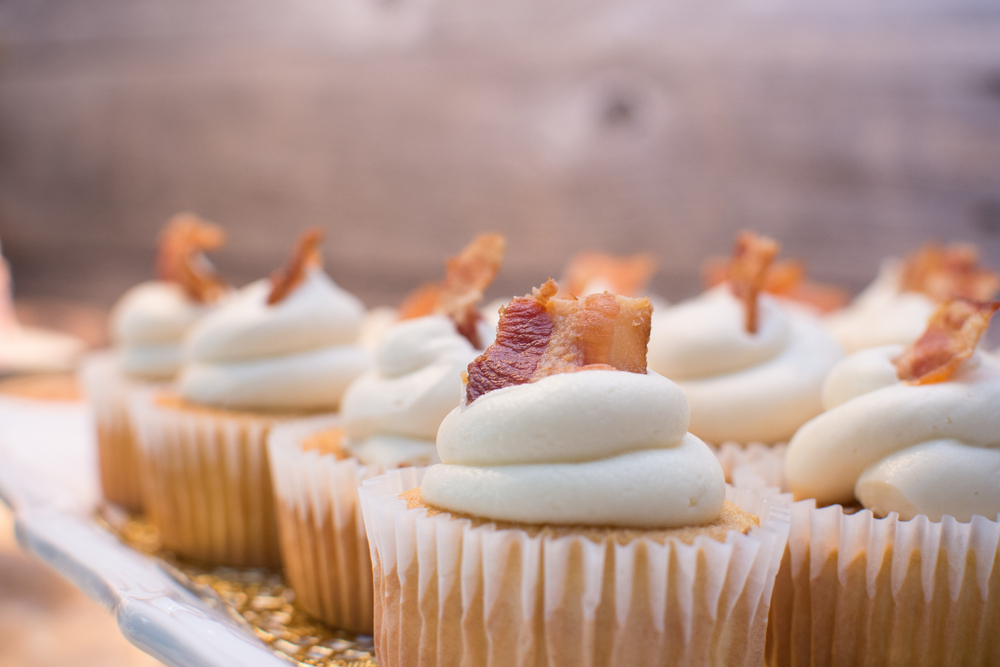 These Maple Bacon Cupcakes are the best of both worlds with the sweet from the syrup + salty from the bacon. Not to mention, the crunch mixed with the soft cupcake.
Maple Bacon Cupcakes
Ingredients:
Cupcakes:
Frosting:
Topping:
Instructions:
Preheat the oven to 350 and line a muffin pan with cupcake liners (#1646).
Sift flour, baking soda, salt, and baking powder together and set aside.
Combine vegetable oil, bacon grease, vanilla extract, and maple syrup. (And maple extract if using.)
Make sure your other ingredients are ready.
In a bowl of an electric mixer (use paddle attachment), beat egg whites for about 30 seconds and slowly start pouring in sugar. Beat for 2-3 minutes, until white and fluffy.
Start pouring in the oil mixture, slowly, as the eggs are still beating on medium-high. Then, lower the speed to low.
Alternating, add flour mixture and buttermilk in two parts. Mix until just combined. Scrape sides and bottom of the bowl and low mix a couple more seconds until incorporated.
Divide batter among the cupcake cups, filling them about â…" of the day. To ensure each cupcake is even, use a scoop (#3838). Tap the cupcake pan on the counter a couple of times to help air bubbles come up.
Bake for 18-20 minutes. Take out of the oven and let them rest for 5-10 minutes. Gently take the cupcakes out onto the wire rack to cool completely. Drizzle about a teaspoon of maple syrup on to of each cupcake.
Cool completely before frosting!
To make the frosting, first beat the softened butter in the electric mixer, on medium-high speed, for about 2 minutes.
Lower speed to low and carefully mix in powder sugar, salt, and maple syrup. Once sugar is incorporated, scrape sides and bottom of the bowl and raise the speed to medium. Beat for another 2-3 minutes.
Transfer frosting into a piping bag with your desired tip attached. Pipe cooled cupcakes.
Crumble crispy bacon and divide it on top of piped cupcakes.
Drizzle each cupcake with some maple syrup.
Recipe notes:
*To make this recipe even easier, try using our Classic Creme Cake & Muffin Mix (#1823). Simply add bacon grease and syrup to the mix before baking.
*You can also use our Buttercream Frosting (#8126) and add 2 Tbsp Maple Syrup before frosting your cupcakes to eliminate another step.
Adapted from: https://www.willcookforsmiles.com/maple-bacon-cupcakes/
Comments