Seafood Marinara
Can I make this recipe without seafood?
Yes! You can make it with chicken, sausage, tofu, or no meat! Just substitute with 1 lb. of whatever you would like. In addition to substituting, you can always add more seafood for an even fisher dish. Along with the shrimp, try adding your favorite shell fish- mussels, calamari, or pieces of fish.
How do I store my Seafood Marinara?
If you know you're going to be eating this meal again within 3-4 days, you can store it in the fridge in an airtight container. Otherwise, store in the freezer for up to 4 months. Marinara is great for freezer meals- just divide into freezer ziploc bags (#1979) so you have a few freezer meals ready to go. You can even make extra of this recipe just for freezer prep.
Can it be made in the crock pot?
Yes! And, it is actually pretty simple. You will just need to prepare the noodles, but everything else can go into your crock pot.
First, add your tomatoes and spices to the crock pot. Then, cover and cook on low for 4 to 5 hours. Third, turn the slow cooker on high and stir in the shrimp. Then cook on high for about 10 more minutes. To finish, serve the shrimp with marinara on your noodles and sprinkle with parmesan.
Looking for other Italian favorites?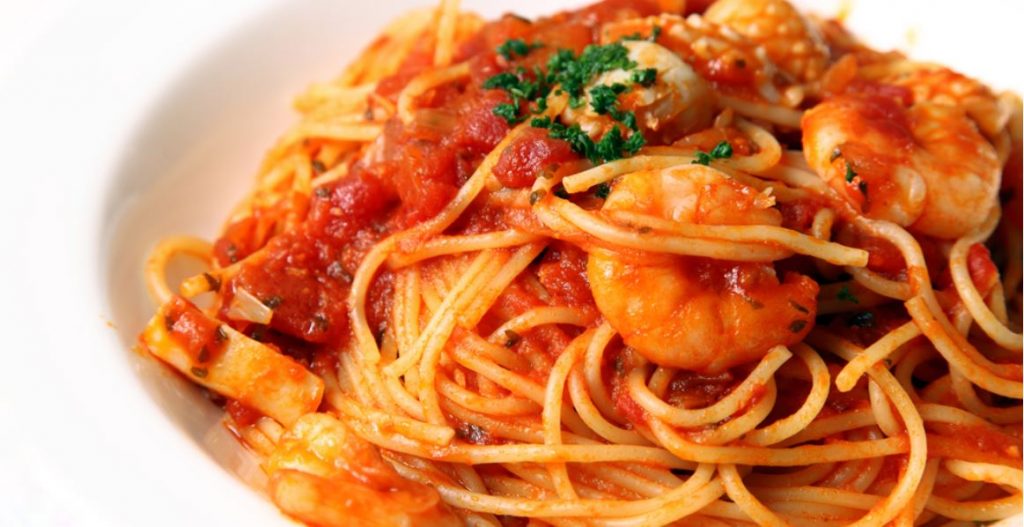 This Seafood Marinara can be adapted and changed for any seafood lover (or hater). It is a delicious twist on our favorite Pasta Marinara.
Seafood Marinara
Ingredients:
Instructions:
1. First, cut top of tomatoes and squeeze the seeds out, taking care to preserve as much meat of the tomato as possible.
2. Blend tomatoes in blender, leaving the sauce slightly chunky.
3. Then, combine tomato sauce, olive oil, spices and wine (optional) in pan, bring to boil and immediately reduce to a simmer for about 20 minutes (reduces to about 2/3 of original volume).
4. Meanwhile, cook noodles of choice per package instructions.
5. Cook shrimp in 2 cups white wine, 1 Tbsp minced garlic, and 1 Tbsp BBF Naturally Refined Organic Coconut Oil.
6. Toss together noodles, sauce and shrimp. Top with fresh grated Parmesan cheese, and serve.
Makes 8 servings.
Adapted from: https://www.betterbodyfoods.com/recipes/seafood-marinara/
Comments
Salmon & Vegetable Skewers with Peanut Sauce - Alisons Pantry Delicious Living Blog - […] Seafood Marinara […]