Brown Butter Pecan Cookies
National Pecan Cookie Day gives us the perfect excuse to kick of the "pecan food season"…pecan pie, cheese balls, pecan ice cream, sweet potato casserole, etc. And, we can't think of a better way to kick it off than with Brown Butter Pecan Cookies!
Using brown butter in recipes really adds a depth of nutty flavor, which makes it the perfect addition to these Brown butter Pecan Cookies. Each bite is filled with toasted pecans in a rich, gooey, buttery cookie base. But, an important step in cookie recipes that use butter, specifically melted, is to chill the dough before cooking it. This will help prevent the cookies from spreading out too much as they cook. Trust us, it's a game-changer.
How to Brown Butter
Brown butter adds a depth of nutty flavor to recipes, whether used as a simple sauce for pasta or added to sweet treats. It's really easy to achieve, as long as you know what you're looking for. Here are some tips for the best results:
Cut the butter into pieces. This will help it brown evenly.
Cook over medium-low to medium heat, again, so the butter cooks evenly.
Stir consistently, epsecially once it starts to foam.
Don't walk away! Your butter can go from brown to burnt in a matter of seconds.
Keep the little brown specs. Trust us, they add more flavor!
Recipe Variations
We love finding ways to change recipes without messing with the base, and some of these ideas really hit the spot. Once you have mastered the main recipe, give it a try!
Mix in Ghirardelli Milk Chocolate Chips (#10100) or Ghirardelli Semi-Sweet Chocolate Baking Chips (#2781).
Add crushed toffee bits.
Drizzle Uncle Denny's Caramel Topping (#7894) on top.
Use white chocolate chips.
Top with Regal Coarse Sea Salt (#1147)
Stir in cinnamon chips.
Drizzle Dawn White Flat Icing (#1910) on top.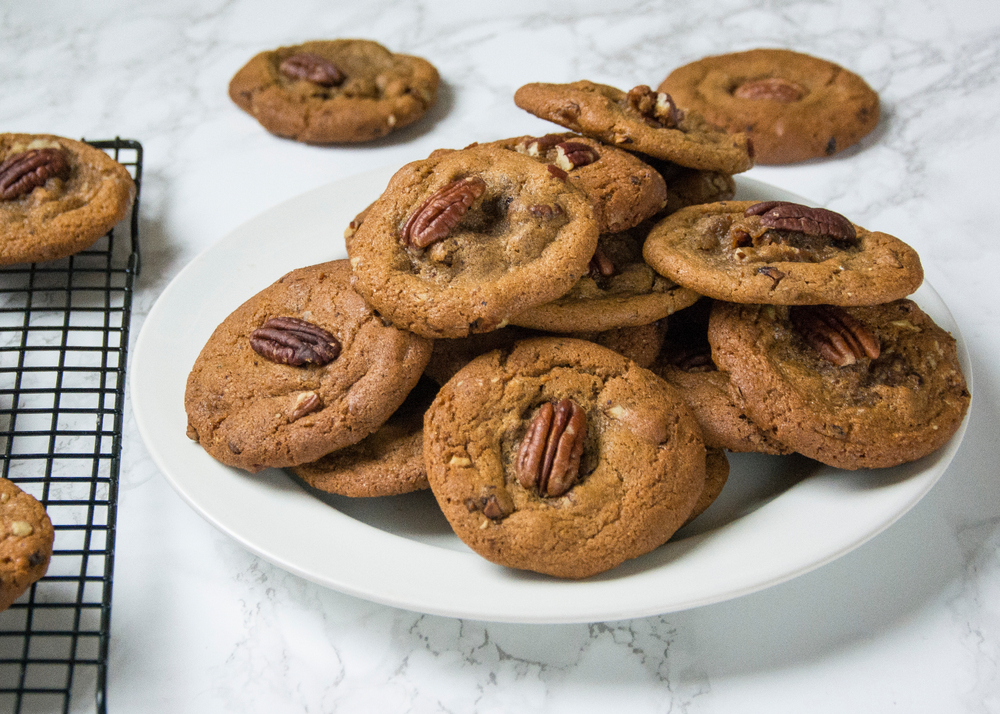 Each bite of Browned Butter Pecan Cookies is filled with toasted pecans in a rich, gooey, buttery cookie base.
Brown Butter Pecan Cookies
Ingredients:
Instructions:
First, add the butter to a skillet over medium heat. Stirring frequently, allow the butter to melt and foam. Continue for 7-8 minutes, or until it turns golden brown. Stir for one more minute, then remove from heat and pour into a bowl. Allow to cool before using.
Then, roughly chop the pecans and add them to a skillet over medium heat. Stir for 3-4 minutes, or until fragrant. Remove from heat and set aside.
While the butter and pecans cool, sift together the flour, baking soda and salt. Then, in another bowl, use a mixer to combine the sugars and browned butter. Whisk in the vanilla, then slowly add the dry ingredients. Fold in the toasted pecans, then cover and place in the fridge for an hour. This is an important step!
Now, preheat oven to 375°F. Line a Crestware Cookie Sheet (#4020) with a Crestware Silicone Baking Mat (#8436). Then, use a Crestware Cookie Scoop (#3838) to scoop the dough, placing it about 2 inches apart on the mat. Press a whole pecan into the center of each dough ball, and if desired, roll the dough balls in granulated sugar.
Bake for 9 to 11 minutes, or until golden brown. Allow to cool for a few minutes before moving to a Crestware Cooling Rack (#1145). Enjoy!
Adapted from: https://runlifteatrepeat.com/brown-butter-pecan-cookies/
Looking to satisfy your cookie craving?
Comments