Sugar Cookie Bars
Sugar Cookies will forever hold a special place in our hearts. They are just so.dang.good! But, they really are a pain to make sometimes- rolling out the dough, cutting out shapes, rolling out the dough again, etc…Sugar Cookies Bars take half the work with all the same delicious flavors, and won't leave you with a dozen or two more cookies than you wanted. So, we'll be celebrating National Sugar Cookie Day with these glorious, mouthwatering bars.
Try this!
Perfect for Summer! Mix in Regal Mini Pure Semisweet Chocolate Chips (#2538) and mini marshmallows for S'mores Cookie Bars.
Turn these bars into simple Fruit Pizzas by topping with strawberries, kiwi, blueberries, raspberries, etc.
Mix in Milk Chocolate M & M's (#2081) for simple Candy Cookie Bars.
Add sprinkles to the dough for Funfetti Bars.
For a rich indulgence…top with Regal Mini Pure Semisweet Chocolate Chips (#2538), shredded coconut and chopped Kirkland Fancy Pecan Halves (#1292) mixed with sweetened condensed milk.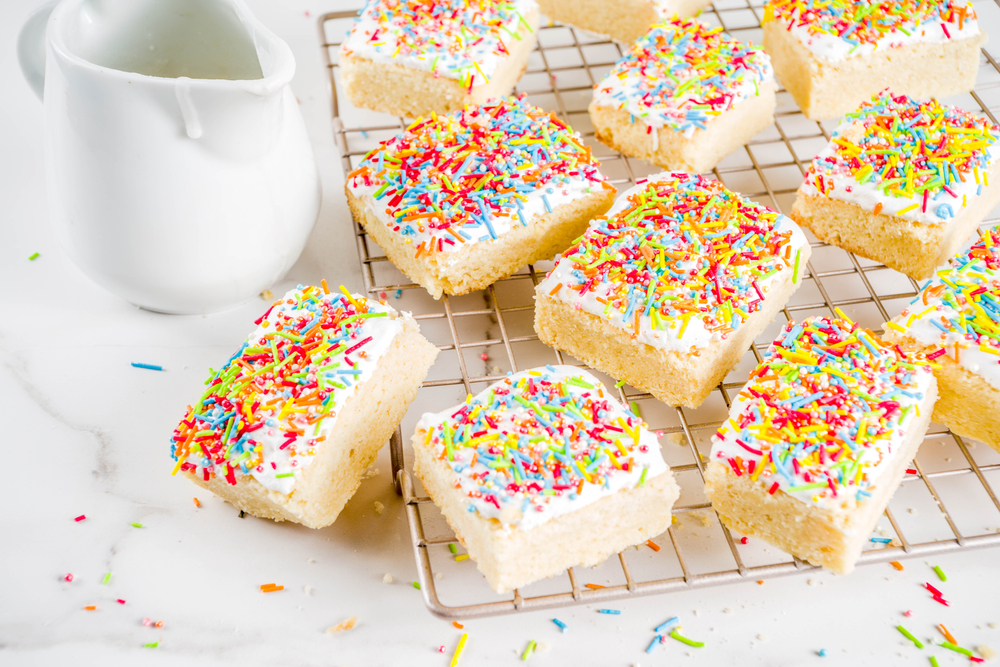 Soft and fluffy Sugar Cookie Bars topped with rich cream cheese icing and sprinkles.
Sugar Cookie Bars
Ingredients:
Instructions:
First, cream together the butter and sour cream. Then, beat in the sugar until fluffy, adding the egg and vanilla after about a minute. Continue to mix until smooth. Then, slowly add the flour until fully incorporated.
Now, transfer the dough into a 9×13 baking dish lined with AP Parchment Paper (#1153) and sprayed with Bak-Klene (#5564). Use a rubber spatula to spread it into an even layer.
Next, bake for 20 to 25 minutes, or until lighlty golden brown and slightly undercooked in the middle. Use the parchment paper overhang to transfer the bars to a Crestware Cooling Rack (#1145) once fully cooled.
Then, generously spread the icing on top, followed by sprinkles. Cut into squares or rectangles, and transfer to a serving platter. Enjoy!
Adapted from: https://cooking.nytimes.com/recipes/1020697-sugar-cookie-bars
Cookie recipes even Cookie Monster would love:
Comments