Caramel Apple Muffins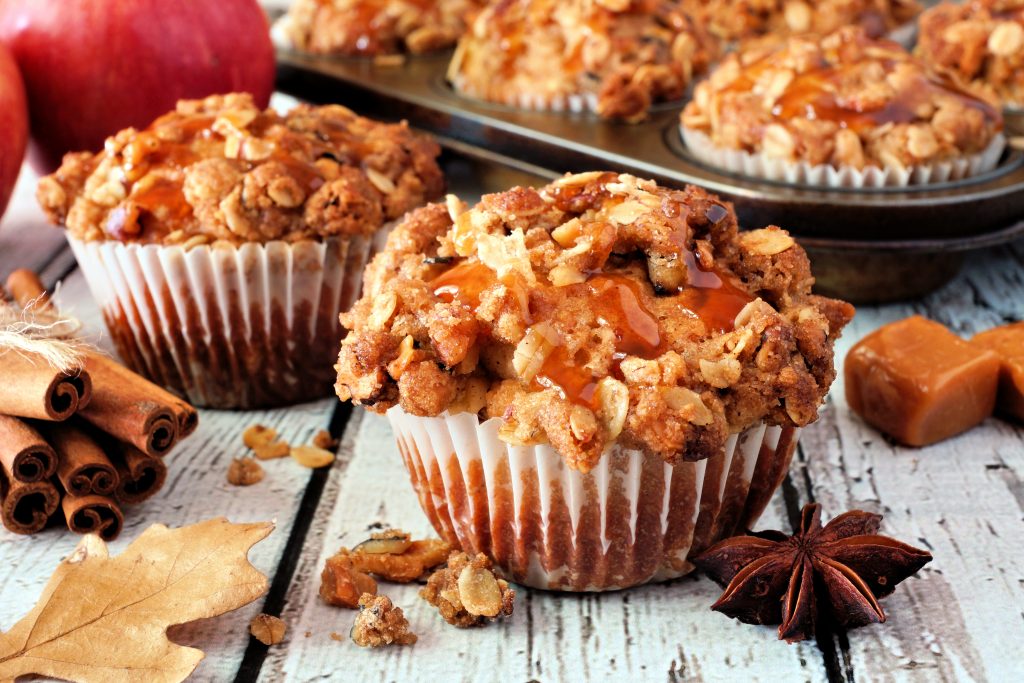 "This recipe is a marvelous, messy treat that you will just love. I made a ½ batch with AP Classic Crème Cake and Muffin Mix (#1823) and ½ batch using a chocolate creme cake mix. I used Dark Sweet Cherries in place of the apples in the chocolate cakes. Everything else was the same. You could also combine the caramel with the chocolate cake for a third variation. Both of these little cakes are rich and good. A little fragile so they have to be eaten with a fork. A scoop of ice cream wouldn't hurt a bit either!! (Presenting them with a twig or a skewer is great, but eating is easier without the added sticks!) Fun! Fun! Fun!" –Kathy DeLeeuw, Salem, UT
Caramel Apple Muffins
Ingredients:
Cinnamon Topping
Instructions:
Preheat oven to 375°F.
Prepare Cinnamon Topping: Stir together brown sugar, flour, and cinnamon in a small bowl. Cut in butter with a pastry blender or fork until mixture resembles coarse meal. Divide over muffins before baking.
Beat sour cream, eggs, vanilla, oil at low speed 30 seconds or until blended. Add cake mix and water to sour cream mixture, beating at low speed just until blended. (Do not over mix.) Stir in diced apples. Spoon into a lightly greased 12-cup muffin pan, filling three-fourths full; sprinkle with Cinnamon Topping.
Bake at 375° for 18 to 20 minutes or until golden brown, and a wooden pick inserted in center comes out clean. Immediately remove from pans to wire racks; cool completely (about 30 minutes).
Microwave caramel and cream in a microwave-safe bowl at HIGH 1 to 2 minutes or until smooth, stirring at 30-second intervals. Let mixture stand, stirring occasionally, 5 minutes or until thick enough to coat muffins.
Quickly dip bottom three-fourths of each muffin into caramel mixture and roll bottom half of caramel-coated portion of muffin in chopped pecans, and place muffins, caramel sides up, on lightly greased wax paper. (If caramel mixture begins to harden before you've dipped all the muffins, microwave mixture a few seconds to soften.) Insert food-safe twigs or craft sticks into caramel-covered portions of muffins. 12 muffins.
Comments
11 Baking Tips for More Success in the Kitchen - Alisons Pantry Delicious Living Blog - […] Caramel Apple Muffins […]
Beth's Sweet Potato Muffins - Alisons Pantry Delicious Living Blog - […] will love these marvelous, messy, amazing Caramel Apple Muffins. We know, it's too good to be true- which is why we're…