Caring for Cast Iron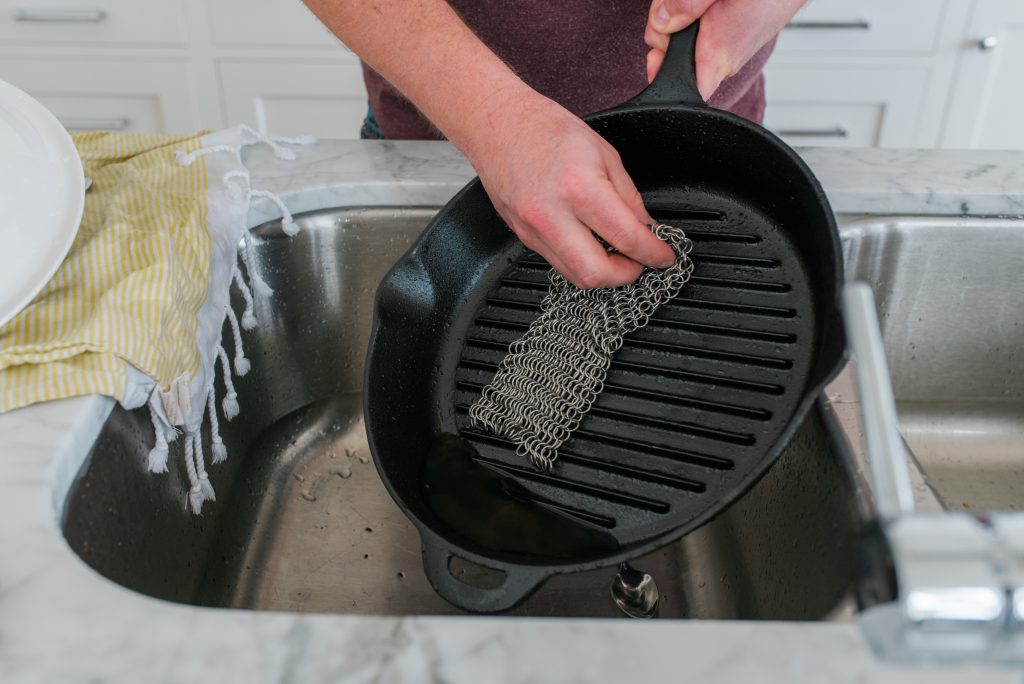 There's a reason your grandma cooked with those heavy cast iron pans. In fact, there are a lot of reasons, and the younger generation is catching on.
You can use cast iron pans on the stovetop and in the oven. Plus, they keep food warm for longer as you're serving.
Every time you cook with your cast iron, you're actually making it better! Cooking improves the seasoning of the pan.
During the cooking process, a small amount of iron is absorbed into foods. Bonus minerals!
Cast iron is nonstick, yet chemical-free.
And, they're easy to clean!
Cast iron is tough and with the basic care tips below, your pans will last for generations.
Caring for Cast Iron
If your pans aren't preseasoned, be sure to properly season before the first use. Our Camp Chef Cast Iron products come with a True Seasoned Finish, so you can get cooking with your cast iron right away. Scroll down for instructions on how to seasoning cast iron.
Always start with a hot pan (by heating over low for a few minutes). This will help prevent food from sticking to the surface, as well as making sure the pan is heated evenly for great cooking.
Don't put your pans in the dishwasher. Only wash by hand without soap, and dry completely with a towel to prevent rusting. Try using a heavy-duty scrub brush, or Camp Chef Chain Mail Scrubber (#1126), water, and Cast Iron Cleaner (#9136) for easy scrubbing.
For storage, place a paper towel or kitchen towel between the pans to allow airflow between pans. This helps prevent moisture from condensing and potentially causing rust.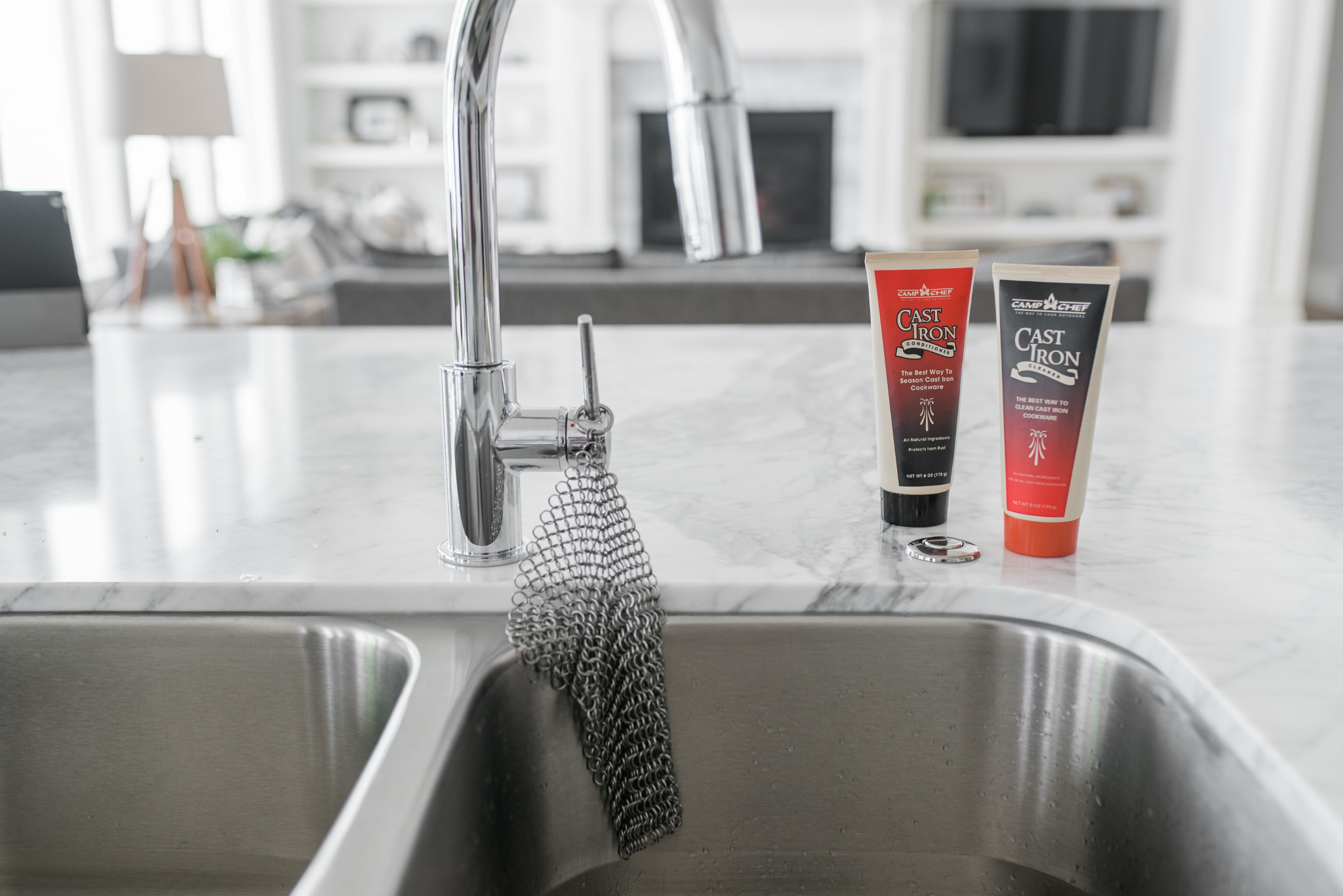 AP Favorite Cast Iron Care Products
The special blend of all-natural oils and cleaning agents in Camp Chef Cast Iron Cleaner (#9136) breaks down sugars and other food particles. The natural oils will not damage the finish of your cast iron cookware, it's safe to use on all seasoned and enamel pieces. For best results, follow up with some Camp Chef Cast Iron Conditioner (#7345) to protect your iron with a fresh layer of seasoning. 100% all-natural ingredients.
Camp Chef Cast Iron Conditioner (#7345) is the best way to 'season' your cast iron Dutch ovens, grates, griddles, or burners. Made of all-natural ingredients to protect your cast iron. A "must-have" for anyone who is serious about taking care of their cast iron.
Camp Chef Chain Mail Scrubber (#1126) is dishwasher safe and cleans cast iron, steel griddles, and other cookware. Simply add water and Cast Iron Cleaner (#9136) to a dirty cast iron pan and scrub with chain mail scrubber. Rinse when done, and season with Cast Iron Conditioner if needed.
How to Season Cast Iron Pans
Seasoning your cast iron is important to prevent rust, and to help keep your food from sticking to the surface. It is suggested to be done at least once a month, but it really depends on how often you use your pans.
There are a couple different methods: stovetop or oven. This process creates a layer on your pan that is non-stick, while also being a protective layer for your pan.
Stove Top Method:
First, wash the pan and dry it off and coat your pan with oil.
Place the pan on a burner at high heat. Once the pan is hot, turn the heat down and allow it to sit on the burner for approx. 10 minutes. it might get smoky!
Once the pan has cooled, wipe off any excess oil. This process may need to be repeated a couple times.
Oven Method:
First, preheat oven to 350F.
Then, wash the pan and dry it off and coat your pan with oil.
Place the pan onto the oven racks upside down, with a baking sheet (#4020) on the shelf below to catch anything that drips.
Bake for 1 hour, and allow to cool in the oven before removing
Try these recipes in your Cast Iron Pan!
Comments